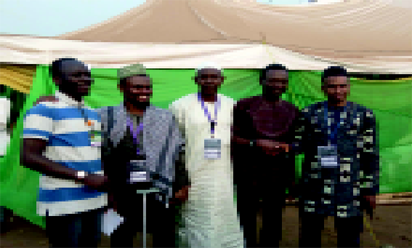 From Left: Mustapha Kilani, Asst PRO, Muslim Students Society of Nigeria, MSSN, Lagos State Area Unit; Abdul-Rasheed Abubakar, Author, Hijab and The Nigerian Press; Haroon Ishola Balogun, Vanguard Newspapers and Secretary, Muslim Media Practitioners of Nigeria, MMPN, Lagos Chapter; Idris Qasim, Head PRO,MSSN, Lagos Area Unit and Tajudeen Adebanjo, The Nation Newspapers, Public Relations Officer, MMPN, Lagos chapter during a visit by MMPN to the Islamic Vacation Course, IVC organised by MSSN, Lagos held at Noforija, Epe, Lagos State.
Ambode charges members to be key players
Prof Oloyede, Dr. Abdulateef, Asiyat Kareem honoured
By Ishola Balogun and Monsuru Olowoopejo
Worried by the skewed reportage of Islam in the Nigeria media, the Muslim Media Practitioners of Nigeria (MMPN), Lagos State Chapter, assembled top government officials, scholars from various universities, media executives and islamic orgaisations to its maiden annual conference themed: Islam, Muslims and the Nigerian Media.
The event which was held at the Multipurpose hall, Alausa Secretariat Mosque, Ikeja recently, was declared open by Governor Akinwunmi Ambode who was represented by Commissioner for Home Affairs, Abdul-Hakeem Abdul-Lateef. Chairman, University of Lagos, UNILAG Muslim community, Prof. Lai Olurode, chaired the conference.
Ambode said the role of the media was one of the critical aspect of the change mantra, urging Muslim Journalists not to rest on their oars but contribute more to the development of the country and become key players in the industry.
"The reason many believe that the Change mantra appeared to have failed was because the role of the media is one of the critical aspect of the change mantra. And the media must help to provide the needed awareness.
"Many Nigerians do not understand what the change is all about. They do not understand the difference between transitional and implemental change," he added.
The Chairman of the occasion, Prof. Lai Olurode, UNILAG, urged Muslim journalists to be more active in projecting the true essence of Islam as a religion of peace, adding: "We have not been very active as Muslim media practitioners, and we cannot expect any other person to tell our stories for us."
Prof Olurode who is also the chairman of UNILAG Muslim Community argued that aside floating a media organisation, Muslims organizations must endeavour to improve their visibility through participating in other activities that could help address the challenges confronting the society.
Proffering possible solutions to the challenges confronting Islamic reportage, a Senior Research Fellow, Department, Mass Communication, University of Ilorin, Alhaji Liad Tella, said Muslim organisations should also invest in human manpower through the establishment of Research Institutes, to boost their visibility in the industry.
Tella said non-Muslim organizations had over the years invested massively in the industry ensuring their members are prominent in the industry.
In his lecture titled, "Analysis of Reportage of Islam and Muslims in Nigeria", he said: "Other religious institutions have been churning out graduates to boost the profession, but Islamic organizations have not been doing this. The time has come for us all to respond to this issue. We need to populate the media with Muslims. This is something that must be consciously done.
"We cannot continue to query the media for continuously promoting other religion. We must contribute our quota to development of the media industry. We must intensify development of Muslim manpower.
"The variance between the number of media houses owned by Muslims and non-Muslims is miles apart. And to reduce this huge gap, Muslims must be ready to persevere irrespective of the challenges they encounter in the profession.
"Muslim organizations must become conscious of the role of the media in sensitization, mobilization, education and others aspect of the society. When we are able to achieve that, we will b able to achieve result. All religious organizations must respond to media utility."
Also, Director, Muslim Rights Concern (MURIC), Prof. Ishaq Akintola, in his lecture titled: "Imperatives of Media Ownership by Nigerian Muslims", said: "Sometimes Muslims are deliberately shut out from the media on issues that concern them, while at other times we see parochial representation of Islam and the Nigerian Muslims."
Akintola stressed that the solution to correct the alleged misrepresenting of Islam by the media was to have more Islamic based media houses.
Chairman, NUJ, Lagos chapter, Dr. Qasim Akinreti, noted that media is an instrument for the propagation of Islam which is the religion of peace.
Akinreti, while discussing the paper: A critical Analysis of Media Use habit among Nigerian Muslims presented by Dr. Ismail Ibraheem, Mass Communication Department, UNILAG, opined that Muslim practitioners have the duty to make their non-Muslim colleagues and the public understand the tenets of Islam.
"Media industry is a business. And for the Muslims to become major players in the industry, we must understand the politics of the media."
He lamented: "Reportage of Islam goes beyound the month of Ramadan and perhaps every Friday. It is a complete way of life that discusses extensively about good living, neighborliness, love, affection, justice, human rights and others. We need to explore all these for people to see the positivism of the religion.
Delivering her Goodwill message, Dr. Idiat Adebule, represented by Director, Human Resources, Ministry of Education, Mrs. Folashade Lediju, thanked Muslim journalists for their strong support to Ambode's administration, adding that they needed to do more to remove stereotypes and prejudice against Muslims.
Presentation of Awards
Highlights of the events was the presentation of three awards to distinguished Muslims.
Professor Ishaq Oloyede was honoured with MMPN Award of Distinction for his outstanding performance, combining integrity with capacity.  It will be recalled that Prof Oloyede remitted unparallelled sum of N5billion to the coffers of government within a year as JAM Registrar.
Commissioner for Home Affairs, Lagos State, Dr AbdulHakeem AbdulLateef who was the Amirul-Hajj 2017 was also honoured with the best Amirul-Hajj 2017 for his leadership and innovative ideas leading to hitch-free 2017 hajj.
Also, honoured with MMPN Award of Excellence was Asiyat AbdulKareem for our academic performance and her struggle for the use of hijab in Lagos secondary school, a struggle that led to the court granting right to Muslim students to wear Hijab in Lagos State schools.
Roll call
Present at the event were Dr. Babatunde Ismail (UNILAG) Mr Mumuni Alao of Complete Sports, Mr Waheed Bakare, Editor, Saturday Telegraph, Former Vice Chairman, Lagos NUJ, Jimoh Babatunde, other Media Executives, representatives of Islamic organisations, such as NASFAT, Ansar-ud-Deen Society of Nigeria, Anwar-ul-Islam Movement of Nigeria, Ahmadiyya Muslim Jamaat, Nigeria, The Muslim Council, TMC, Muslim Students Society of Nigeria, MSSN among others.