…el-Rufai's target is World Bank loan—NLC
By Ben Agande & Johnbosco Agbakwuru
As the indefinite strike embarked upon by primary school teachers in Kaduna State to protest the mass sacking of teachers that failed competency test enters the second day, the state government, yesterday, declared that it will invoke the policy of no-work no-pay.
Permanent Representative in Kaduna State Universal Basic Education Board, SUBEB, Mallam Shehu Othman, who disclosed the no-work no-pay policy at a briefing in Kaduna, also alleged that officials of the Nigeria Union of Teachers, NUT, have been going round schools to intimidate teachers who defied the strike.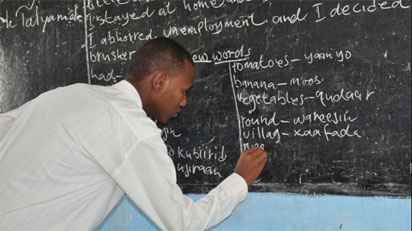 According to him, the state government has directed that registers be opened in all primary schools in the state to take attendance of teachers.
Othman warned that "union members and erring teachers that refuse to resume work should know that government is ready to take action against them and the civil service rules will be applied."
It's illegal—NUT
However, state Secretary of NUT, Mr. Adamu Ango, dismissed the threat of no-work no-pay, saying it was illegal in labour laws to punish workers for embarking on strike, denying that officials of the union were forcing teachers to comply with the strike, adding that the decision to embark on strike was a collective one by all teachers in the state.
According to him, government will be committing an act of illegality if it goes ahead to deny teachers their emoluments because they embarked on strike, which is their legitimate right.
Meanwhile, most of the schools visited yesterday were empty, as neither teachers nor pupils were in attendance.
Labour prepares for showdown tomorrow
Also, organised labour, yesterday, said it will, tomorrow, take over the streets of Kaduna State to protest the sack of about 36,000 workers in the employ by Governor Nasir el-Rufai.
It also sent an SOS to President Muhammadu Buhari to intervene in the labour dispute with the Kaduna State government.
Speaking on El-Rufai Must be Stopped during a briefing at the Labour House in Abuja yesterday, the National President of the Nigerian Labour Congress, NLC, Mr. Ayuba Wabba, said Governor el-Rufai had rebuffed all peaceful move to resolve the labour dispute.
Wabba noted that having been left with no other option, organised labour will from tomorrow commence a series of actions with the first phase of protests in Kaduna to constitutionally defend the rights of the affected workers in the state.
…sacked
According to the labour leader, "affected in this odious act of Governor el-Rufai are 21,000 teachers, 4,000 local government workers and 8,000 workers from various state ministries, departments and agencies, including tertiary institutions.
"These acts of impunity against workers have been committed by the state government under the guise of a so-called competency test that was programmed to fail teachers and a spurious programme that goes by the name the Public Service Revitalisation and Renewal Project.
"They are all a smokescreen by the state government to fulfill conditions for accessing a World Bank loan that will be paid back by future generations of the working people, who are tax payers.
"The actions of Governor el-Rufai are largely propelled by his rabid obsession to mortgage the lives and livelihood of thousands of workers, and indeed the people of Kaduna State, to the IMF and the World Bank."