By Emeka Obasi 
We are indeed strange beings who dwell so much on negatives in the midst of heart-warming developments. While uninformed Igbo and Yoruba children of the Internet generation pour invective on themselves, things are getting better.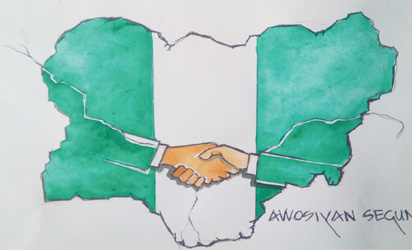 Talk of the handshake across the Niger gathering in Enugu. This time, even people from the North stretched forth their hands across the Benue so that just like Rivers Niger and Benue shake hands eternally in Lokoja, men of like minds begin to realize that objectives are better achieved when groups agree.
The real deal happened in far away Canada where an Igbo man is not only a bona fide member of the Ijesha Progressive Association of Canada[ IPAC], he is their well respected leader.
Okey Okeke, from Enugu State, according to the Sun newspaper, was elected IPAC President by the Ijesha of Osun State. Born, bred and 'buttered,' in Ilesha, the Igbo man picked a degree from the University of Ibadan. Some of his childhood friends had moved to Toronto and that bond lured him.
The Ijesha did not ask him about his local government of origin. He does not hail from Atakunmosa, Oriade or Obokun. None talked about the town of his father. Of course, you would not find his name anywhere in Esa Oke, Ifewara, Ipetu Ijesha, or Erin Ijesha.
We all know that the Enugu handshake meeting was to celebrate Col. Adekunle Fajuyi's bravery that saw him die with General Johnson Aguiyi –Ironsi during the counter coup of 1966.
It is clear that Professor Wole Soyinka had friends in Biafra like Emmanuel Ifeajuna and Chris Okigbo. They were all together at the University of Ibadan alongside Bola Ige, Chinua Achebe and Olu Akaraogun. It was the Nobel Laureate's love for Biafra that sent him to jail.
Former Vice President, Dr. Alex Ekwueme and the man behind First City Merchant Bank[FCMB], Chief Olasubomi  Balogun were so close that they even set up a company, Renaissance, to help the Igbo get back on their feet after the Civil War.
Have we forgotten that Eko is not only the original name of Lagos. It is also the name of one of the high brow hospitals in the country. EKO hospital is owned by three friends, all Medical Doctors: Eneli, Kuku and Obiora.
For those who want the Igbo and Yoruba to part ways, I have to announce that in Akure, an Igbo name once occupied the throne. In December 2013, Princess Adetutu Adesida–Dike, first daughter of the Deji, Oba Adebiyi Adesida, ruled the town as a Regent. She flew in from the United States.
There really is something between the Ijesha and Ndigbo. And the handshake began long before Okey Okeke was born. Long before he set his eyes on the immediate past King, Owa Obokun Adimula, Peter Adeniran Olatunji Agunlejika.
The first Director General of the Nigeria Television Authority, Vincent Maduka was born on October 5, 1935 in Epetedo, Lagos [ we sure have not forgotten where Chief Moshood Abiola, backed by Ochiagha Ebitu Ukiwe, made his famous declaration] to an Ilah man, Albert Maduka.
At the christening, the senior Maduka also named his son Ifeanyichukwu. His friend, a Yoruba man, called the child Bamidele. Vincent Maduka , would later work at the Western Nigeria Television/Western Nigeria Broadcasting Corporation[WNTV-WNBC], Ibadan as an engineer.
There was an Ijesha lady who also worked there as engineer. Joanna Olu Layinka would later become Mrs Maduka. She is known as the First COREN registered female engineer. While her husband rose to lead the Nigerian Society of Engineers [NSE], the woman advanced to become President of the Nigeria Academy of Engineers [NAE].
The country's first female Medical Director, Dr. Grace Nzegwu, is married to an Igbo man. There is another great Ijesha woman who is not the wife of an Igbo but has something to share with a great Igbo son. Her name is Dr. Grace Olabisi Oreofe Ugbebor, nee Falode.
Professor Chike Obi stood out as the first Nigerian to obtain a PhD in Mathematics. Dr Ogbebor is not only the first Nigerian woman to earn a doctorate in Mathematics, she is the first Nigerian female Professor of Mathematics.
Still talking Mathematics and Chike Obi, there are two very good Mathematicians of Ijesha background. And they are renowned Pastors. General Overseer of the Redeemed Christian Church of God, Pastor Enoch Adeboye was taught by Chike Obi at the University of Lagos.
Pastor William Kumuyi of Deeper Life, an Ijesha man, holds a First Class in Mathematics from the University of Ibadan. Chike Obi was a lecturer there too. Two other top church members from Ijesha, Pastor Samuel Abiara and Prophet Timothy Obadare, did not study mathematics. But like Chike Obi [1921-2000], Obadare was born in April [1930] and died in March[2013].
When an Ijesha son, Dr. Ibiyinka Olorun-Nimbe, was elected First Mayor of Lagos in 1950, his deputy was Mazi Mbonu Ojike. Some Ijesha names sound like Igbo. Chief Akin Obi, Engr. George Obi Makinde. There are towns like Imo and Ijesha Isu. Olumirin Water falls sounds like mmiri in Igbo.
I am on my way to Ilesha to pay homage to Owa Adekunle Aromolaran. He is an author, the Oba should explain all this to me. I am going to discuss Orisariyibi Ogedengbe, Agbogungboro[The Warrior] and his powers that made Erelu Olusola Obada the First Nigerian female Defence Minister and Marshal Oluseyi Petirin, the first Yoruba Air Force Four-Star general. Lunch will be at Concord Hotel where I attended a wedding reception in 1996.
Subscribe for latest Videos