By Michael Eboh
Fuel subsidy payment incurred by the Nigerian National Petroleum Corporation, NNPC, rose by N9.94 billion to N16.785 billion. This was to ensure that the price of Premium Motor Spirit, also known as petrol, did not rise above the official rate of N145 per litre.
Data obtained from the NNPC Monthly Financial and Operations Report for November 2017, showed that the subsidy payment for November represented an increase of 145.08 per cent from N6.849 billion paid in October 2017.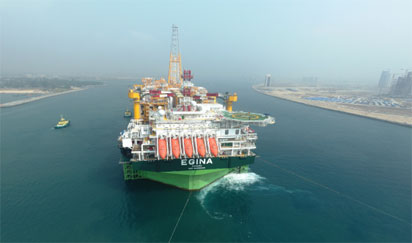 The amount expended by the NNPC on subsidy was the second highest amount since subsidy on fuel returned in 2017, after the N36.27 billion paid by the NNPC in January 2017.
To this end, the report stated that the NNPC has spent a total of N128.855 billion on fuel subsidy payments between January and November 2017.
The NNPC had explained that it cannot be said that it is paying subsidy on Premium Motor Spirit, also known as petrol, especially as the National Assembly had not made provision for such payment.
Group General Manager, Group Public Affairs Division, Mr. Ndu Ughamadu, had explained that the extra burden it is incurring on the difference between the landing cost and the pump price can be described as business loss.
Ughamadu was clarifying a statement, he said was wrongly attributed to the Managing Director of Petroleum Products Marketing Company, PPMC, Mr. Umar Ajiya, suggesting that NNPC does not require the National Assembly's nod to subsidize petrol.
He said the corporation is alive to the critical roles the National Assembly statutorily plays in the administration of the Nigerian oil and gas sector and would, therefore, not undermine the legislators in their legitimate business.
Apart from fuel subsidy expenses, the report noted that crude oil valued at N1.19 billion was stolen, rising by 167.07 per cent or N745.054 million from N445.946 million recorded in October.
However, petroleum products losses dipped by 2.87 per cent from N104.075 million in October 2017, to N101.09 million in November; while the NNPC recorded pipeline repairs and management cost of N7.006 billion, dropping by 35.27 per cent from N10.824 billion recorded in the previous month.
The report stated that products theft and vandalism had continued to destroy value and put the NNPC at disadvantaged competitive position, adding that a total of 1,005 vandalized points were recorded between November 2016 and November 2017.
Furthermore, the report stated that the NNPC recorded a trading deficit of N6.79 billion, higher than the previous month's deficit of N0.41 billion, representing a N6.39 billion increase in trading deficit compared to the October 2017 performance.
NNPC's group operating expenses for November 2017, dropped by 23.52 per cent to N270.8 billion, from N354.08 billion recorded in October.
The report said, "The drop in the performance is attributable to the increased cost in upstream activities as well as the reduced revenue in the downstream value chain occasioned by high crude oil inventory in refineries due to unplanned operational shutdown of Kaduna Refinery and Petrochemical Company, KRPC and Port Harcourt Refining Company, PHRC, which led to increase loss from the Refineries in November 2017.
"Also, Integrated Data Services Limited's, IDSL, coincidental winding up of two Seismic Data Crews – Party 05 in Elele, Rivers state and JV 209 in Alkaleri, Bauchi state on 31st October 2017contributed to this situation.
"However, IDSL has since mobilized for operations in Lafia, Nasarawa state and Kuzari, Gombe state respectively in order to turn back to regime of positive performance, as year 2018 looks bright for business in IDSL."