Queues emerge in Abuja, Kano, Warri, other cities
Tanker drivers urge FG to fix Jebba- Mokwa road, Tatabu Bridge
 DPR clamps down on illegal oil marketers
By Udeme Akpan, Michael Eboh, Jimitota Onoyume, AbdulSalam Muhammad, Ediri Ejoh, Prince Okafor, Anayo Okoli
Despite assurances by the Nigerian National Petroleum Corporation, NNPC, of a return to normalcy in fuel supply, the fuel crisis worsened, yesterday, in Abuja, and other parts of the nation while transportation costs also rose astronomically.
Our Correspondents who investigated the situation in Abuja noted that the fuel scarcity was far from being over.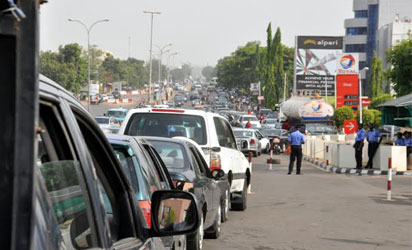 Investigation showed that the queues which returned immediately after the Yuletide holidays attained a worrisome dimension,  Thursday, as motorists spent many hours on queues before they could get the commodity to buy.
Some motorists had to abandon their vehicles at petrol stations overnight so as to remain close to the entrance of the station when it reopened to resume selling.
However, the number of petrol stations selling the commodity had increased, as with the exception of A.A. Rano, MRS, Rahamaniyya, Conoil and Shema Petrol stations along the Abuja-Kaduna Expressway, all other petrol stations on the stretch of road were selling.
Meanwhile, to curb sharp practices in fuel supply, the Department of Petroleum Resources, DPR, arrested some illegal fuel marketers in Abuja and also dispensed 14,400 litres of fuel free to motorists.
The DPR operations task force team led by its Abuja zonal controller, Mr. Abba Misau, dispensed the free fuel at Zauda on Gwagwa Deidei Road in Abuja.
He blamed the resurgence of fuel queues in the Federal Capital Territory on instability of product supply to Abuja and its environs, while he noted that the agency had been given assurance by the PPMC that product supply would stabilize in the next couple of days.
Speaking after the monitoring exercise, Misau said that the fuel station which had no name was operating illegally at the area.
He said, "We came here based on intelligent gathering information that there exists illegal station that sells above the pump price. That is why we came to confirm and on reaching here we discovered that the owner was selling at N210 per litre.
"We looked around, we asked of their license but they do not have and they are selling the product to people. When I looked around I saw that it is situated in an unapproved site. It is in the midst of a community and a fuel station is not supposed to be sited there.
"They have one case of illegal station and another is selling above pump price since we do not know of their existence we have to start dispensing free. We discovered that the storage tank has 14,400 litres and we decided to dispense to motorists and cyclists free.
"However no sooner than we started dispensing that one of the staff went and disconnected the light while the machine is on. We will ensure that security is beefed up and condone off the station until the exercise is completed."
Misau stated that since the petrol station is illegal, it would be handed over to the Nigeria Security and   Civil Defence Corps, NSCDC, for prosecution, while adding that it would find out from the relevant authorities if the station was given any approval, if not, it would be demolished.
"Even if it has approval we will advise that it is revoked for safety sake," he, however, noted.
In his response, the owner of the fuel station, Danladi Eya said he bought fuel from one of the licenced marketers, which he said covered his operations.
He pleaded with the DPR for mercy, stressing that he took facility from the bank to embark on the business when he could not get a job as a graduate.
''I am a Nigerian I need to survive I am a degree holder and cannot steal so I venture in to the business," he said.
Badagry
Residents of Badagry and its environs continue to decry hike in the price of petrol which rose to as high as between N170 to N230 per litre, depending on location.
Our Correspondent, who visited many petrol stations in the town, observed that some that had the product dispensed at a high price.
However, those that did not have stocked simply closed their gates against motorists and other users of the product.
As a result of the scarcity, commercial vehicles in Badagry and Seme border areas were not available for passengers and the few available increased their fares by 50 per cent.
A resident, who gave her names as, Mrs. Cynthia Ilebo, urged the DPR officials to check the activities of filling stations in the area.
"The officials need to come here and check the practices of fuel stations and seal them because most of them are just taking advantage of the situation," she said.
Kano
Investigation by Vanguard indicated that inter and intra city transportation fares have increased by 50 percent as a result of the fuel scarcity.
Finding further revealed astronomic increase in black market that is evidence in major nooks and crannies of the state.
A litre of petrol now sells at N300, as against N1, 200 last week due to proliferation of black market.
Umuahia
In Abia State, fuel supply has witnessed much improvement. But the price remained high at between N200 and N198 in the petrol stations owned by Independent marketers.
However, only NNPC petrol station in Umuahia sold it at N143, even though long queues were still witnessed there.
Rehabilitate roads – Tanker drivers
However, the Petroleum Tanker Drivers (PTD) Branch of the National Union of Petroleum and Natural Gas, NUPENG commended the management of NNPC on its wisdom to pump product, especially through system Two- B, which now bridges fuel product to the North and other parts of the country, through Ibadan- Mosimi and Ejigbo depots as well as Warri – Calabar and Aba depots while waiting the commencement of Ilorin.