By Peter Egwuatu, with agency report
LAGOS—Fitch Ratings, an international rating agency, has predicted that Nigeria's economy will grow in 2018 by 2.6 per cent.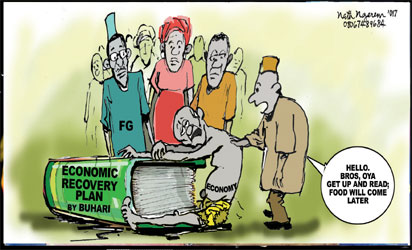 The rating agency said that the country is not expected to experience another economic recession this year , 2018.
The United Kingdom-based rating agency's projection is a bit higher than the 2.1 per cent growth projected by the International Monetary Fund, IMF and the World Bank's projection of 1 per cent growth in 2018.
In its latest full report on Nigeria, Fitch said a revival of economic growth by the sustained implementation of coherent macroeconomic policies could lead to a positive rating for Nigeria while a failure to realise an improvement in the economic growth would be negative for the country.
"Fitch Ratings forecasts growth of 2.6 per cent in 2018," the spokesperson for Fitch, Peter Fitzpatrick, said.
"The recovery will be driven mainly by increased FX (foreign exchange) availability to the non-oil economy and fiscal stimulus, as higher oil revenue and various funding initiatives have raised the government's ability to execute capital spending plans."
Fitzpatrick, however, noted that the growth forecast was subject to downside risks, as the foreign exchange market "remains far from being fully transparent and domestic liquidity has also become a constraint."
On Nigeria's public finances, Fitch pointed out that the failure of the Federal Government to narrow the fiscal deficit, leading to a marked increase in public debt, would be negative for the government.
Therefore, Fitch said it expected higher revenues to drive a narrowing of the general government deficit to 3.4 per cent in 2018 as oil production rises and the overall economy recovers.
Fitch said, " The gross General Government Debt, GGGD,  will continue to rise to 29 per cent of GDP in 2026 saying that the main risk to debt sustainability would be a failure to reduce the primary budget deficit, which could bring the debt level to 45 per cent of GDP over the same period.
On the impact that a delay in approval of the 2018 appropriation bill will have on the economy in the 2018, Fitch said,   "The government has again faced delays in getting parliamentary approval for the budget, with much of the delay coming from legislators seeking more spending in their respective states."