*IYC urges military to track the criminals, leave innocent citizens alone
By Emma Amaize
TENSION has mounted at Gelegelegbene, an Ijaw community in Edo State, following the attack on a military formation by suspected gunmen, who carted away a rifle and also invaded the community, shooting an elderly man.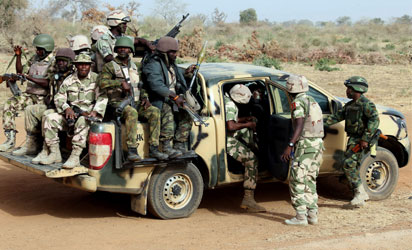 Vanguard learned that fear has gripped the residents over unconfirmed reports that soldiers might storm the community in search of the perpetrators.
National president, Ijaw Youth Council, IYC, Pereotubo Oweilaemi, in a statement, said: "News reaching our desk suggests that there is a near breach of peace and orderliness around Gelegelegbene and environs occasioned by the unwarranted attack on security men attached to the oil company exploring oil in the community by some unknown gunmen."
"Upon hearing the news, IYC has been making frantic efforts in collaboration with other concerned authorities to douse the tension.
"We are surprised that the gunmen still came to the community in the night to shoot an unarmed and an elderly man. This points to the fact that those, who came to attack the military formation in the community at the previous day were not different from the ones who invaded the community a fortnight," he asserted.
Calling on the military to exercise restraint in its planned action, he said, "Therefore, Gelegelegbene people, who shared the same pain with the military on the incessant attacks on the peaceful community should not be victimized any further by the military."
"We heard that the security forces who were being attacked by the marauding criminals are threatening the inhabitants of the community to produce the rifle carted away from them by the assailants or ready for their wrath.
"There is no sense in putting the blame on these beleaguered people who are the real victims.
If the military has any information on who is involved in the dastardly act, then it should go after that person. Gelegelegbene Community must not be the victim," he stated.
His words: "We condemn the acts of banditry by those culprits and warned that they should stay clear of Ijaw communities because we will expose all of them."
"IYC is calling on Gelegelegbene people and all other Ijaw communities across the length and breadth of Niger Delta region to readily work with security agencies in their domains for the policing of our communities.
"We must keep vigilance at all times and promptly report suspicious movements to security agencies," he added.