By Monsuru Olowoopejo
AGEGE—GOVERNOR Akinwunmi Ambode of Lagos State has said that owners of property demolished for the 1.4 Kilometer Agege Flyover would be adequately compensated, even as he disclosed that the project would be completed in November.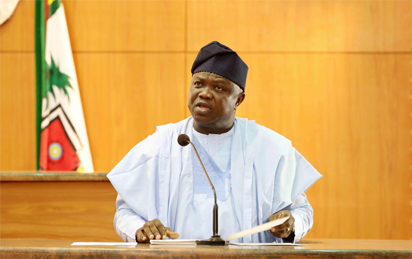 Ambode, however, assured residents that the closure of Agege Pen Cinema road, beginning from tomorrow, would not cripple commercial activities around the axis.
The governor, who gave the assurance yesterday when he led members of his cabinet to inspect ongoing construction works in Agege and Oshodi Local Governments, said that the project was designed to bring even development to Lagos.
He said: "I know that I have inconvenienced you by the demolition that has taken place here. It is temporal. And that is why I am here, first to appeal to those that we have demolished their properties and with the assurance that we will compensate you fully."
On the completion date, he said the completion date was reduced from its earlier date to November to ensure the perennial gridlock that increases travel time around the axis could be resolved with the project completion.
While expressing his empathy for residents, the governor stated that strategies have been laid down to ensure that the project is completed within the stipulated date.
According to him, the reason for the project was to reduce the sufferings that arise from the traffic congestion in the neighbourhood.
According to him, the project would decongest the neighbourhood up to the Abeokuta Expressway.
On the strategy that would be adopted to reduce the completion date, Ambode hinted that the contractor would work day and night while on site.
He said: "Starting from Thursday, January 4 (tomorrow), there would be partial closure on some of the roads here, so we have provided alternative routes where your vehicles will be passing. So, we would do this month by month, so that the area that we have finished, we would come back to the main road and Agege would never be the same again.
"We are bringing prosperity to your doorstep and I have come to appeal to everybody, community leaders, all our school children that you should not worry, it has come with a little pain, but by the time we come back at the end of the year, Agege will look like Victoria Island and Ajah."
"Everywhere we go, we know there is economic prosperity around that neighbourhood, so my coming here is to plead with you to bear and cooperate with us. I will be coming here every night to urge the contractors to finish on time," Ambode added.