By Emma Ujah, Abuja Bureau Chief
The African Development Bank, (AfDB) yesterday said that it would increase its investments in Nigeria to $8 billion by next year.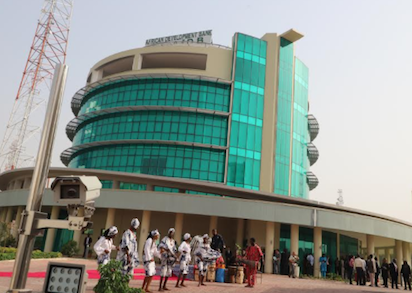 President of the bank, Dr. Akinwumi Adesina disclosed this yesterday while speaking at the opening of the bank's Country Office building in Abuja
He said that the institution would continue to strongly support Nigeria, the largest shareholder of the bank.
According to Dr. Adesina, the bank's current investments in Nigeria totalled $6 billion, spread over 73 projects.
He said "The AfDB strongly supports Nigeria and always will.     You can tell by the level of our investments in Nigeria to the tune of $6 billion.
"From our perspective, our investments can only increase as we expect the levels to reach $8 billion by 2019.
"Permit me Mr, President to state that our marriage is stable and dependable. The AfDB was there for Nigeria when the country faced economic downturn from the recession.
"I said at the time that Nigeria was too big to fail. The AfDB is not a fair-weather partner.  We were there when it mattered most- for a partner in time of need is a great partner indeed.   The AfDB approved and disbursed Budget Support of $600 million to Nigeria, as it faced its worst recession in decades. Our support goes beyond money. It demonstrates our strong commitment to stabilize Africa's largest economy.
"The crucial and timely intervention of the AfDB was what helped Nigeria to come out of the recession. The AfDB will not relent in supporting Nigeria in critical areas to boost growth, diversify the economy and create jobs.
"These include: support for youths in agriculture, SMEs, and the financial sector. We will accelerate support for infrastructure and the energy sector.
"Our investments are structured around high five priorities. Light and Power Africa, Feed Africa, Industrialise Africa, Integrate Africa and improve the quality of lives of the people of Africa."
In her address, the Minister of Finance, Mrs. Kami Adeosun, urged the AfDB to make Nigeria the bank's regional hub.
She stressed that Nigeria deserved to host AfDB's hub for the region, given the country's unparallel contributions to the bank as the largest shareholder.
"I will like to put on record Nigeria's strong desire and demand to host the regional hub of AfDB. We think being the largest shareholder of AfDB since inception and the country with one of the largest portfolio of AfDB projects, Abuja -Nigeria is the natural and logical place for AfDB regional hub," she said.
Mrs. Adeosun charged Adesina to convey Nigeria's request to the senior management and executive board of the bank.
Vice President Yemi Osinbajo who represented President Muhammadu Buhari at the event assured that the country would work closely with the AfDB to  improve the living standards of Nigerians and Africans, in general.