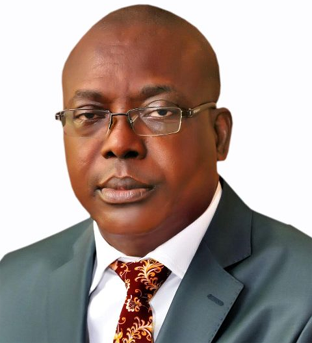 Dr. Akintola Benson-Oke
By Akintola Benson-Oke
NOW, more than ever before, it is important for the Lagos State Civil Service to be as effective and as productive as it can ever be. This is because, this present administration has gone all out to implement, on the largest scale imaginable, series of programmes that are designed to transform Lagos State for the better.  In order to execute these programmes, the input and support of the civil service is required. Thus, this training designed to ensure that officers of the civil service are effectively managing their time and are being productive, is of paramount importance.
The team behind MindTools, a resource for workplace effectiveness, defined Time Management as "the process of organising and planning how to divide your time between specific activities." The platform further stated that, "good time management enables you to work smarter – not harder – so that you get more done in less time, even when time is tight and pressures are high. Failing to manage your time damages your effectiveness and causes stress."
Indeed, the question that every one ought to ask and which is very pertinent to any effort to understand project or task management is this: It seems that there is never enough time in the day. But, since we all get the same 24 hours, why is it that some people achieve so much more with their time than others? The answer, of course, lies in good time management. The blunt truth is that the highest achievers manage their time exceptionally well."
Now, it may seem counter-intuitive to dedicate precious time to learning about time management, instead of using that time to get on with work, but the benefits are enormous. They include the following:
Greater productivity and efficiency; b. A better professional reputation; c. Less stress; d. Increased opportunities for advancement; and e. Greater opportunities to achieve important life and career goals.
In the same vein, failing to manage your time effectively can have some very undesirable consequences, including:
Missed deadlines; b. Inefficient work flow; c.Poor work quality; d. A poor professional reputation and a stalled career; and e. Higher stress levels.
Thus, spending a little time learning about time-management techniques  will have huge benefits now –  and throughout your career.
6.It is therefore my pleasure to welcome you to this training organised by the Public Service Staff Development Centre. This centre has continued to fulfill its mandate by honing and sharpening the skills of officers in the Lagos State public service. We all owe a debt of gratitude to His Excellency, Mr. Akinwunmi Ambode for his dedication to the funding and prioritisation of staff development initiatives.
The focus of this training is the 'Management and Execution of Projects."  Project management is defined as the art of managing a project and its deliverables with a view to produce finished products or service. There are many ways in which a project can be carried out and the way in which it is executed is project management.
Project management includes: identifying requirements, establishing clear and achievable objectives, balancing the competing demands from the different stakeholders and ensuring that a commonality of purpose is achieved. It is clear that unless there is a structured and scientific approach to the practice of management, organisations would find themselves adrift in the Ocean called organisational development and hence would be unable to meet the myriad challenges that the modern era throws at them. Hence, the importance of project management to organisations cannot be over-emphasised and the succeeding paragraphs provide some reasons why organisations must take the practice of project management seriously.
Without a scientific approach to the task of managing the projects and achieving objectives, it would be very difficult for the organisations to successfully execute the projects within the constraints of time, scope and quality and deliver the required result. In other words, there has to be a framework and a defined way of doing things to ensure that there is a structure to the art of project management. Thus, project management is about creating structure and managing the project commitments and the delivery of agreed upon results. By using the conventionally sound and proven methods of project management, organisations can seek to achieve control over the project environment and ensure that the project deliverables are being managed.
Managers face what is known as the "triple constraint." This is the competing demands of time, scope and quality upon the project manager's list of things to do and how well the project manager manages these constraints goes a long way in determining the success of the project. Without the use of Project Management, managers and organisations would find themselves facing an unpredictable and chaotic environment over which they have little control. Thus, Project Management is both necessary and essential to the success of the project.
Indeed, project Management is too big an area to be covered in just one training and the attempt at this training is to give insights into the immediate skills that will help officers of the Lagos State Public Service to automate tasks and become more efficient and effective in delivering value and meeting set goals and to provide a framework within which subsequent actions by the organisation can be taken.
Having described project management above in the manner stated by the management Study Guide, we may now briefly consider why organisations such as the Lagos State Public Service should embrace project management principles.
As a growing field used increasingly by businesses of all sizes and as entrepreneurs and company executives deal with the daily responsibilities of managing an organisation, it is important to use dedicated project managers to oversee projects from conception to completion. Understanding effective project management techniques helps organisations carry out large-scale projects on time, on budget and with minimal disruption to the rest of the organisation.
Project management skills help in delivering on temporary and unique ventures. While an organisation is a continuous and ongoing operation, a project is a temporary venture aimed at producing a unique product, service or process. In many cases, this uniqueness means there aren't any blueprints or steps in place to develop the end product. Project managers have expertise and experience in creating plans to deliver these items. In addition, they seamlessly integrate resources across an organisation's departments and utilize communication, planning and budgeting skills to bring projects to completion.
Furthermore, many organisational projects involve large-scale planning that affects every departments. Implementing the project may mean dealing with human resources, budgetary and supply constraints. Accredited project managers are skilled in project management techniques specific to dealing with one-time projects. They can create plans to manage interdependence and address resource conflict. Organizations that use project management to monitor and control processes and schedules can more effectively complete their projects on time and on budget.
Meeting timelines is another reason for the adoption of project management practices. Creating a project timeline requires coordinating project activities in conjunction with the ongoing business activities. A project manager will identify and detail activities required in each phase of a project and lead teams with members of your staff to carry out each phase. Working within the parameters of a project management plan, a schedule sets out target dates for completion of tasks within each phase. The time line is directly correlated to the scope of a project.
Project management practices also help in defining the scope of projects. Project management is imperative for organizations implementing wide-ranging or comprehensive projects. Scope refers to the breadth of a project, or how much of the business will be affected, and the bigger the project, the more details and planning are required to successfully bring it to fruition. Carrying out a wide-scale business endeavor requires careful coordination to ensure minimal impact on ongoing sales and production.
Budget formulation and management is another area where project management skills are important. Project management helps keep projects on budget. A good project management plan identifies anticipated costs early on to develop a realistic budget. Using resource conflict solutions, project managers can minimize the effect of funding a new project on operating capital by optimizing the allocation of workers. Coordinating tasks and clearly identifying goals or deliverables within phases reduces inefficiencies in time management that can result in being over-budget.
Finally, let me leave you with these interesting quotes about the value of task and time management:
*"The price of success is hard work, dedication to the job at hand, and the determination that whether we win or lose, we have applied the best of ourselves to the task at hand." —Vince Lombardi
*"Happiness does not come from doing easy work but from the afterglow of satisfaction that comes after the achievement of a difficult task that demanded our best." —Theodore Isaac Rubin
*"Let our advance worrying become advance thinking and planning." —Winston Churchill
*"It's a bad plan that admits of no modification." —Publilius Syrus
*"Plans are worthless. Planning is essential." — Dwight D. Eisenhower
*"Spending your day in a frenzy of activity often achieves less, because you're dividing your attention between so many different tasks. Good time management lets you work smarter – not harder – so you get more done in less time." – The Mindtools.com
Dr. Benson-Oke, is Lagos State Commissioner for Establishments, Training and Pensions.