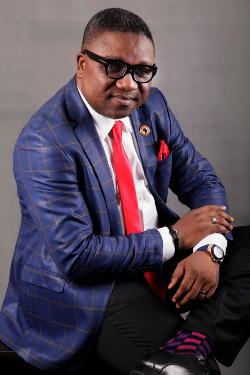 Dr. Attai
By Chris Onuoha
Dr. Elisha Attai is an ardent advocate for the development and advancement of the African Woman. He is the President and Founder of the African Women in Leadership Organisation (AWLO) and the initiator/convener of the African Women in Leadership Conference, a global movement of women of African descent changing the narrative of leadership in the world.
Dr. Attai is also a Media, Communications and Public Relations practitioner by profession. In a chat with Vanguard he reveals what inspired the journey in the gender disparity battle and how women should be encouraged.
What is your early life like, and encounter with mum and siblings especially sisters?
I grew up in a disciplined family with a solid Christian background, being the first child of a pastor, which effectively prepared me for today.
The influence of my loving mother moulded me positively and made me to be so passionate about the ability of women. I see women as better managers and I know that if we leverage their potentials, we can do better across board.
Women have great influence and can change lives beginning from the home. Through my mother, my wife and sisters I have seen true meaning of a woman being a helper, a home builder, and a nation builder if given the opportunity. I love my siblings so much. I am now their father since our father left us to be with the Lord few years ago.
How did the interest and journey into gender advocating started.
As a media and PR consultant, I have been fortunate enough to work with a lot of African women leaders across the continent, I discovered that if women can realize and come together to enhance, support, and exchange ideas among themselves, they will do much better as leaders.
I saw the untapped potentials among them and the need to create a structure for mentorship. I felt that the more experienced ones should pass across their experience to the younger generation and also exchange ideas among themselves.
There was no other cross-continent platform that brought women leaders from across all sectors together. I was motivated about 10 years ago in Ghana when my media company was consulting for the Ghanaian High Commission. That was when I started the African Women in leadership Organisation (AWLO).
We began to look for solutions and I saw the need to bring together female parliamentarians from both countries on one platform to collectively work for ways to restore peace between the aggrieved parties. The first conference was held in 2009 in Accra, Ghana. Also at numerous times, I have also witnessed first-hand, the amazing results of having women work together with unity of purpose to achieve social change. I have witnessed the power of their synergy. Sadly, these opportunities are very few or almost non-existent.
…And the journey so far?
We started and have gotten here today – a journey totalling almost 10 years – because of the encouragement and support of family, friends and comrades. Over time, some of these friends have become family and some of these comrades have become friends. They have provided all the support, encouragement and strength that we have been running on. Asides from our vision and passion, they are the reason we are still doing what we are doing.
Having come a long way, the organisation has impacted lives. You seem not relenting as you are ready to launch another which comes up this December 15 that also coincided with your birthday celebration.
I wouldn't call it a celebration. I would rather like to think of it as a reminder. That is what it has always been for me. My birthday has always been a reminder of why I am here in this world, what my place is, and my contribution to the grand scheme of things. It is always a time of reflection and retrospection for me. It is a time to assess and strategize.
We have tried over the years to rouse women to stand up for themselves, work together and close the gender gap and we have also asked men to give women more opportunities. But lately, on a closer assessment we have found out that Gender Equality is not just a women issue but a human issue. It is what the project is saying; the name itself is binary.
And all of this came to me last year during my birthday when I was assessing my efforts so far and thinking: "How we can attain more speed? How do we get more men involved?"
So, I'm glad that on my birthday this year, we are able to record a milestone that came as a result of my reflections last year. I look forward to what next year holds for us.
What has been the impact of the organisation so far on the women and society at large?
When we started out in 2009, we tried to tackle the leadership problem headlong by engaging top tier leaders of the African community via conferences and meetings, garnering their support and pledge to provide excellent leadership to their constituents. We recorded considerable impact and the society was the better because of it.
However, to get more results, we decided to be more strategic and surgical with our methods. We decided that, to achieve our objectives and realise our vision faster, we needed to engage the leadership and the followership at the same time. We engaged the leaders with Trainings and Conferences with the goal of producing better leaders and increasing the capacity of existing leaders.
That is how our Youth Council, the iLEAD initiative and the AWLO Leadership School were born. The Youth Council is a leadership incubator that engages female youths age 18 – 25 years.
They are taught ideal & excellent leadership and exposed to scholarships and opportunities from our partners. It is currently established in five states in Nigeria and the United States. In one year, we have had Google Inc., Facebook Inc. and IBM organize Digital Skills, branding and leadership training for the Youth Council to over 800 of these youths.
The iLEAD initiative engages female youths under the age of 18 who are in secondary schools and hold leadership positions in their school.
It was inaugurated in 2006 in Akwa Ibom State and had students from many schools in the state in attendance and was endorsed by key stakeholders in leadership such as Heads of Government, Common Wealth youth delegates, UN Ambassadors, Heads of Schools, Representatives of Government Parastatals, and Heads of Leadership Institutions.
The Leadership School is a structured institution of learning designed to teach and certify professional leaders. It is currently in talks with the University of Lagos to provide short term executive trainings. We have 1Mother1Child project, a giveback project of AWLO where members are expected to educate a child up until the level where the child can do the same to others.
We have incorporated 100 children into the program; many of them in the primary school and secondary and 5 in the University of Maiduguri.
Teachers have been employed, teaching over 70 children at the IDP camp in Abuja on a weekly basis. 25 of the IDP children were registered for WAEC and JAMB last year alone. We have also been able to send some of them abroad for studies. Our chapter in Port Harcourt and Lagos for example has been engaging female traders in rural areas; rebranding their stalls and also providing access to capital to start or enhance their businesses.
It may not have been easy for a man to spearhead the cause of female gender advocacy drive. What are the challenges?
We have had a lot of challenges, from the number of people who don't even believe that Gender Equality is an issue, to the dragging-of-feet by those who have tried to even join, to some who say "Why is a man leading a women organisation?" We have had challenges, but none of it is near the challenge of resources and finance. It has continued to plague us.
You are set to launch and initiative #HeForShe movement basically an all men affair. How do you intend to sustain it further?
You are talking about our latest AWLO HeForShe movement?  Yes! We have a grand goal of getting 100,000 commitments in the first 6 months. We also have a strategy on ground to get businesses, companies and institutions to signup, not just only individuals. They will help drive the actual implementation of the project's objectives.
They will provide periodic reports and assessment of how much progress is made in their companies with regards to Gender Equality. This will show progress in Gender Equality in their staff strength, top 6%, their Board and new hires. We also expect to roll out meet-ups and trainings to provide awareness for the campaign. The project is supported by a heavy database technology framework and resources to give it what it needs to sustain itself and scale.
What will be your candid advice to women folk seeing that men are ready to partner with them in equity and equality drive?
It is simple: "Men have realised that it is not a women's issue and are beginning to join forces in the drive for Gender Equality. It is a time for women to double their efforts and give them the required support." We just might achieve Gender Equality before 2095 as projected. It is possible. We can do it.