By Funmi Komolafe
Merry Christmas! Glory be to God who sent joy to the world with the birth of our Lord Jesus Christ.
Brethren, at last Christmas day 2017 is here and you are alive.  Glory be to God.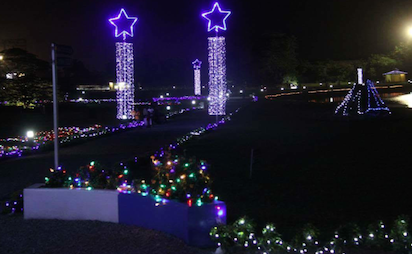 Spare a few moments for reflection and think of all the good things that God has done for you.   For instance, how much did you pay for the oxygen that you have been breathing in, what about your protection?   That no one has kidnaped you or you have not been a victim of any kind of accident is enough reason to thank God.
Brothers and sisters, God has been good to you.  You  have a roof over your head, personal or rented, you still have cause to thank God.  I'm sure you are aware that there are thousands of people in Internally Displaced Persons camps struggling with the realities of life.
Do you remember that there are people younger than you with whom you began the race for 2017 but are no more?
Not a few people went out and have not returned till today.  Brethren, we can go on and on.   For these and many other reasons we have cause to thank God.
No wonder the Psalmist said in Psalm 107 vs 8 " Oh that men would praise the Lord for his goodness, and for his wonderful works to the children of men!
Isn't it wonderful that what you called ordinary fever, or cough has sent some people to the grave but you have been healed?
Brethren, you are just about seven days to the end of the year.   In other words, by this time next week, its December 31; the last day of the year 2017 by the grace of God, you will see the end of 2017 and every challenge that has held you down will roll away with that year in the name of Jesus.
I'll share with you this short but significant testimony given by a Pastor of popular Pentecostal church.
With this Pastor lives a female relation who is in her 40s but is single.  Suddenly, she came home with a man who she said is separated from his wife and that she would like to marry him.   The Pastor told her, " Not on your life".  The man asked her, why she should be the one to  comfort the man.
More importantly, Pastor told the man to go back to his wife and reconcile and that he would never lead his sister to the Altar to marry another person's husband.   Naturally, she was devastated but Pastor told her he would continue to pray for her and God will answer. Let me mention that the lady in question is an orphan.
It didn't take a long time before she got into a relationship with a man in his 40s who has never been married. To the glory of God, the Pastor will lead the lady to the altar to marry her own husband early next year.
Brethren, God is never late. We should learn to focus on the solution and not the challenge.  When we do, we shall surely overcome.
Our assurance is found in the word of God as recorded in Psalm 68 vs. 4-7 " Sing unto God, sing praises to his name: extol him that rideth  upon the heavens by his name JAH, and rejoice before him".
Verses 5& 6  " A father of the fatherless, and a judge of the widows, is God in his holy habitation. God setteth the solitary in families: he bringeth out those which are bound with chains: but the rebellious dwell in a dry land".
A deeper reflection on this Bible passage confirms to us that whatever is the challenge that we have been struggling with; God is capable of bringing it to an end.
What people have seen as an exception in your life, will soon become make you an exceptional star.   This is what happens when a woman who has been singled out at family events as a mother in waiting suddenly receives the visitation of God and gives birth to a set of triplets.
As the year winds down, let's make a list of what the Lord has done for us within the year and give him thanks. When we give thanks for what he has done, we are also loading the cloud for heavens to open unto us.
This season, God will visit you and give you exceptional miracles in the name of Jesus.
Only God can give you victory without a fight. He did it for King Jehoshaphat; he can do it for you too.
2nd Chronicles 20 vs. 20-22  King Jehoshaphat was confronted with a  war from by a group of enemies who were united in their resolve to bring him down.
Let's consider verses 21 and 22 for this purpose " And when he had consulted with the people, he appointed singers unto the LORD,  and that should praise the beauty of holiness, as they went out before the army, and to say, Praise the LORD; for his mercy endureth for ever. And they began to sing and to praise,  the LORD set ambushments against the children of Ammon, Moab and mount Seir, which were come against Judah; and they were smitten".
In the name of Jesus, as you praise the Lord, every gang up against your destiny will collapse and you will triumph.
What is it that you are trusting God for? Begin to act as if you have received it.
Let your mind be focused on the change that is about to come into your life and your destiny.   Let your faith take you to   a new level.
Bear in mind that God is the helper of the helpless.  The widow, the orphan, the one who has remained unemployed after years of graduation, the one that doctors have worked on for years yet unable to conceive, are people who have gotten to the level that only God can help them.
Or what do you say to a medical doctor and his wife who have been unable to have a biological child in spite of their vast knowledge of medical science.
It only confirms that only God can help such a couple.
So, what exactly does God want from you?
God wants you to give your heart to him.  Allow him into your heart and once he is there, you will see the manifestation of his power in a new dimension.
There is a popular song that children sing but   we often downplay.
It is " Into my heart, come in to my heart, Lord Jesus, come in today, come to stay, come into my heart, Lord Jesus ".
Brethren, you may think it's a song for children, but it's for us all.  When Christ comes in, you will certainly enjoy the peace of the Lord.
When He comes, in the forces of darkness must give way because he is the Light of the world.
God also needs your service.  Do you serve God? It's not just by worshipping him. Do you bring others to him?  Have you invited anyone to come and see how good the Lord is?
God loves praises and thanksgiving.  When we praise him, we are acknowledging his awesome powers. When we praise God, he cannot ignore us. With praises unto God every pain ends  with thanksgiving .
Even before this year-end, in the name that is above all names; Jesus, you will have cause to thank God.  Not only will you thank God, others will join you to thank him.
Eating and drinking aren't the best way to celebrate the birth of Christ.  What is desirable for us Christians is to reflect on his life, appreciate his sufferings for us and resolve to live righteously.  That way, we shall be seen to be grateful to God.
Merry Christmas!!!
Subscribe for latest Videos