By Funmi Ajumobi
Radisson BLU Anchorage Hotel treated journalists to a 'Christmas Menu Tasting', penultimate Wednesday, in order to have the foretaste of what awaits fun-loving Nigerians this season.
According to Mr Mpofu Wellington, Director, Sales and Marketing of the hotel, his organisation was ready to paint Lagos blue as arrangements had been made to play host to Lagosians and those coming from outside the state and abroad.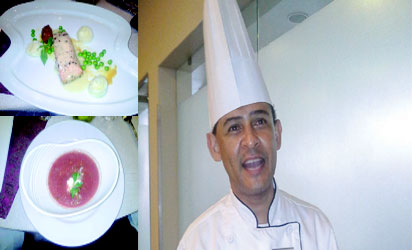 Wellington said Father Christmas wouldn't be more generous than the special package his organisation was offering as the hotel's contribution to making people happy.
He said it would be a memorable festive season from Christmas Eve through Christmas and Boxing Day, saying individuals and families could stay for the three nights and pay for two with different activities and menus each day for everyone including children in a friendly environment and at affordable rates.
Jade Sullaphen, a South African and Executive Chef of Radisson Hotel, told the history behind the special Christmas cuisine, saying he understood different cuisines for different festivities through his experience, over the years, in serving dignitaries and celebrities like former American President, Bill Clinton, Prince Charles and his sons, Harry and Williams, while working as a junior chef at Hilton Hotel in Johannesburg.
He served many dignitaries also while working with the South African Embassy including former presidents of Malaysia and China.
Jade said in the few months he had spent in Nigeria, he had seen that everybody keeps eating and partying with the same types of foods with chicken, turkey and fish, saying he was set to create something different around what people like to eat to have a festive experience they will not forget in a hurry.
He, however, said Radisson will not be serving only continental dishes to customers at Christmas as there will also be Nigerian dishes like Jollof rice, fried rice, edikankong, turkey in tomato sauce, snails, chicken and different types of fish.
"I am going to produce all the same styles of Christmas around the world in Nigeria using local Nigeria ingredients," Jade added.
One of the Christmas Tasting Menus journalists were treated to was Grilled Norwegian Salmon.