Take Army Chief, Yusuf Tukur Buratai, to the poll as a candidate today. His popularity is not in doubt. I guess the three-star general will not get enough votes to stay in office. Loathed in the North–East, his geo-political zone by Boko Haram, pilloried in the South-East by IPOB, despised in the Niger Delta by Avengers. He does not enjoy the backing of the Middle Belt and South-West where herdsmen  are on rampage.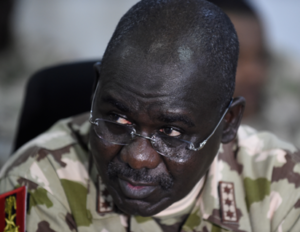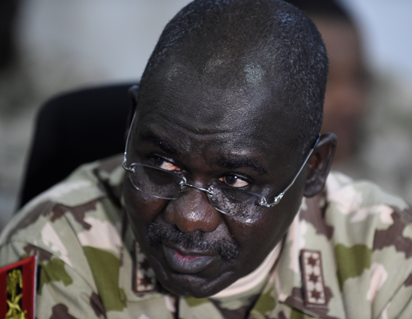 Courtesy demands that   friends  will congratulate the COAS on the extension of tenure granted him by President Muhammadu  Buhari. These pals will, of course, not include some muslims in Kaduna State. There is no love lost between Lt. Gen. Buratai and the Shiites.
I am not an admirer of this government but I think we have to restore sanity. Government should bring back the glory of the Army and one sure way of doing this, if the intentions are genuine, is to stop the spate of unnecessary retirements which have bedeviled the system since 2001.
The idea of keeping  service chiefs longer than two years is not bad at all as long as the rules of engagement are enforced. As Buratai settles down to enjoy a fresh tenure, I would also want him to professionalise our Army. Soldiers should not be seen as serving certain political and ethnic interests.
With chaos all over us, government cannot afford to send experienced officers into retirement simply because new service chiefs must be appointed. Nigerian forces are respected globally as peace keepers. It is sad that the story is not the same in our country.
Things started falling apart in 2001 when President Olusegun Obasanjo appointed new service chiefs to replace the trio of three star generals, Victor Malu [Army], Victor Ombu[ Navy] and Isaac Alfa [Air Force]. In their place came Alexander Ogomudia, Samuel  Afolayan and Jonah Wuyep.
Malu was a member of the Nigeria Defence Academy [NDA] Course Three[September 4, 1967-March 14, 1970]. The appointment was in order since some of his mates had become service chiefs earlier. Vice Admiral Mike Akhigbe was Chief of Naval Staff  while  Alwal Kazir served as Chief of Army Staff under General Sani Abacha.
We must give it to Abacha for believing in made-in-Nigeria officers. He appointed Alison Madueke of NDA Course One, Navy chief in 1993. That signaled a sharp departure which later affected other services. The import was that Sandhurst, Mons, Dehra Dun and Pakistani Academy trained officers, especially in the Army, lost relevance.
When Obasanjo picked Malu, the gap was not much. Things changed when Gen. Ogomudia was announced as Malu's successor. Afolayan and Ogomudia belong to NDA Course Seven[October 13, 1969-March 11, 1972].What happened was that in the  Army and Navy, all course four, five and six officers who had not left service had to go.
Officers like  Joshua Madaki[course four], Sarki Mukhtar, Bashir Magashi, Leo Ajiborisha[course five]   had been retired because of political-military appointments. However, there was Felix Mujakperuo of course five , who like Ogomudia ,is from Delta State.
Even the appointment of Buratai in 2015, hurt so many of his seniors who were forced  into retirement. The Army Chief belongs to NDA Course 29. His predecessor, Keneth Minimah, is of NDA 25, commissioned Second Lieutenant in 1981.
The Chief of Defence Staff[CDS], Gabriel Olonisakin, is Minimah's mate as well as immediate past Air chief , Adesola Amosun. As Buratai rose,  courses 25, 26, 27 and 27 officers in the Army had to quit if there was no space for them at the Defence Headquarters.
So in keeping Buratai, President Buhari has saved the jobs of some young generals who would have left  if the next Army chief turned out to be their junior.
I would want this new development to inspire officers' confidence. Past leaders did not manage it. Obasanjo replaced Ogomudia as Army chief with  Martin Luther Agwai, of course eight, which was fine. Then he moved Agwai and brought in Owoye Azazi of course 12, the Gideon Orkar, Sambo Dasuki set. Another course 12 officer, Ganiyu Adekeye, was CNS.
President Umaru Yaradua, after appointing Luka Yusuf, course 14 in 2007, sidelined courses 15 and 16 in 2008 to pick Abdurahman Dambazau, course 17.As Yusuf left, his mate, Ishaya Ibrahim, was made CNS. Yaradua left Air Marshal Paul Dike, course 13 as Air Chief and would later promote him to CDS. Dike's position went to Oluseyi Petirin, course 16.
Dr. Goodluck Jonathan took off on a fine note handing over the Army to Azubuike Ihejirika, course 18 in place of Dambazau, course 17. Then brought Dambazau's mate, Ola Saad Ibrahim, as Navy Chief.  Petirin had become CDS.
President Jonathan scattered it all when he chose Minimah, course 25, to succeed Ihejirika. It meant red light to officers of course 19, 20, 21, 22, 23 and 24 respectively. That swept off Babagana Monguno and Emeka Onwuamaegbu among many others.
There is a lot of politics in Army promotions. It started with the British and has not left us. My advise to Gen. Buratai: " Leave a mark. Let us not go back to Glover Hausa."