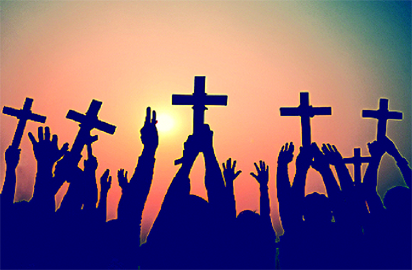 By Funmi Komolafe
Brethren, by this time next week, if the Lord tarries his coming, it will be Christmas eve.
Thank God you and your family members are alive.  Glory be to God.
On Christmas day, we mark the birth of the greatest man that ever lived.  God in human flesh; Jesus.  Many Christians mark with church services and other activities.  Even as we celebrate, there are people who have a feeling, ' what am I celebrating".  Brothers and sisters in Christ, you are celebrating life. Your existence on this planet; earth is enough reason for you to celebrate.
However, human beings have other needs for which prayers have been said and the answer is yet to manifest physically.
For a lady out there, you had thought you would have had your wedding by now, but the man walked out on a flimsy excuse.  That's not a reason for you to be dejected.  God might have saved you from a sorrowful relationship.
In the case of a couple, they have been saying to each other, this year is gone again.  They have consulted doctors spending so much money yet there is nothing to show for it.   The woman is so dejected she doesn't want to travel home with her husband for the Christmas holiday.
Or are you a grandma waiting to carry your grand children and there is no sign that one is on the way?
Are you indebted and everything around you points to the fact that you will be unable to pay?
Perhaps your own challenge is man-made and you know it.  Just bear in mind that it is only God that has the final say.
Whatever it is you are still waiting on the Lord for, I say it with all confidence that yours is still possible even before this year ends in the mighty name of Jesus.
Do not lose hope.Don't   contemplate suicide.  Suicide is the straight gate to hell.
So you are asking what do I then do?  The solution is indeed with you.
Ask for his mercy.   Why?  Do you think I'm over emphasizing mercy?
Psalm 103 vs. 8 tells us " The Lord is merciful and gracious, slow to anger, and plenteous in mercy".
Our focus today is on Psalms 56 and 57.  We begin with the word of God for us in Psalm 57 vs. 1-3 " Be merciful unto me, O God, be merciful unto me: for my soul trusteth  in thee; yea, the shadow of thy wings will I make my refuge, until these calamities be overpast".  Brethren, did you get it, the calamities shall be over and the time for you is NOW in the name of Jesus.  On the condition that you seek his mercy and put your total not partial trust in HIM.
Verse 2 " I will cry unto God most high, unto God that performeth all things for me".  Note performeth all things.  So, why are you bothered?  There is no challenge that you are passing through  that is new.  Someone, somewhere, has passed through it and had a breakthrough.
In the name of Jesus, you too will have an astonishing breakthrough before 2017 rolls away.
The word of the Lord continues with verse 3 " He shall send from heaven, and save from the reproach of him that would swallow me up.  God shall send forth his mercy and truth".  With this, I'm sure you are confident  that you would soon see the end of that reproach.  If you are hopeful that he would send help from heaven, then be expectant, the word that will lead you to your break through is on the way in the name of Jesus.  God may speak to you provided your ears are open to hear him or he may speak through a friend.
Someone may invite you to a programme, which ordinarily you do not want to attend but that may be where God will meet you.
Perhaps your case is that in which people  you call your friends have decided to plot evil against you.
In this season, every evil plot against you by anybody or group of persons, the Lord will reveal and over power  your enemies  in Jesus name.
Psalm 56 vs. 4 " In  God I will praise his word, in God  have I put my trust; I will not fear what flesh can do unto me".
If you don't believe this happens, let me share a true-life story with you.
A man; Mr. X. that God has blessed working with an apex bank was approached by his relation who told him that he should cooperate with him to produce U.S. Dollars.  The relation happened to be his senior brother. This senior brother presented  Mr. X with a $100 note.  A genuine one.  Mr. X identified it as genuine but he said he would have nothing to do with such an illegal act. For in his view, it is not only illegal but also sinful to do so.
The senior brother went away and told other people that his brother had refused to help him complete his building.  He therefore vowed  to deal with Mr. X .
No one knew what he did but Mr.  X suddenly fell ill with his family spending so much money.  His  wife went  from pillar to post and she was told that the senior brother of her husband did something.
However, because  his spouse did not appreciate early enough that  the illness had a spiritual origin, after about six months on  the sick bed.  Mr. X died.
Your enemy will not see your end in Jesus name.
Brethren, the story did not end there.  The senior brother refused to visit Mr. X's  immediate family and when asked why, he had a reply. "  They said I killed him".
Meanwhile, nobody ever said that to him.
As Christians, Psalm 56 verses 1-7 are available for us. For the purpose of this write up, I will reproduce verses 4-7 only. " In God I will praise his word, in God I have put my trust; I will not fear what flesh can do unto me. Everyday they wrest my; words: all their thoughts are against me for evil.
They gather themselves together, they hide themselves, and they mark my steps, when they wait for my soul.
Shall they escape by iniquity? In thine anger cast down the people, O God.".
In the name of Jesus, anyone or group of people working against your safe delivery,  those who have vowed that you will die as a result of that health challenge, will replace you in the grave in the name of Jesus.
It is certain that you will receive the mercy of God.
When you receive the mercy of the Lord,   you  are  sure He will fight your battle and your victory is certain.
Brethren as Christians, we pray for our enemies to repent but those who will not repent must receive the judgement of God. No one has the right to truncate another person's destiny.  Those who use  the forces of the darkness to work against the children of God must repent or be ready for the wrath of God.
It is just that simple.
Testimony-   I'll share this testimony of a family that was in debt. "My younger brother was studying abroad when the exchange rate went up. The rate was so high that we could not meet up with the cost of his school fees which amount to N7.5 million. I tried to get a loan from my office but I was unsuccessful. I waited upon God and a senior officer from the faculty called my brother and gave him all the results related to his study.  Today, we are free from the debt of N7.5 million".  Culled from Redemption testimonies.
Deuteronomy 28 vs 12 the last part reads, "  and thou shall lend unto many nations, and thou shall not borrow".
In the name of Jesus, we shall not end this year as debtors.
We shall  enter the new year as creditors in Jesus name.
Do have a fruitful week.  You are blessed in Jesus name.