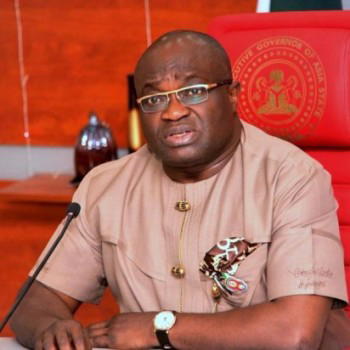 Gov. Ikpeazu
By Anayo Okoli
UMUAHIA—GOVERNOR Okezie Ikpeazu has urged Ndigbo to programme their relationship with other ethnic groups in the country in a manner that it would achieve unity and love among the people of Nigeria.
Governor Ikpeazu gave the charge yesterday, at the Government House, Umuahia, when he received in audience, a delegation of Nzuko Umunna, an Igbo socio-cultural group led by former Nigeria Ambassador to Switzerland,Ambassador Umunna Orjiako.
According to Governor Ikpeazu, he was concerned about the plight of Ndigbo in Nigeria despite contributing a lot to the economy of the country, saying that "Igbos have demonstrated more commitment to the unity of Nigeria more than any other race".
He stressed that there was need for mental restructuring of Nigerians such that they would appreciate and accommodate any opportunity provided to Nigerians wherever they find themselves in the country.
Ikpeazu said that though fiscal federalism is good in geography, but of greater importance is giving people a sense of justice, equity and fair play.
According to him, Ndigbo cannot continue to play second fiddle in Nigeria, even when they are very creative and industrious people.
The governor assured the group of the support of his administration to realize their visions and aspirations of rediscovering the Igbo man.
In his remarks, the leader of the delegation, Ambassador Umunna Orjiako explained that the group is not a replication of other Igbo socio-cultural groups like the Ohanaeze, saying the association is a unique group of people of all  ages spanning across all Igbo nationalities.
According to him, the intention of the group is to rediscover Ndigbo and pursue their collective interest.
Orjiako, who noted that the Igbo man built and wielded Nigeria together, said there was need for a handshake across Nigeria by bringing Ndigbo to collaborate with the other ethnic groups in Nigeria to move the nation forward.