By Luminous Jannamike
ABUJA — The Minister of Youth and Sports Development, Solomon Dalung, has said that the federal government will revisit the plan to establish High Performance Centres across the six geo-political zones of the country.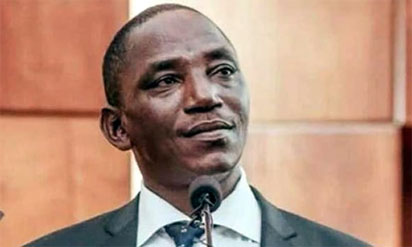 Dalung, who made the disclosure while speaking to journalists on the sidelines of the 2017 Anti-Doping Seminar for Presidents and Secretaries of Sports Federations in Nigeria which held in Abuja, said that the High Performance Centre will help Nigerian athletes achieve better results in international tournaments; adding that work will start in 2018.
He said: "I discovered in our records that after the 2012 Olympics in London, there was a Presidential retreat, and part of the far-reaching recommendations of that retreat included the establishment of High-Performance Centre and a National Testing Centre.
"Unfortunately, as at today, we only have some equipment that was imported for the High-Performance Centres but they have not been installed.
"The High-Performance coaches that were recruited under that arrangement were paid to a particular period and abandoned before we came in."
He added that the present administration has decided to revisit the contract for the establishment of the National High-Performance centres, saying; "sports have moved away from determination to science. And without High-Performance Centres your athletes cannot achieve good results in international competitions."
He noted that, in the 2018 budget, the Sports ministry proposed some allocations for the Centres and has also started pushing for necessary legislative approvals because the centres are huge projects that are quite expensive.
Dalung said that, at the moment, Nigeria sends athletes to Qatar under the partnership the federal government signed with the Arab country.
According to him, Qatar has also been responsible for taking care of some of Nigeria's injured athletes because they have some of the best hospitals in the world.
"We hope and look forward to establishing our own special hospitals for sports and the high-performance centres because Nigeria has what it takes," he added.