Manchester City boss Pep Guardiola says he "encouraged" his side to celebrate Sunday's 2-1 win at Manchester United, but denies they went over the top.
United manager Jose Mourinho  had milk thrown at him  outside the Old Trafford dressing rooms after objecting to City's celebrations.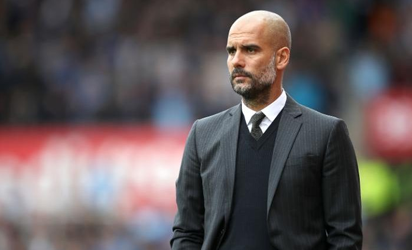 Asked if his players celebrated too much, Guardiola said: "Definitely not.
"We were happy. We won a derby against Manchester United, one of the best rivals we have."
City's players initially celebrated Sunday's victory in front of their fans, and coaching staff tried to persuade Guardiola to join them, but he refused.
After the players and staff headed down the tunnel, it is understood Mourinho complained outside the visitors' dressing room as he made his way to interviews.
In the ensuing row, the Portuguese had water and milk thrown at him while City coach Mikel Arteta suffered a cut head after he was hit by a plastic drinks bottle. It is not known who threw it and sources from both clubs say no punches were thrown during the incident.
"After the game, the players shake hands, between them – no problem at all – and some players go and celebrate with the fans as normal," said Guardiola.
"After that we went to the locker room and I encourage to the players to celebrate victories but, of course, inside of the locker room.
"Of course, with huge respect for our opponents, not just Manchester United's.
"When we lose we have to accept defeat and when we win to try to celebrate it.
"I am the guy who encouraged them to celebrate it in that moment but between each other. That is what we did."