By Obadiah Mailafia
LAST week we discussed the intellectual origins and background to the German social market model. We took the view that that model lay at the remarkable performance of the German economy in the post-war era.
In today's piece we conclude our case for benchmarking Germany as a model for industrialisation, technological development, economic competitiveness and national transformation.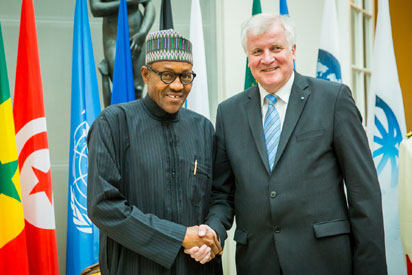 The German social market system provides universal social security for all citizens who are not in a position to help themselves due to old age, infirmity, unemployment or other social challenges while fostering an enabling investment climate and equality of opportunity for all. The system also fosters fair competition within the framework of an open market system that prevents individual economic actors from exercising monopolistic dominance.
Through this process, the market mechanism ensures greater choice for consumers while encouraging suppliers to develop more innovations while ensuring fair prices for consumers and a more equitable distribution of income. Government's role is not only to maintain public order but also ensure a regulatory environment that promotes fair competition and an even playing field for all actors.
This system, which French economist Michel Albert dubbed "Rhineland economics", entails a healthy institutional mix between state and market. The state engenders a national consensus on economic development while providing critical public goods such as security, education, basic health, physical infrastructures, social welfare and social safety nets for the most vulnerable.
We Nigerians have long been afflicted by the hegemony of Anglo-Saxon neoliberalism in which untrammelled markets and finance capital hold sway over people and production. The German model, on the contrary, is driven by technology and production rather than by finance capital. This explains why German banks were relatively insulated from the recent global financial crisis.
Clearly, the subprime crisis which began in Wall Street in 2008 and mushroomed into a global financial crisis has taught us painful lessons about the limits of neoliberalism. We now understand that a resilient economy is one that ensures a sensible balance between states and markets. Prosperous nations are those whose economies operate robust markets under the guidance of a benign and smart, entrepreneurial watchman state.
Certain key elements are crucial: the presence of the rule of law; monopoly of the use of violence; effective administrative control; sound management of public finances; massive investment in human capital, including education, health, knowledge, training and skills; enhancement of citizenship rights through expanded opportunities for participation and ensuring reciprocal rights and obligations to all citizens; development of a competitive and forward-looking market economy.
The effective exercise of state authority in a manner that promotes economic growth while ensuring political stability requires not only high quality visionary leadership; it calls for a sound and professionalised bureaucracy. Public policies must be suffused with social justice, inclusive growth and what the philosopher John Rawls termed 'public reason'. Post-war German leaders such Konrad Adenauer, Ludwig Erhard, Willy Brandt, Helmut Schmidt, down to Helmut Kohl, Gerhard Schroder and the inimitable Angela Merkel, showed uncommon vision in nation building as well as sagacity in statecraft and economic management.
Unlike the Germans, we Nigerians are a divided people. Our leaders have been, sadly, tribal plodders. We lack a sense of national vocation and collective destiny. For a country with the size, resources and innate potentials of Nigeria, it is self-evident that progress can only come about through the forging of a new  national consensus among the ruling elites from across the country's key constituencies. Nation building is a vital requirement for successful economic transformation.
What is crucial, in my view, is a common vision and commitment of all the political and economic elites to the creation of a developmental state that would accelerate the process of economic growth and wealth-creation. We need a smart state that supports innovation and generates critical public goods, creativity and higher level productivity.
Mariana Mazzucato, an economist at the University of Sussex, shows that, ironically, at a time when America was pushing the ideology of deregulation and privatisation in developing countries through the World Bank and the IMF, she was doing the exact opposite by intervening in strategic high technology industries. She provides evidence of crucial government support for ICT in Silicon Valley which made those industries world leaders. The concept of the entrepreneurial state is not about government setting up companies; it is about the state fostering a sound business environment, with an incentive system that drives innovation and technological progress.
Nigerian decision makers need to pursue the following development goals in the coming decades: a new vision of collective destiny and national purpose; diversification of the economy away from oil dependence; pursuit of agriculture-based mass industrialisation as a development strategy; reaffirmation of the centrality of market principles within a well regulated economic framework; the rule of law together anchored on a fair and transparent  judicial system; anti-trust and anti-monopolies legislation to ensure fair market competition; social justice based a well managed welfare system; education, human capital, training and skills; a fairer system of taxation that makes the rich and affluent pay their due; promotion of SMEs as the backbone of the national economy; autonomy of the central bank, with price stability as its primary mandate, while stabilising the naira as an international trading currency.
Nigeria and Germany have had enduring trade and diplomatic relations since 1960. Our international trade is currently valued at about US$5 billion. German investments in our country have, unfortunately fallen from a peak of US$7 billion in 2013 to a low of US$1.2 billion in 2016.  There is potential out there for us to do more in the trade and investment spheres. Chancellor Angela Merkel has made at least two state visits to Abuja in less than a decade while a succession of Nigerian leaders have made official visits to Berlin.
I want to use this opportunity to request German authorities to provide more scholarships and training opportunities for talented young Nigerians in the STEM disciplines. I would like to see more German companies investing in Nigeria's infrastructural development. Nigeria's economic planners need to benchmark key economic sectors against Germany, particularly in education, industrial training, SMEs, infrastructures, and research and innovation. Berlin and Abuja should become twin cities while our two commercial capitals Frankfurt and Lagos should adopt each other as sister cities. Our universities should also cooperate in research and academic exchange programmes.
The future is bright for Nigerian-German relations!
(Concluding Part of an Address at the Workshop on the Social Market Economy Model Organised by Konrad Adenauer Foundation, Abuja Transcorp Hilton Hotel, Tuesday 6 December, 2017)
Subscribe for latest Videos