…Presidency worried over arms haul in Ondo
By Dayo Johnson
FOLLOWING the quality of weapons recovered from ex- warlords in Ondo State, last week, security chiefs and governors of the Niger Delta region are billed for a security meeting on Wednesday.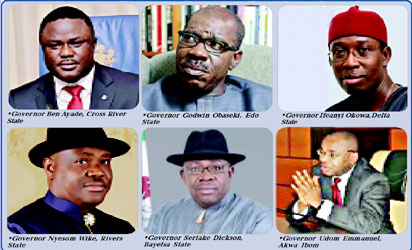 Top security personnel informed newsmen that the meeting will review the security situation in oil-rich Niger Delta.
Militants behind the kidnap of the six senior secondary school students of Lagos Model College, Igbonla, Epe, in Lagos State, Arepo pipeline vandalism and several other attacks in the South-West, submitted their arms in Ondo State last week to embrace the Federal Government's amnesty programme.
They were led by their leader, Ogailo Iborry Young, to the Collection and Documentation of Arms Centre in Ajapa Community, Ese-Odo area of the state.
Vanguard reliably gathered that the meeting is billed to hold at the Presidential Villa barring changes.
The quality of weapons surrendered by the militants was said to have unsettled the Presidency and the security chiefs in the Niger Delta region.
Sources said that the meeting is to be coordinated by the Director-General of the Department of State Services, DSS, Mallam Lawal Daura.
Vanguard learned that the proposed meeting became necessary because it was widely believed before now that aside the Niger Delta Avengers, no such group had the capacity to pull through a massive arms hold as witnessed in Ondo State, last week.
The recovered arms included  rocket launchers, Browning machine gun, one General Purpose Machine Gun, GPMG, Daewoo K3, Colt Automatic Rifles, Breda 30, Fiat Revelli Modelling, several AK 47 rifles, one Rocket Launcher, CETME Ameli, Heckler & Koch MG4, tens of Pump Action rifles and some automatic cartridges. Also surrendered were military uniforms, police bullet proof vests, dynamites, grenades, bombs and helmets.
The security source said: "What we saw was like a movie. No one envisaged that these young boys would amass such quality of weapons. It is highly embarrassing, to say the least. As soon as the photographs were released alongside the story, and it was confirmed that those arms were from that community aside several others that were recovered from other villages, the President ordered that an appraisal be done immediately.
"That is why all the governors of the Niger Delta region and the security chiefs will meet on Wednesday."