By Sam Eyoboka
CATHOLIC Bishop of Kafanchan, Most Rev. Joseph Danlami Bagobiri yesterday responded to the Catholic Bishops Conference of Nigeria, CBCN, which directed him to apologize for recommending dialogue with Ahiara Mbaise priests and laity over the five year crisis that has rocked the Ahiara Mbaise Diocese over appointment of Bishop Peter Okpalaeke to succeed late Bishop Victor Chikwe.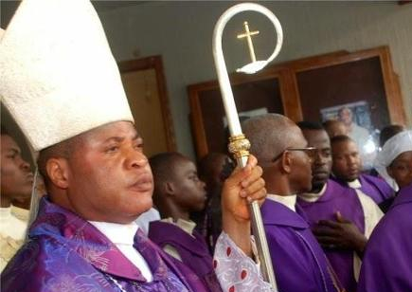 The CBCN in a letter dated December 5, 2017 and signed by the president, Archbishop Ignatius Kaigama and his deputy, Most Rev. Augustine Akubeze faulted Bishop Bagobori's letter, describing it as ill-timed and capable of aggravating the Ahiara Mbaise crisis and therefore urged the Bishop to immediately "issue another statement through the public media withdrawing in its entirety the earlier statement and apologise to the Pontiff as well as CBCN, Bishop Peter Okpalaeke and the people of Ahiara for the damage your statement is already doing."
In another letter yesterday and personally signed by him, the Kafanchan Bishop said he had consulted with the Apostolic Nuncio and Papal Legate to Nigeria, Most Rev. Antonio Guido Filippazzi with whom he had fruitful discussion over the matter, apologising only for certain aspects of his letter which may have offended the Holy Father.
Bishop Bagobiri insisted that the only viable solution to the protracted Ahiara Mbaise saga is to open a channel of discussion with the indigenes of the place rather than imposing a leader on them.
"We should change strategy from one that demands un-questionable obedience from a people who feel short-changed in the process of appointing their Chief Shepherd, to that of constructive engagement. This appeal I make to the CBCN, I will be able to make same before any ecclesial authority on earth without any trepidation, for those who know me," the Kafanchan bishop appealed.
The Bishop's latest letter to the CBCN leadership reads: "Following my public statement on the occasion of the Silver Jubilee Anniversary of the priestly ordination of one of our priests on Friday 1/12/17, The Apostolic Nuncio and Papal Legate to Nigeria, Most Rev. Antonio Guido Filippazzi invited me to the Nunciature on Tuesday 5/12/17.
"I wish to express my deep gratitude and appreciation to him for the patience and painstaking manner he took to review my intervention and the observations he made on some of my submissions and their insinuations. Of particular interest was my submission on the non-consultation with the local Church of Ahiara on the appointment of Bishop Okpalaeke.