By Sola Ogundipe
When she was announced winner of the maiden Annual Endometriosis Support Group Nigeria, ESGN, Secondary School Essay Competition, Deborah Simileoluwa Oladipo was fulfilled. For the 15-year-old SS3 student and Head Girl at Canon James Pearse Anglican College, Iwaya, Lagos, winning the coveted prize of the special competition was a dream come true.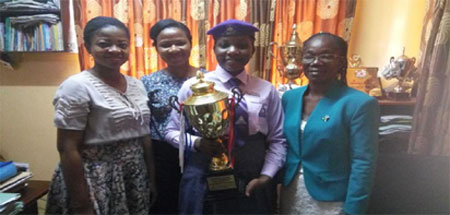 Peace Ajayi of Kuramo Senior College School, Lagos, was also very happy to emerge as the first runner up in the competition that made its debut in 2017.
Simi who has flair for writing and has long nursed the ambition to become a Journalist, confessed that the ESGN essay competition proved to be the perfect platform to explore that ambition.
The competition was designed to engage girls and adolescents in the topical issue of endometriosis and its effects on women of child-bearing age in particular and the female sex generally.
All the entries in the competition were quite good and spoke to the theme entitled: "Endometriosis and the Girl Child," but Simi's winning entry was roundly praised for creativity and good understanding of the topic.
"I love reading and although I knew about endometriosis before the competition. When I emerged winner, I was very happy even though when I was presented with the opportunity to enter for the competition, I really did not think I would win, however I entered more for the experience," she remarked.
Simi recounted that she had tremendous support and encouragement from her parents, but gave glowing tribute to her English teacher who was very helpful and ensured that she had an entry considered good enough to win.
"I'm fulfilled. God prepare me for the challenge. Before the competition, I did not understand the nitty gritty about endometriosis, but now I can actually talk confidently about it to the extent of assisting people. I am now more confident to encourage people about it. The awareness is really important especially as there is no cure available. So when you are able to understand it, you can manage it better."
Simi whose father is a computer engineer and mother a businesswoman hails from Ilesa in Osun State, appreciates ESGN for the opportunity to participate in the essay competition. She advocates that increasing awareness should go beyond the schools and that there should be appropriate information for churches and other places where bigger programmes can be created, beyond talking to the girl child.
"As the maiden school champion for ESGN, I want to use the success to create awareness about endometriosis, telling people about what it is, the symptoms, diagnosis, etc. I have a plan of creating Facebook and Instagram accounts to share daily posts on the symptoms, causes and treatment of the disorder and to educate the public more about the condition so that they would speak out. I'll also be visiting other schools to talk about endometriosis."
Miss Opeodu Oriyomi, Simi's English teacher, described the ESGN competition as a beautiful experience. "We were invited to the Civic Centre, Victoria Island, to receive the award but had no idea she won. Her preparation was quite intensive. A lot of late night browsing and research went into it and I guided her in putting it together. There were days that by 11.00PM we were still putting the essay together. She was committed and unrelenting and kept doing the work."
According to Oriyomi, Simi had been waiting for such opportunity to participate in a school competition. "Simi had the dream and strong desire to win. Children should dream. It is alright to dream and be ready to work. I came in to assist, guide and moderate and help her achieve her dream. There was one competition that she entered for earlier but was not shortlisted, however when the endometriosis competition came up, she did not hesitate to enter.
"It is a privilege to have coached her. I made up my mind to assist her and make her accessible to this. When we came back with the laurel, the whole school shared in the glory and the lessons. Simi had her target and was honoured by God. Students should go to those that can help them. To achieve goals there must be determination."
In her own contribution, the school Principal, Canon James Anglican School, Iwaya, Lagos, Mrs. Mosunmola Olamide Ayo, described the award as significant because apart from adding to the image of the school, is helping to motivate them further.
"This school stands for excellence. Our school motto is: 'Do it Right With God." Ayo who was elated about Simi's excellent performance, remarked the awareness that is being created through the essay completion is crucial.
In her view, participants in the competition have been exposed widely to information about endometriosis and they will be prepared and carry the relevant information to the friends, family, school and society.
"There are many girls and young women that have excruciating menstrual pain and this student awareness by our Head Girl will help address the myths, spread the message and spread the awareness within. It is necessary to know that when you are having painful menses you should go for medical check."
She noted that female students with painful menses should not be labelled or considered lazy.
"I had issues like that when I was young. I had very painful menses and there was this myth then that if you do not have a male partner and that being sexually active would reduce it, but eventually I got over it. Activities like this would help correct such myths. It is good to be aware and go for early diagnosis."
The first runner up of the competition, Peace Ajayi, a 16-year-old SS3 student of Kuramo Senior College School, loves Chemistry and Biology. But her ambition to be a chemical engineer or biochemistin future does not interfere with her love for writing.
I was very happy to be first runner up; actually I did not expect it. When I was at Civic Centre for the awards I saw many participants from reputable private schools but to my surprise I beat them all. My entry was said to have really connected with the issue. I gathered my facts from the internet and it was a whole lot of work. I got most of the materials from the internet directly then had to arrange them. I had to think and sit down to write the opening.
"I had not heard about endometriosis before the competition but started discussing with my classmates and others about it so I could write more. When I informed my father on the phone about the competition, he urged me to gather myself together and be stay focused. I was encouraged and began reading about the topic. My teacher guided me through and I obeyed her."
Peace got to know about the competition through a flier sent to the school and the Principal sent it to her English teacher. "I am a member of the literary and debating society, and my teacher told me about the completion and urged me to participate because it is a scientific issue.
"I had personal interest in the topic, searched Google and also looked at the encyclopedia and biology books in the library and from the internet and combined everything together to put in a comprehensive entry. It was my first time of using the encyclopedia. I have become more aware about the endometriosis and have started impacting on society."
Peace recounted that after the results, she has been talking about endometriosis at every opportunity.
The need to sensitise teenagers and adolescents along in the education and awareness campaign against endometriosis cannot be overemphasized. Endometriosis is often ignored in teenage girls, adolescents and young women and medical experts describe it as a challenging problem. It is hidden, progressive and severe and deserves a lot more attention than it is currently getting.
The presence of persistent pelvic pain is one of the classic symptoms of endometriosis, but while the pain may start at a young age even before the age of menstruation, the correct diagnosis is almost always postponed for several years or missed entirely.