By Ediri Ejoh
DESPITE its huge population of 194 million people, only five per cent of Nigerians use gas for cooking. About 60 per cent use firewood, 30 per cent use kerosene, while five per cent use coal.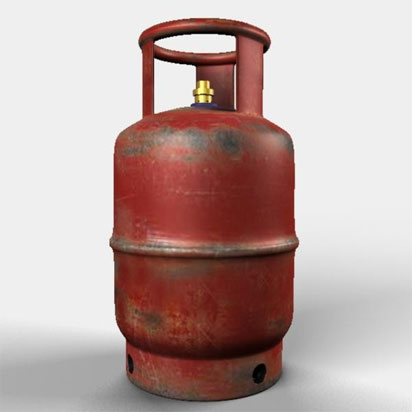 These figures were given by Programme Manager, National LPG Expansion Implementation Plan (Office of the Vice-President), Dayo Adeshina, at the just concluded 7th Annual LPG conference and exhibition, held in Lagos.
Adeshina, also disclosed that about 90 percent of the cooking gas are in expired gas cylinders.
Industry reports showed  although low utilisation of LPG constitutes a source of worry to the government; it remains more worried about the danger associated with the use of expired cylinders.
Consequently, it has raised an alarm over the non-testing and proliferation of expired gas cylinders in circulation across the country, saying cylinders outlive their safety after 15 years.
Adeshina, said most cylinders in Nigeria are over 30 years old and are very dangerous for use.
He, therefore stated: "Things need to change in the industry. Today, everybody wants a cylinder but in most developed countries where LPG plays active role, marketers are rightly the sellers of cylinders.
"This is because from when it is manufactured, it passes through proliferation after five years, with Standard of Organisation, SON, running its test and certification.  All of these processes take 10years. After 15 years, the cylinders should be withdrawn from the market.
But today how many of us can attest for manufacturing date of the cylinders we have in our homes? There are cylinders that have been with us for 30 years and have not been tested or certified. Our investigation has shown that over 90 percent of Nigerians are using expired cylinders"
Suggesting the way forward to attract Nigerians from the use of 'firewood and kerosene', he called for massive awareness campaign, saying "The mindset of Nigerians has to be changed to reason why LPG should be preferred".
FG's Investment
Adesina, said Nigeria was in dire need of cylinder plants, which according to him, the country lacks.
"We need to invest in cylinders and proudly one of the investors would have its cylinder operating plants opened in January. We also need to have cylinder re-proliferation plants."
He, however, faulted the regulation in the sector, saying "We need to take care of the regulatory and fiscal policy. Enforcement needs to play a big role. There is going to be a shakeup of regulation because the government has seen that if we ever have a repeat of the incident we had in Nnewi, it is dead on arrival. Industry would not be able to come out of such incident.
"We have a 5 year plan for cylinder where for the next three years you can still import and hoping that we are going to encourage investors to have manufacturing plants where it will be 50 percent importation and 50 percent local production, and by the fifth year, we are going to have 100 percent local production.
"So the government is going to throw up a whole lot of incentives to help investors achieve the desired goal and growth. In doing all of these, we are going to look for alternatives in as much as cooking is the main drive; my mandate is to shift 4 million Nigerians to gas within the next two years. Personally I have set it high and that is why the investment aspect of raising funding is significant for this program."
The Vice President of NLPGA and managing director/CEO of Banner Energy, Mr. Nuhu Yakubu, said that there was adequate domestic supply of the product in the nation.
Yakubu who noted that domestic demand was not growing as fast as expected called for effective regulation targeted at increasing demand.
He also called on operators in the sector to invest in retailers in order to develop the domestic market for LPG in the nation.
LPG Supplies
However, the Nigeria LNG (NLNG) Limited expressed the commitment of the company to flood the market with LPG.
The company expressed its commitment to continue to support growth of the LPG industry by dedicating 350,000 metric tonnes per annum of cooking gas otherwise known as Domestic LPG (DLPG) to the country, to ensure reliable and affordable supply.
NLNG Manager Sales Administration, Mr. Ahmed Joda stated that "NLNG also advocates and encourages infrastructure development to ensure debottlenecking of existing receiving and storage facilities and expansion of the facilities with the construction of new ones."
According to him, Domestic LPG (DLPG) consumption is expected to grow to1.7million Tonnes per annum by 2020 if extensive intervention strategies are adopted.
He stated that while NLNG is focusing on optimizing coastal delivery to Apapa -revamp NPMC jetties, optimizing shipping operations to reduce product shipping costs, and encouraging storage capacity development; there is need for continuous engagement of direct stakeholders (Off-takers) on safety and active participation in an industry-wide LPG conversion scheme.
"The LPG business in Nigeria is one which has opportunities that can be harnessed in the value chain to bridge the gap."