By Moses Nosike
Victor Evans is the Chairman/CEO Rainbow Hospitality Limited, an entrepreneur of repute, with versed  experience in hospitality industry. He is a core hotelier, facility manager, marketing expert and event consultant.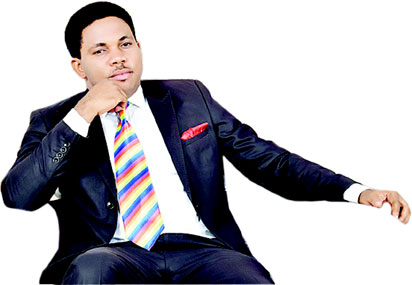 With his marketing experience and other professional qualification in hospitality and facility management, he started Rainbow Hospitality Limited as a Hotel Administration & Facility Management Company in 2009. The same year he incorporated RainbowEmirate Hotel-Abuja as an international brand 5-Star Hotel with his investment partners in United Arab Emirates (UAE).
In this interview with Moses Nosike, he explained the hospitality industry star-ratings, services of his company and its impact on the economy of Nigeria as well as his journey towards becoming a top notch hospitality entrepreneur. Excerpts:
Kindly give an overview of the hospitality industry in Nigeria and by extension the world?
The hospitality industry has been in existence from time immemorial and it is still waxing strong simply because people can't do away with the services it offers. When you talk about a hotel, you are talking about an establishment that provides lodging for guest / travellers, tourists, visitors et al, on a short-term basis with a fee.
When people lodge in hotels, they have the options of subscribing to other services it offers, such like feeding, drinks, laundry, fitness centre, swimming pool, conference room and business room, entertainment, among others.
It is the norm for big hotels to provide additional guest facilities like swimming pool, conference centre, business centre, childcare, self-service laundry, fitness centre and social function services. In some countries, hotels are required by law to serve food and drinks to all their clients that lodged in their facility while in some country, you would have to choose the additional services you want from the hotel. The bottom line is the higher the amount you pay in hotels, the more the services you are entitled to.
Starting a hotel business is capital intensive and it is considered a long term investment because it takes a while for the owners to break-even and start making profits. That is why many hotels are owned by groups of investors. One good thing about the hotel business is that the business can grow so big that it will not only have active presence in key cities in the country where it started, but in major cities in all the continent of the world.
All over the world, the hospitality business is being seen as a very serious trade and the reason for this is not far-fetched. The hospitality business – especially hotel business is being taken seriously because of its relationship with the tourism industry. Either locally or internationally, one of the ways to make people who arrive at unknown places at ease and making them feel comfortable is by having a very relaxed hotel in place for them to lodge in. That is why it is booming.
If you have an opportunity to visit Owerri, Imo state during weekends, you will be shocked to discover that despite the huge number of hotels dotting the city, there is no accommodation space in any of the hotels. Surprisingly enough, Owerri is not even among the top ten cities in Nigeria (Lagos, Kano, Port Harcourt, Ibadan, Ogun, Enugu, Abuja should be in the lead), with respect to population and level of industrialization. What this goes to show is that hotel and hospitality business is a profitable business venture anytime any day, as long as you are sited in a good location.
What are the business activities of your company?
Rainbow Hospitality Limited is a hospitality management company involved in hotel administration & facility management. We have our operational base in Nigeria, Ghana and Dubai respectively; where we manage and consult for hotels. Our total service package includes, hotel management services, facility management services, marketing consultancy services and event consultancy services.
As a value added service we also offer discounted group hotel room bookings & conference hall rental in any part of the world through our hotels and affiliate hotels; usually this comes with a free Airport pick-up and drop-off for group delegation.
As a team, collectively our experience in the hospitality industry spans over 25 years. We pride ourselves of our competitive edge in the industry and in-depth local knowledge of the hospitality industry.
What is your business model?
We partner with international companies who want to come to Africa and invest in the hospitality industry; we become their local partners in achieving that purpose and we typically do 50-50 partnership  which involves both party put in capital. We both bring different expertise to the table.
Rainbow Hospitality Limited has developed excellent strategic alliance and joint research and development initiative to offer a wide choice of innovative, inspirational and integrated solutions.
Our strategic alliance with some reputable establishments is to have access to resources such as project funding, capital equipment, knowledge and expertise and  we aim to meet our goal.
Impacts of the hospitality industry on the economy of Nigeria?
It's understood that tourism contributed three per cent to Nigeria's Gross Domestic Product in 2012 and 2.8 per cent of total employment. According to the travel and tourism competitiveness index (TTCI) 2013, Nigeria performed relatively well on three important pillars of the TTCI: The natural resource pillar (ranked 68/140), the cultural resource pillar (ranked 98 out of 140) and environmental sustainability (ranked 63/140).
We have what it takes to succeed. It is agreed that, if Nigeria must take a place in the committee of great nations, it cannot but begin to make intentional efforts to source revenue outside of oil. One major area where Nigeria could muster some financial strength is the tourism industry.
The Federal Government has restated its commitment to diversifying the nation's revenue base, with a  plan to preparing the tourism sector to generate more earnings and create more jobs. The tourism industry offers the opportunity to lessen the country's dependence on oil revenue, if properly harnessed.
Can you share more about your 5-Star hotel project?
RainbowEmirate Hotel, Abuja is envisioned to be a world-class hotel in design and structure, very contemporary with projection into the future. Its introduction certainly will mark the beginning of a new era in the hospitality industry in Nigeria/Africa and it is famed also as the first indigenous internationally recognized Five-Star Hotel out of Nigeria/Africa.
The land size for this project is a 55-hectare commercial land by estimate is to accommodate 700 Super Suites and 300 Condominium Units. 700 Super Suites classified as follow; 20- Presidential Suites, 325- Executive Suites, 300- Business Class Suites (in an executive business class wing),  5- Pent House Suites, 50- Deluxe Rooms (economy class suites).
How true is it that four Nigerian billionaires are behind this 5-Star hotel project?
I believe you have seen the meme's and read the stories making the rounds on social media hence this question. I want to use this medium to state categorically that these respectable persons, Aliko Dangote, Donald Duke, Mike Adenuga and Tony Elumelu are not behind this 5-Star hotel project. However, just like every other business venture we welcome an investment partnership from any and all of these respectable business icons now and in the future.
What does it take to become a successful Hospitality Entrepreneurial?
Generally, the road to building a successful business starts with understanding the basic fundamentals upon which your intended business is built is very important. I meet many young aspiring entrepreneurs; I ask them what is the most important word in business? Each time I throw open this question the most frequent answer I get is profit.
Profit is a short term view of assessing health and wealth of a business. Unless you want to stay in business for a short term, don't focus on profit alone. The most important word in business is not profit, but cash flow. Yet, many entrepreneurs strongly believe that profit is the most important word in business.
What is your comment on the Hospitality Industry in Nigeria?
Harsh business environment that includes lack of access to funding and poor infrastructures, the most prominent among the challenge in the business environment is uncoordinated multiple tax system and insensitivity of the officials from the local authority.