The Group Chief Executive Officer of Stanbic IBTC Holdings Plc, Yinka Sanni, in this interview spoke extensively on Corporate Social Investment, CSI practice in Nigeria. 
Excerpt:
By Peter Egwuatu
YOU said you are going to speak extensively on CSI, what does it mean? 
Most organisations interpret and implement CSI as best suits their overriding corporate goals. However, to borrow a leaf from the United Nations Industrial Development Organisation (UNIDO), we at Stanbic IBTC see CSI as a management concept whereby we integrate social and environmental concerns into our business operations and interactions with our stakeholders. CSI is the way through which Stanbic IBTC as a socially responsible company achieves a balance of economic, environmental and social imperatives.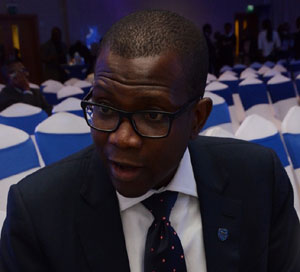 At Stanbic IBTC, we are aligned to Standard Bank Group CSI focus which uses CSI to enhance our brand reputation, grow new markets, increase employee proposition and present us as socially responsible in a way that makes business sense. 
In your opinion, are corporate organisations in Nigeria doing enough in terms of CSI or do you recommend a paradigm shift in attitude?
I believe that many organisations already see the value in CSI and are doing quite a bit of social investments. Nonetheless, when you examine the peculiarity of our operating environment, where there exist wide gaps between the different socio-economic classes, you'll understand we could never do too much and that there's always ample opportunity to do more, especially among the lower cadre of the socio-economic spectrum.
I mean those who sit at the bottom of the pyramid. I would advise that companies make a conscious and concerted effort not just to finance some add-on philanthropic things, but to change their strategies and business models and really develop and incorporate structured CSI approach into their management accounting and control systems. What is prevalent is that businesses have marvellous ambitions related to CSI. The question, however, remains how committed they are to actualizing or sustaining these ambitions and more importantly how they even plan to accomplish these ambitions.
Looking at the country's economic challenges, how has it impacted the banking industry profitability and also the rising bad debts' portfolio; what is your take?
Any serious business with a future market in sight will have to take digitalisation quite seriously. Today's customers demand faster services without compromising quality. With technology, the turnaround time for quality service delivery is constantly getting reduced and able to bring down costs, which is very important if we must boost profitability.
At Stanbic IBTC, we have long embraced digitalisation to strengthen our operations and processes, make them more accessible, efficient and cost effective. So, one of our coping mechanism is to fully embrace technology, which has helped us provide unmatched innovative solutions, like this digital branch, the Stanbic IBTC mobile app, our internet banking, among others. We also ensure we have a highly experienced and motivated workforce. If you check our nine months financial result to September 2016, we did well, in spite of the economic challenges. 
In terms of the CSI, are your employees usually part of your stakeholder engagements?
Absolutely. At Stanbic IBTC our vision recognizes that our people are our most important asset, which makes it imperative to inspire and engage employees in ongoing CSI efforts to make a meaningful impact. We see our employees as our partners in all our sustainability initiatives. By doing this, not only do we succeed in getting their active involvement, but also benefit from the fact that employees gain a lot of valuable skills and experiences which make them a better asset to our organization.
The sustainability of an idea needs everyone in every title to be aligned to our mission of moving forward. We believe our people and culture will determine our success in executing our strategy, which includes our CSI. Our business philosophy is anchored on and vested in building relationships and trust with our clients/customers, employees, shareholders, regulators, communities and other key stakeholders. Our values underpin our legitimacy and are intended to reinforce the trust our stakeholders have in our organisation. As such, we endeavour to carry along and get the buy in of all our internal and external stakeholders.
In fact, we have a culture of staff involvement and participation in our social investment initiatives which means that our staff are not only part of the activation but the entire process of identifying key areas where we choose to support, collaborate or invest. We try as much as possible to encourage our staff to, either as teams or units, voluntarily contribute and participate through departmental CSI activities which initiative has been hugely successful over the past year. Through staff CSI volunteerism or contribution alone, we have invested over a N100million towards various charitable causes under the health, education and economic empowerment portfolios year-to-date.
How important is corporate social investment to Stanbic IBTC's business?
I believe it would be difficult to put a value to the importance of CSI to us as an organisation. Primarily because CSI is key to the sustainability of our business just as the support of all our stakeholders underpins our sustainability. This inter-dependence requires that we conduct our business responsibly to create value in the long-term interests of the society. For us at Stanbic IBTC our mission is to continue to contribute to the socioeconomic development of the nation in a way that is consistent with the nature and size of our business operation. This is why we provide end-to-end financial services and products responsibly, bearing in mind the needs of society, our customers, our staff, our shareholders, the environment and future generations.
We do pride ourselves as a socially responsible corporate citizen of our country because CSI is an integral part of our DNA at Stanbic IBTC and Standard Bank Group. Standard Bank has over the years built reputation for continental support of arts and culture as well as sports development. 
How do you select the initiatives and projects you undertake for your CSI and what model or models do you use for implementation?
Generally, our CSI initiatives must fall under any of the three pillars of health, education and economic empowerment. The model we've used and that has worked for us overtime is investing in projects we believe have the greatest impact, widest reach, and highest sustainability ratio and ensuring implementation with reputable, competent and reliable partners. We, however, have carried out several other projects like vaccination against hypophosphatasia (HPP), education materials donation, public school facility renovations, safety equipment donations, like safety helmets, water projects, as well as staff volunteerism initiatives I talked about earlier which we undertake directly.
Economic empowerment
Just to mention that we recently donated relief materials worth millions of naira to alleviate the living conditions of our brothers and sisters in Benue State and its environs who were devastated and displaced as   a result of the flooding in that region. 
Tell us about the project you refer to as your flagship CSI initiative "Together For A Limb" and why you organise the annual walk?
Thank you very much for that question. Having over a long period of time channelled our CSI on projects under both education and economic empowerment pillars of our CSI aegis, we decided it was time to revisit our intervention and shift focus back to the health sector, which explains why we decided on sponsoring and fitting children with limb loss with prosthesis. Which is why in the last two to three years Stanbic IBTC has consistently sponsored the donation of prostheses to some children living with limb difference, otherwise referred to as amputees.
We understand how challenging it must be for the parents and guardians of these children, especially considering the high cost of acquiring these prostheses and of course the value it would bring to the daily lives of these children. In addition to fitting the children with prostheses, Stanbic IBTC is also giving out Education Trust to the beneficiary children courtesy of our Trusteeship subsidiary.
Subscribe for latest Videos