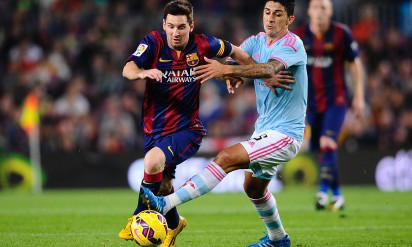 FC Barcelona's Lionel Messi, left, duels for the ball against Celta de Vigo's Pablo Hernandez during a Spanish La Liga soccer match at the Camp Nou stadium in Barcelona, Spain, Saturday, Nov. 1, 2014. (AP Photo/Manu Fernandez)
Spain's La Liga will use the Video Assistant Referee (VAR) system next season, the country's football federation (RFEF) confirmed on Wednesday.

"The president of the referee's technical commission, Victoriano Sanchez Arminio, has informed all first division referees and assistant referees that video refereeing will be introduced to next season's championship," the RFEF said.
Sanchez Arminio said in a letter to referees that "the tests required by the International Football Association Board (the guardians of the game's rules) to implement the system will soon begin".
Spanish League president Javier Tebas had revealed on Tuesday that VAR would be used from 2018/2019, as it has been in Italy and Germany this season.
It can only be used under specific conditions: in the awarding of a red card, a penalty or to correct a case of mistaken identity for a carded player.
Currently, Spain is the only one of Europe's five major leagues — the others being England, Germany, Italy and France — not to use technology of any sort, not even to decide if a ball has crossed the goal line.