Olorogun O'tega Emerhor, a leader of the All Progressives Congress (APC) in Delta State, clocked 60 yesterday. In this interview, Emerhor tells the story of his life.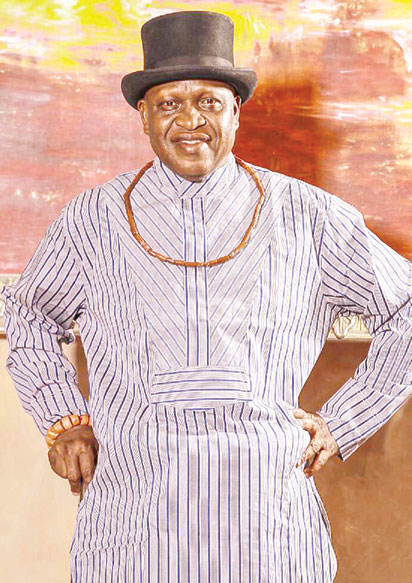 From your humble beginning, how did you set to build the power and influence you command today?
As a young person, your initial set out is not to go, build wealth and influence. My father was a subsistence farmer, with my mother in Evwreni Kingdom in Ughelli North Local Government Area of Delta State. Compared to other families, they were doing well in that era.
We had our own house. I was sent to school. My father had a white bicycle, a status symbol then, and as members of the Jehovah Witness, there was constant travelling to other cities to preach.
That placed them among enlightened people. Coming from that background, I knew education was going to be helpful. So, I did my best to come out with a result that ensured I got a job the moment I graduated.
Do good results still open doors for graduates today as it opened for you back then?
Having good grades worked for me. I made first class in accountancy at the University of Nigeria, Nsukka, earned awards, and when I saw adverts for employment by professional organizations like Price Waterhouse and Coopers, I applied. I got two jobs immediately I finished school and did NYSC in 1983/84. I was engaged by Price Waterhouse and Coopers & Libra. Later, Price Waterhouse and Coopers merged. They were the highbrow accounting firms in Lagos.
Having first class made that happen. I didn't have parents with influence to come and lobby for me to get a job. After Price Waterhouse, I became a banker with Citibank (later renamed Nigeria International Bank) just coming to Nigeria at that time. In the banking industry, you get exposure to businesses. By the time you finished as a banker, it is very easy for you to know what to do. This was how I moved from a village boy to a city man.
It takes a lot of courage to leave a well-paying job to start a business of your own. How did you achieve this?
I moved very quickly in the banking industry, probably met very good bosses and also worked hard. In my early 30s, I became the first Managing Director of then Crystal Bank. The bank was actually having some issues and my MD at the time left. I was Executive Director, so I moved up.
I too had to exit the banking industry before Crystal Bank transformed into Standard Trust Bank and merged with UBA. When I left, the nearest thing I felt I should do was to set up an insurance company which was within the same financial service sector. I then bought an insurance company known as Jubilee Insurance Company Ltd, recapitalized and renamed it Standard Alliance Group. That became my start-up business.
What has life taught you at 60?
At 60, you have no choice than to be wiser. When I was 40, I thought at 50 I would retire from business. But we are in a country where things change rapidly. The rich today can be poor tomorrow; the poor today can be rich. At 60, you already have a family. I have three grandchildren as we speak. The level of dependency is also high. I have extended family.
I am a politician. All put together, you realize your life affects so many people. At 60, no matter who you are, you have crossed paths with so many people and that imposes some responsibility on you. God has been wonderful in my life. He has touched and blessed me. God has also used me as instrument to reach out to others. I give Him all the credit and ask every day that He makes me wiser. That was all Solomon asked for. At 60, you are an example, a mentor to so many people who want to use you to model their lives. It's a great responsibility.
What were the defining lessons you learnt from your parents?
My parents were devoted Christians but they were also disciplinarians. My father in particular liked things done properly. That I have realised is good for upbringing. To share one vivid experience; later in life, my father acquired a motorcycle. So excited about it, each time he was not around, I tried to grab and ride it. One day he caught me and beat me up. My instant feeling then was, why beat me because of a motorcycle? I swore to myself I won't touch that motorcycle again.
I am going to grow up and buy my own. Later in life I realized he was protecting his only son. We were six in the family; five girls, only one boy. Father had seen exuberant young people die from motorcycle accidents. He was scared that could happen to me. This I understood later, and that discipline he gave made me feel that when I grew up, I would rather buy a car and not motorcycle.
How much value has your immediate family added to your life?
If there is anything that made me who I am today, it is my family. From my lovely wife to my children, we have passed through a lot but I'm blessed by a family that is very supportive. My children are good examples of children who respect their parents without losing their mind or strength of character. You need to balance the two. I have three girls and every day I am so proud of them. They are all married and doing well. I have three grandchildren.
My wife has been wonderful. People think a rich man doesn't get broke but she's my last banker. When I have nowhere to run to because I am rich and can't ask anybody for money, I say 'Madam, you are my banker, can you bail me out?' We really have a closely knit relationship. I couldn't have done all these without her. In politics particularly, if she's not there with her support, there's no way I could have gone this far.
What is your motivation for increasingly giving back to society?
With the mood in the country today and the circumstances for everybody, how should I celebrate being 60? Is it to invite the rich, buy champagne and let's drink? No. I felt I should use the occasion to reach out to Nigerians under stress. As a family we decided we come down to my community and do most of the activities here. We designed a medical outreach in about four communities. We tested peoples' eyes, gave free treatment and drugs and glasses.
I have a clinic in Evwreni, my town, which afforded most of my friends who attended the novelty match an opportunity to make funding contributions to support the clinic. We staged cultural displays from various climes to help to develop our culture with the prizes won on Saturday, the birthday proper. Sunday was to empower hundreds of youths and women, support them with working capital so they can improve their lives.
What attracted you into politics?
I needed to impact my immediate society, particularly Delta State through the quickest and most impactful way possible. I saw the government that was ruling in Delta from 2006, culminating in 2007 when I ran for governorship under PDP. I felt a lot can be done better. That was the motivation. As an individual, no matter how rich you are, setting up industries and employing people, you can't really directly impact people as would if you're running a state.
I have learnt so much in business, as a chartered accountant. I set up financial control in banks –Fidelity Merchant Bank, Guarantee Trust Bank and in Citibank until I became MD in Crystal Bank. I had the background of managing and ensuring resources are used efficiently.
Today you're the leader of APC in Delta State. What is the state of Delta APC?
We come from a history of opposition. My attempt in the PDP to change the system didn't work because PDP was a closed-club. I tell you a personal experience. When we went for primary in Ogwashi-Uku for the 2007 governorship election, as an aspirant, I had to fight to get in. Security will not allow you not to talk of my supporters because it was a done deal.
The person to be the candidate had already been crowned. When I saw that, I realized something had to happen; the opposition elements had to come together.
So I joined the opposition. Today, the opposition has the greatest chance to end the dynasty that has been misruling Delta for more than 18years. That's what APC represents today. APC has attracted a robust assemblage of all the strength in the state opposed to the worsening misrule going on. I am excited that finally we have assembled a team that will ensure that, in 2019, Delta will be rid of people who have squandered our resources for over 18years.
Many believe having these strong opposition politicians into one fold has created a clash of interests. How do you ensure that this perceived weakness doesn't jeopardize the 2019 chances of your party?
Only people who don't know politics or simply want to deceive the public think that way. When APC was coming together at the national level, didn't you see the characters that came? They were all strong, and you need strong and independent characters to build a strong party. Great Ogboru has been a strong opposition.
His wide followership and strength is recognised; he is now in APC. Victor Ochei was a Speaker and came third in the 2015 PDP governorship primary. He has pulled that strength out of PDP. Cairo Ojuogboh just pulled out half of Delta PDP to join APC? Ojuogboh was National Deputy Chairman of PDP. With what I have built in the APC from the scratch and ran for the governorship, with all the party machinery on ground, we are set to take over Delta State in 2019.