By Tabia Princewill
This is a difficult topic to write about. What I am about to describe is a cautionary tale, one at the intersection of a number of issues arising from the toxicity of the Nigerian society, an environment where money, power and greed on both the public and private stage constantly result in death and unhappiness. We have not yet begun to publish statistics of the number of murders which occur in Nigeria annually (or even state by state for that matter) and how many are "crimes of passion" linked to the peculiarities of a system that objectifies women, makes them believe that outside of marriage they are worthless and moreover, emphasises marriage as an economic opportunity alone.
Our system places power and socio-economic freedoms solely in the hands of men and dictates that a woman's sexuality is her only means of achieving wealth, status or semi-independence. This is why so many women (and their complicit families) willingly sell themselves to men of power and means. In a patriarchal society ironically supported by the same suffering women whose rights are effortlessly truncated because of it, it is women who are the enforcers and organisers of elite weddings to secure partnerships and financial arrangements between families whose pedigree is often blighted by reports of corruption and financial misappropriation during their tenure or posting to one lofty office or the other.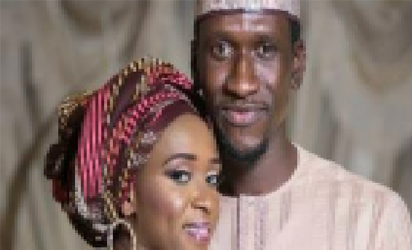 Women are traded, bartered and sold at all levels of our society, literally and figuratively, reduced to competing for the attention of easily distracted, much sought after (for their wealth rather than any innate qualities) men. This in a society where being a broken, possibly battered and unhappy "Mrs" is better than being single because of the proven reality that women in Nigeria, without the protection of a man to endorse their talents, ambitions or views, are not considered "whole" or capable of any achievements. Our corrupt society infantilises both men and women, never allowing them to achieve their full potential: without a godfather to validate one's aspirations, to concretise them, it is near impossible to achieve anything in Nigeria.
We need to talk about the now infamous case of Maryam Sanda and Bilyamin Bello. Not to gossip or speculate, but to sort through the ills of our society. The former stands accused of murdering her husband whom she reportedly stabbed. I've endured many tedious, unfeeling and quite frankly ridiculous discussions on the subject during which I was yet again confronted with the reality of the wickedness, lack of empathy and overall insensitivity which poverty and a general lack of opportunity encourage among Nigerians.
Allow me to paint a different picture from a narrative which apportions blame without taking into cognisance the social background upon which this story is grafted. I've heard quite a few comments along the lines of "men bring girlfriends to their matrimonial homes while their wives stare, helpless, yet they don't stab their husbands". Let me first of all state that I am in no means justifying the accused's actions. The story is a tragedy of epic proportions: our society failed both Maryam and her husband Bilyamin.
It fails Nigerians of both genders by tacitly encouraging the myth that to be a man, one must be a womaniser, stay out all night, spend money on girls etc. and that women who endure this are brave and to be complimented. It fails us all by making divorce proceedings taboo in a status-driven society where, to top it all off, our legal system doesn't ensure that men take care of their children after the divorce.
If women in the National Assembly and political appointees at all levels actually fought for the emancipation of women, the right to equality, equal pay and treatmentetc. aside from moral grandstanding and shambolic NGOs used to siphon public funds, one would find much less women striving for marriage at all costs. Another neglected angle is that of Maryam's mental state. Depressed and suicidal women (and men) abound in Nigeria. People find happiness neither in their work nor their personal lives in this country: everything is sacrificed to our love of appearances and would-be perfection. We live in an oppressive, profoundly unjust society where it is often fine to rape, cheat and steal so long as the power dynamic favours the perpetrator.
Statistically, drug use in the North is on the rise among women especially, a coping mechanism in a society where domesticity is often a living nightmare because it favours the wants and needs of men alone. We're yet to consider the possibility of post-natal depression, an all too common problem. We never speak about its effects in Nigeria, particularly the propensity for alarming, sometimes violent thoughts about harming your baby or any other triggers of stress and anxiety. In other climes, lawyers and investigators would have sought out the potential link between Maryam's actions, her mental health and the situation at home.
In the United States, activists have pledged support for a young girl who is in jail for killing her rapist. She was trafficked at 16 and sold, killing was the only way she thought she could escape. Without comparing the two situations, one finds that the law in most countries makes provisions for attenuating circumstances, that is "unusual or extreme facts leading up to the perpetration of the offense which, although an offense, has been perpetrated without legal justification or excuse, can mitigate or reduce its gravity from the point of view of punishment or moral opprobrium" (a principal of criminal law).
The North, like the rest of Nigeria, needs a social revolution otherwise it won't know peace. Unless we can legally guarantee the equal rights of men and women, deconstruct the power dynamics that keep some segments of our society inferior and lacking the opportunity to live in ways that make them happy and not solely to content society, we're going nowhere fast.
Toll gates
The Minister for Power, Works and Housing, Mr.Babatunde Fashola, told lawmakers recently that tolling will be reintroduced to fund and maintain federal roads. He clarified his position by saying that motoristswon't be asked to pay tolls on bad roads and that government would intervene to control the toll prices as well as audit firms to ensure transparency and accountability.
Nigerians wouldn't have an issue paying tolls if they didn't think it was a means of enriching a few at the expense of the masses. For the tolling issue not to go the way of power with some people categorically refusing to pay for government services, mass sensitisation is required in a country where public confidence in government is unfortunately always low due to past disappointments and outright fraud.
PDP
Nigerians must refuse "short-termism" and memory loss. Where would we be now if billions spent on power under Obasanjo had been properly spent, if privatisation had been conducted fairly and transparently? Let's not forget, in more recent times, the number of unresolved scandals.
Dasuki said he acted based on Jonathan's instructions. He distributed funds as if the office of the National Security Adviser were an extension of the PDP secretariat. Sanusi Lamido Sanusi, then governor of the Central Bank alleged that with 20 billion dollars unremitted into the Federation account, Nigeria would soon "know what economic crisis" is.
Similarly, Charles Soludo, another former Central Bank governor, said "over 30 trillion is unaccounted for under Jonathan. Whoever wins 2015 will never find it easy to govern". Even PDP governors like Godswill Akpabio and Peter Obi said that Okonjo Iweala (who also confirmed this) urged the PDP governors and the Presidency to save for a rainy day, which they refused.
The picture painted is one of an era of recklessness and irresponsibility. The PDP hasn't attempted to distance itself from those elements whose actions brought it into disrepute. Why should Nigerians endorse or forgive a faulty, empty product?