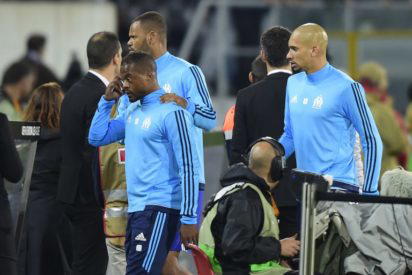 Marseille's French defender Patrice Evra (C) is escorted off the pitch by teammates Portuguese defender Rolando and Brazilian defender Doria (R) after an argument with supporters before the start of the UEFA Europa League group I football match Vitoria SC vs Marseille at the D. Afonso Henriques stadium in Guimaraes on November 2, 2017. / AFP PHOTO
Marseille's American owner Frank McCourt said Wednesday that Patrice Evra's kung-fu kick on a supporter was "unacceptable" but he also pointed the finger at the fans involved.
Evra's future at the French club hangs in the balance after the attack on a fan who he said was abusing him before Marseille's Europa League game against Vitoria Guimaraes in Portugal last week.
"This was unacceptable behaviour, from both the player and the supporters," McCourt told La Provence newspaper.
"It's not something that we can tolerate at Marseille, it's as simple as that.
"It's a very regrettable incident and it is really a pity to see a great player like Patrice pushed to a point where he behaves like that," McCourt said.
Marseille have suspended the 36-year-old former Manchester United and Juventus defender pending a disciplinary hearing.
France coach Didier Deschamps has predicted Evra, the former captain of the national team, will pay a heavy price for the incident, saying it was "something that you just can't do and he knows that".
Marseille fans made their feelings clear, holding up a giant banner before Sunday's match against Caen saying: "We don't want you in our colours anymore. Evra get lost."
AFP