By Obadiah Mailafia
WE have maintained that organisational agility is the essential quality needed by firms and businesses to survive in a recessed economy. There are three  forms of agility: operational, portfolio and strategic.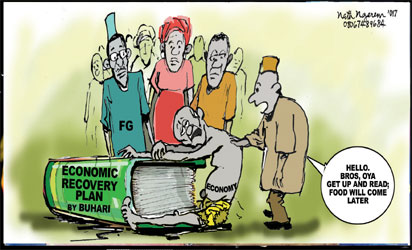 Operational agility refers to ability to rapidly seize new opportunities within a focused business model while continually improving business processes and operations. Portfolio agility refers to the capacity to redeploy resources – capital, talent and technology – from less promising to potentially more rewarding and more productive sectors.
Agile firms pursue an active portfolio management approach, rigorously redeploying resources from less profitable to more productive and more beneficial sectors. And finally, we have strategic agility. This refers to the capacity to distinguish between small low-hanging fruits and big, golden opportunities. The latter can bring large windfalls if opportunities are seized early enough and way ahead of the competition.
In these difficult times, it is crucially important that you know your products and know those that are the most profitable and how to optimise them for the benefit of your clients. As the old Igbo proverb says, "Ewu nwuru n'oba ji agu gburu ya" (a goat that dies in a barn was not killed by hunger).
In addition, you must understand and focus on your target market. If, as a businessman or woman, you do not understand your real target market, you will soon be driven out of business. You have to not only know the essential nature of the business; you must know your market inside-out — know your customers and how to meet them at their point of need.
Finally, you should always know that you are the most important product of all. A recent marketing survey shows that most customers are as interested in the person selling as the product itself. It is vital to bear in mind that you are the Number One product that you are trying to sell.
If you come across as a dodgy, questionable character, your customers will feel it and before long they will avoid both you and your products. But if you cultivate a pleasant personality and show that you are a person worthy of trust, you will win over your customers and your business will flourish.
Organisational agility has to go hand-in-hand with cutting non-essential costs; financial discipline; building a strong, resilient workforce; and remaining steadfast in a turbulent business environment. At the end of the day, recessions come and go. The good times will be back again. But only those who are prepared will reap a large harvest.
It ultimately all boils down to the values ethics that Saint John Chrysostom (349-407 AD), was a friend of businesspeople. He taught that "Riches are not forbidden, but the pride of them is".  He was also counselled against greed: "Happiness can only be achieved by looking inward and learning to enjoy whatever life has and this requires transforming greed into gratitude."
More than any of the great economists, John Maynard Keynes made his name by providing the panacea for recessions. Keynesian economics is premised on the need to boost aggregate demand to stimulate growth and recovery. Keynes seemed to have lost the argument during the late sixties and seventies, when advanced industrial economies experienced what has now come to be known as 'stagflation', a combination of negative growth, high inflation and growing unemployment. Milton Friedman and the Chicago monetarists decried Keynesianism as the wrong panacea for re-booting growth in depressed economies. Monetarists believe that what is needed is a monetary solution focused on reducing liquidity and fighting inflation.
Monetarism soon established itself as one of the idols of our age, resulting in perverse solutions premised on the idea that the market knows everything and that government is, at best, a nuisance.
The IMF and World Bank tried to push some of these discredited nostrums down the throats of developing countries. It proved disastrous. Even a school child knows that markets do not know everything and that market failures and information asymmetries are part of the reality of our world. We also need government that works to provide essential public goods while upholding the rule of law and steering the process of national transformation.
We Africans need new and original thinking in economic policy management. It is rather dangerous to rely on foreign nostrums from Harvard, Yale, Chicago or Oxford. Great nations are built not on slavish reliance on foreign ideas, but through bold, original and creative thinking rooted in the history, traditions, customs, and unique conditions of a people as they seek a better life and a better future.
Much of this original thinking is needed with regard to economic diversification in Nigeria. From current projections, low oil prices will become the new normal for a long time to come. Reliance on oil has created an import-dependent economy foisted on artificially low exchange rates that catered to the luxury needs of the urban elites at the expense of the poor, especially poor rural farmers.
Dollarisation of our economy has bastardised our naira, as the rich now prefer to hoard their assets in dollars. We must restore the dignity of our legal tender currency and ensure it eventually attains the status of international semi-convertibility.
There has been a lot of rhetoric about diversification, but nobody has come out to show how to bring it about in concrete terms – to translate it into workable policy that will take our economy into the twenty-first century. We have to be realistic about existing constraints: weak infrastructure base, epileptic electricity supply, inadequate human capital and skills, poor access to finance and a weak institutional architecture.
Going forward, I believe that diversification of the economy requires solid foundations on which to build it. In the first place, without peace and harmony, nothing good can happen. We Nigerians  are a divided people. We need a coalition of Nigerians that believe in reform and can be trusted to work hard to deliver solid outcomes.
We need a broad national consensus on the Nigeria Project and on how to make ours a technological-industrial state of the first rank in the twenty-first century. We must put together the right framework for national transformation anchored on prosperity for all within the precepts of democracy, social justice and the rule of law. For this to happen there has to be not only a change in our leadership culture but also in the norms embedded in our collective institutions and in our commitment to nation building and the vision of a Great Nigeria.
We must accord a central role to the private sector as the engine and locomotive of growth – big business, SMEs and the small market-woman. The notion that government knows best is part of the old thinking that we need to overcome. While making business the heart of growth, we must also reinvent government as a smart entrepreneurial state that provides public goods such as infrastructures, education, health and security; reforming the civil service as an effective machinery to implement the change we all deserve.
(Being the concluding part of an Address to the National Convention of St. John Chrysostom Seminary Osina Old Boys Association, Held at Best Way Hotel, Abuja, Saturday 28 September, 2017)
Subscribe for latest Videos