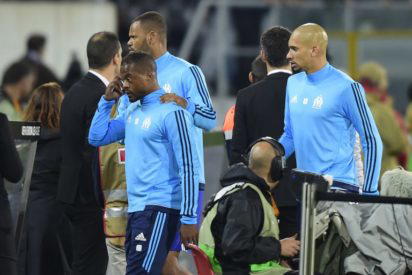 Marseille's French defender Patrice Evra (C) is escorted off the pitch by teammates Portuguese defender Rolando and Brazilian defender Doria (R) after an argument with supporters before the start of the UEFA Europa League group I football match Vitoria SC vs Marseille at the D. Afonso Henriques stadium in Guimaraes on November 2, 2017. / AFP PHOTO
Patrice Evra was handed an initial one-match ban by UEFA and suspended by his club Marseille on Friday after the veteran defender aimed a karate kick at the head of one of his team's own supporters.
The former Manchester United star was red-carded for the assault during the pre-match warm-up at Thursday's Europa League clash at Guimaraes in Portugal.
Marseille said that club president Jacques-Henri Eyraud had met the 36-year-old to inform him of the suspension and warned that he could face further "disciplinary action."
"Marseille also denounced the unacceptable behaviour of some fans who hurled hateful insults," said a club statement.
Earlier, European football governing body UEFA said Evra was banned for "violent conduct" and indicated that the former French international faced further sanctions at a disciplinary hearing next week.
"Following his dismissal, the player is suspended for at least one match. The UEFA Control, Ethics and Disciplinary Body will decide on this case at its next meeting on 10 November," UEFA said in a statement
Both Marseille and Guimaraes, who went on the win the tie 1-0, were also charged over their fans invading the pitch.
Announcing their probe, Marseille said in a statement: "No matter what happens, a professional player must maintain self-control despite provocations and insults, no matter how unjustified they may be."
Evra was confronted by a group of supporters who had managed to get out of an area in the Afonso Henriques ground reserved for around 500 Marseille fans.
– 'Learn to keep cool' –
Stewards at the ground quickly intervened to break up the trouble, with Evra, who was originally listed as a substitute, ordered to return to the dressing room by the referee.
"Pat has experience, and he must not react, it's obvious," said Marseille coach Rudi Garcia whose side lost the game 1-0 and also had Boubacar Kamara sent off three minutes from time.
"Patrice is more than just an experienced player. You can't respond, of course, to insults, as bad as they are and as incredible as they might be because they come from one of our supporters.
"He must learn to keep his cool. That's all I can say."
Garcia, however, blasted the fan who taunted the 81-times capped Evra at the compact Portuguese stadium.
"He's not a supporter of Marseille, because you can't insult your own players, you have to be behind all of us."
The incident immediately brought back memories of another act of kung-fu kick madness by a French footballer.
In January 1995, Eric Cantona, playing for Manchester United, launched a flying studs-first kick at a Crystal Palace supporter at Selhurst Park who had jeered him after he was sent off for kicking Eagles defender Richard Shaw.
As he was walking towards the tunnel, Cantona launched himself feet first at Palace fan Matthew Simmons, who was shouting abuse at the enigmatic striker.
Cantona, who was 28 at the time, was banned for eight months by the English Football Association whilst he was also stripped of the France captaincy by then-coach Aime Jacquet.
He also faced a criminal charge of assault that led to an initial two-week prison sentence, commuted to 120 hours of community service on appeal.
Evra has received heavy criticism for his performances this season and lost his place in the team to on-loan Aston Villa left-back Jordan Amavi.
According to football statisticians Opta on Thursday: "Patrice Evra is the first player to be sent off before the start of a match in the history of the Europa League".