By Pastor William F. Kumuyi
God mentioned that the cleansing will be complete and holistic, without any minutest particle of sinful filth traceable to our bod; and if the heart should crave any yearning for sin, because the heart has the propensity to commit sin, He will give us a new heart that will resist sin. The promise of God has not changed and it will be yours in Jesus name.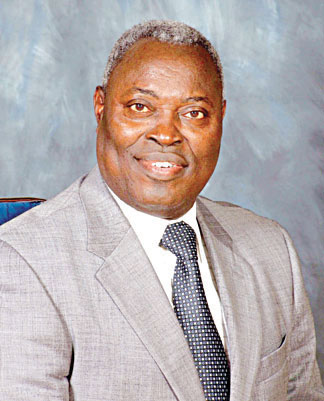 As you believe the Lord Jesus, He will effect the needed transformation in your life and bestow to you the grace to walk and live in righteousness in Jesus name.
Romans 3:23-26 "For all have sinned, and come short of the glory of God; Being justified freely by his grace through the redemption that is in Christ Jesus: Whom God hath set forth to be a propitiation through faith in his blood, to declare his righteousness for the re-mission of sins that are past, through the forbearance of God; To declare, I say, at this time his righteousness: that he might be just, and the justifier of him which believeth in Jesus."
God has made the provision of our salvation free for all through the purchasing power of the blood of Jesus Christ. As a result, you do not need money to have salvation nor does God require your good works.
It is noteworthy that God's offer of salvation does not provide for any form of abuse. As there exists a misconception from a group of people who believe that because God has forgiven them totally from sin, it then means that He has forgiven their past, present and future sins. Thereby giving them the license to commit and promote sin. If you are one of those, you will end up in hell fire except you change that erroneous view.
Romans 5:8-9 "But God commendeth his love toward us, in that, while we were yet sinners, Christ died for us. Much more then, being now justified by his blood, we shall be saved from wrath through him. For if, when we were enemies, we were reconciled to God by the death of his Son, much more, being reconciled, we shall be saved by his life.."
The blood of an animal offered by some sect cannot pay for our sins nor participating in the rite of the holy sacraments afford that priceless experience. Rather it takes the real blood of the real Jesus offered once for the remission of sins to reconcile man back to God.
Colossians 1:20-22 "And, having made peace through the blood of his cross, by him to reconcile all things unto himself; by him, I say, whether they be things in earth, or things in heaven. And you, that were sometime alienated and enemies in your mind by wicked works, yet now hath he reconciled In the body of his flesh through death, to present you holy and unblameable and unreproveable in his sight."
Just being a regular member of your local church will not get you to heaven nor being born in a Christian family with a Christian name: even if you read the Bible often and sing the solemn hymns to the excitement of others or you have been baptized, confirmed and dutiful in the household of faith; it will not get you a pass to heaven.
Rather all you need is the blood that sets men free. You must be cleansed by the purified blood of the Lamb of God, which takes away the sins of the whole world.
There must exist a reference point in your life that on a particular day of the month in the year you confessed your sins to the Lord, because He died for your sins and accepted Jesus Christ as your Lord and personal Saviour. If you have ever taken such a bold decision, I will not think that you would not be able to refer to that glorious event any time you are called up to say something about it.
Hebrews 9:12-14 "Neither by the blood of goats and calves, but by his own blood he entered in once into the holy place, having obtained eternal redemption for us. For if the blood of bulls and of goats, and the ashes of an heifer sprinkling the unclean, sanctifieth to the purifying of the flesh: How much more shall the blood of Christ, who through the eternal Spirit offered himself without spot to God, purge your conscience from dead works to serve the living God?"
Salvation does not come by the blood of animals and if there exist a gathering of people where they use the blood of animals as their link, then they are dangerously diabolic and must be avoided, because it is only the blood of Jesus that saves.
Psalms 130:8 "And he shall redeem Israel from all his iniquities."
Actually, the Jews were eagerly awaiting the time when the final sacrifice will be made to redeem them from all their sins. Their patience paid off when Christ arrived the scene of sin mankind have staged for His glorification as the Son of God. And as you believe on Him, you will get saved, because He came to save us from all our iniquities so that we will experience His pure and sinless nature.
Titus 2:14 "Who gave himself for us, that he might redeem us from all iniquity, and purify unto himself a peculiar people, zealous of good works."
Christ paid the ultimate price for our sins because He wants us to go over to heaven and experience the heavenly city of glory when our time on earth is over; as you know, our stay here is transient and our exploits as well as achievements will be a fading shadow with no eternal consequence. That is the reason Jesus has made adequate provision and He is inviting us to share in the splendour of heaven.
Revelation 5:9-10 "And they sung a new song, saying, Thou art worthy to take the book, and to open the seals thereof: for thou wast slain, and hast redeemed us to God by thy blood out of every kindred, and tongue, and people, and nation;
And hast made us unto our God kings and priests: and we shall reign on the earth."
Imagine yourself among the company of redeemed saints and adorable angels singing sweet melodious new song everyday for ever before a glorious God in heaven! I bet it is not a sight and sound you dare afford to miss.
Revelation 7:9-14 "After this I beheld, and, lo, a great multitude, which no man could number, of all nations, and kindreds, and people, and tongues, stood before the throne, and before the Lamb, clothed with white robes, and palms in their hands; And cried with a loud voice, saying, Salvation to our God which sitteth upon the throne, and unto the Lamb.
And all the angels stood round about the throne, and about the elders and the four beasts, and fell before the throne on their faces, and worshipped God, Saying, Amen: Blessing, and glory, and wisdom, and thanksgiving, and honour, and power, and might, be unto our God for ever and ever.
Amen. And one of the elders answered, saying unto me, What are these which are arrayed in white robes? and whence came they? And I said unto him, Sir, thou knowest. And he said to me, These are they which came out of great tribulation, and have washed their robes, and made them white in the blood of the Lamb."
If you are there and the blood of Jesus has not washed you yet, it then means that you are living on borrowed time and you can miss this awesome opportunity Christ has made available through his blood..
In spite of Chris's charitable kindness of offering His life for the sin of the whole world, some persons have been
emboldened to admit that they have no sin, because of their religious or philosophical leaning: they are living in self deceit.
1 John 1:8 "If we say that we have no sin, we deceive ourselves, and the truth is not in us."
Most religious people and leaders, often read and interpret the above scripture literally and in isolation. They lose touch of the previous and preceding verses of scriptures that surrounds the verse. They use the misuse of this scripture to justify their habitual sinful lifestyle, without any hope of ever being freed from sin; thereby deceiving themselves and misleading hundreds and thousands of souls who flock to them.
That interpretation is unacceptable before God and it is a disservice in respect to the efficacious work rate of the blood of Jesus.
1 John 2:1  My little children, these things write I unto you, that ye sin not. And if any man sin, we have an advocate with the Father, Jesus Christ the righteous:
The essence of this epistle is to hand us the solution to the problem of sin; it is, first and foremost, to make us realise that we were born into this world as sinners and we need the saving grace of God, if we must be in His good books. That is the driving force behind the wheel for the blood of Jesus Christ the whole world needs today.
Pay attention to the verse above and you will notice the conditional 'if' has been used for a reason.
The word 'If', in that verse, is very significant. It means that if by carelessness you sin; if by not watching, you sin; if you were surprised and taken unawares. It did not say 'when' any man sins, because everybody will then have the justification for committing sin even after conversion.
The Bible is very careful in its' choice of word. That is why it is the Super Book divinely crafted by a sinless God for his heaven bound creatures.
1 John 3:5-6, 8-9 "And ye know that he was manifested to take away our sins; and in him is no sin. Whosoever abideth in him sinneth not: whosoever sinneth hath not seen him, neither known him. He that committeth sin is of the devil; for the devil sinneth from the beginning. For this purpose the Son of God was manifested, that he might destroy the works of the devil. Whosoever is born of God doth not commit sin; for his seed remaineth in him: and he cannot sin, because he is born of God."
If you are still living in sin, that is, you still lie(even on phone) or you still indulge in immorality or stealing of all kinds, after the blood of Jesus had been shed for the punishment of sin, then you will have your part in the lake, which burns with fire and brimstone. Only five minutes in hell will make you to forget all the enjoyment and fun time you had in sinning; and an hour stay in hell will vanish any remembrance thought of pleasure you had in sin. Mind you, we are not talking about a short term stay in hell for a year, ten years nor a century nor a millennium, but for ever in endless eternity.
If I were you, I will have a rethink and take the offer Jesus Christ has left for all those who have decided against the life of sin.
The decision to live above sin is the best choice that can happen to a true creature formed in the image and likeness of God. But some people who are too weak to resist sin have the notion that we are all sinners. No, we are not all sinners. It is abundantly clear for all to see that God has the power to keep all those who accept Jesus Christ as their Lord and Saviour from sinning.
1 John 5:18 "We know that whosoever is born of God sinneth not; but he that is begotten of God keepeth himself, and that wicked one toucheth him not."
They that are born of God, through the blood of Jesus Christ, know that they cannot sin.
The blood of Jesus cleanses us from all sin, but whosoever claims that he does not need cleansing, because he has no sin is a deceiver. Such a person does not want to apply the blood of the lamb to cleanse his sins and he does not want to go to the Lord for forgiveness because he is self-willed. And the Bible has something to say about them.
Proverbs 30:12 "There is a generation that are pure in their own eyes, and yet is not washed from their filthiness."
This set of people can be a congregational gathering or a philosophical movement that thinks they are alright, but are not washed from their filthiness through the blood of Jesus.
Another set of these kinds are backsliders. They can be full of themselves even when it is obvious to others that they are on the wrong path.
1 Samuel 15:13-15 "And Samuel came to Saul: and Saul said unto him, Blessed be thou of the LORD: I have performed the commandment of the LORD. And Samuel said, What meaneth then this bleating of the sheep in mine ears, and the lowing of the oxen which I hear? And Saul said, They have brought them from the Amalekites: for the people spared the best of the sheep and of the oxen, to sacrifice unto the LORD thy God; and the rest we have utterly destroyed."
Everybody except Saul knew that he did not follow through to the express command and instructions of God. He committed sin in its' entirety, but refused to admit guilt. Eventually, he died in sin and backsliding.
The likes of Saul who are among us today still have the chance to repent from the state of backsliding, as the word of God comes to them, because the blood that cleanses from the stables of calvary is available and washes whiter than snow. But those who are ashamed or too proud to own up their sin will die like the self-righteous Saul and end up spending the rest of their eternal future in a sorry place.
Psalms 36:1-2 "The transgression of the wicked saith within my heart, that there is no fear of God before his eyes.
For he flattereth himself in his own eyes, until his iniquity be found to be hateful."
Do not be part of those who flatter themselves thinking that they are alright even when they are living in sin.
That is why God said in Jeremiah 2:22,23 that they are so filthy to a heightened degree that the soap(the blood of Jesus) that will restore them was still in the making.
Are you like one of those who commit secret sin and in the open pretend to be alright because of your commitment in the house of God? Let me remind you that if you fail to repent, the judgment of God will fall upon you. I trust that you will repent and let the blood of Jesus perform its' redemptive work in your life. It is going to happen in Jesus name.
Jeremiah 2:33-35 "Why trimmest thou thy way to seek love? therefore hast thou also taught the wicked ones thy ways.
Also in thy skirts is found the blood of the souls of the poor innocents: I have not found it by secret search, but upon all these. Yet thou sayest, Because I am innocent, surely his anger shall turn from me. Behold, I will plead with thee, because thou sayest, I have not sinned."
They have a way of teaching other people to become insensitive to the preaching of the word of God; while they feign innocence in the act of evil deeds, because they do not foresee divine judgment tilting towards there direction.
Pontius Pilate, in a bid to demonstrate his innocence before the crowd of witnesses calling for the death of Jesus Christ, washed his hands off their sinister intentions; yet his guilt was on show for all to see when he endorsed that the soldiers scourge Jesus with many stripes. I wonder the hypocrisy behind the hand wash ceremony he underwent.
Luke 16:15 "And he said unto them, Ye are they which justify yourselves before men; but God knoweth your hearts: for that which is highly esteemed among men is abomination in the sight of God."
Let no man rise up like Saul or Pilate and say that they have no sin. That will be self deceit.
If from a deep sense of guilt and unrighteousness, with utter helplessness we confess and forsake our sins and plead for His mercy, He is faithful to forgive. But those who remain in deception and flattery till the jaws of death snatch them away from the land of the living will spend eternity in hell fire. That is exactly what Proverbs 28:13 meant when it says, "He that covereth his sins shall not prosper: but whoso confesseth and forsaketh them shall have mercy."
Isaiah 55:6-7 "Seek ye the LORD while he may be found, call ye upon him while he is near: Let the wicked forsake his way, and the unrighteous man his thoughts: and let him return unto the LORD, and he will have mercy upon him; and to our God, for he will abundantly pardon."
We obtain forgiveness from the LORD when we pray asking for it in all sincerity, with the sole aim of turning away from sin and returning to God.
Acts 3:19, 26 "Repent ye therefore, and be converted, that your sins may be blotted out, when the times of refreshing shall come from the presence of the Lord; Unto you first God, having raised up his Son Jesus, sent him to bless you, in turning away every one of you from his iniquities."
If we must have a healthy relationship with God, then repentance from sin is very important and when His forgiveness comes, it will turn us away from all unrighteousness. But it is crucial that we play our part by coming out completely from sin as stated in 2 Corinthians 6:17 "Wherefore come out from among them, and be ye separate, saith the Lord, and touch not the unclean thing; and I will receive you."
2 Corinthians 7:1 "Having therefore these promises, dearly beloved, let us cleanse ourselves from all filthiness of the flesh and spirit, perfecting holiness in the fear of God."
You cannot continue in sin with the false hope that your are going to enjoy the dividends of God's forgiveness. No, it does not work that way. That is why you must quit playing religion by checking up on your life; and if there appear some shades of lying, hypocrisy, fornication, stealing, adultery, violence, anger, pornography, et cetera; you take it to the Lord with all the seriousness it deserves.
2 Timothy 2:21-22 "If a man therefore purge himself from these, he shall be a vessel unto honour, sanctified, and meet for the master's use, and prepared unto every good work. Flee also youthful lusts: but follow righteousness, faith, charity, peace, with them that call on the Lord out of a pure heart.
Ephesians 5:25 "Husbands, love your wives, even as Christ also loved the church, and gave himself for it;"
I do not know how many times we must have read the above scriptures and yet there is no love in the family; I do not know how many times, as a preacher, you must have preached that sermon, but then I wonder why that love life is still lacking. I pray that we will not just be hearers of God's words in vein in Jesus name. But that your life time partner will see its' effect in your life.
Ephesians 5:26-27 "That he might sanctify and cleanse it with the washing of water by the word, That he might present it to himself a glorious church, not having spot, or wrinkle, or any such thing; but that it should be holy and without blemish."
That is the plan of the Lord and that is exactly what He intends to actualization and He will bring it to pass in our lives in Jesus name.
But bear it is mind that it is the blood of Jesus that accomplishes that; and the blood of Jesus, which is still available is mighty and powerful and still sets men free. It has not failed before nor will it fail now in any of our lives in Jesus name.
Hebrews 13:12-13 "Wherefore Jesus also, that he might sanctify the people with his own blood, suffered without the gate. Let us go forth therefore unto him without the camp, bearing his reproach."
We need total cleansing, total forgiveness for our sins and entire salvation as well as real holiness of life, because heaven is our ultimate goal. And if that is your number one priority, then you really need to park your bus with Jesus and let Him cleanse you with His blood.
Why not take the prime decision and go to him in prayers today? I bet He is all ears wanting to hear your first words right now.