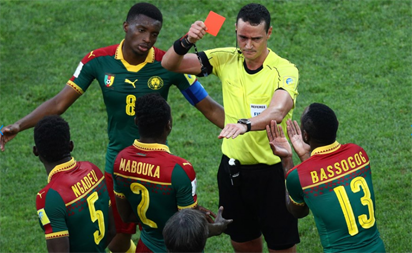 Emest Mabouka of Cameroon is shown a red card by referee Wilmar Roldan after advice from the VAR during the FIFA Confederations Cup Russia 2017 Group B match between Germany and Cameroon at Fisht Olympic Stadium on June 25, 2017 in Sochi, Russia. FIFA photo
The FIFA scandal, which erupted in May 2015 with the arrest of seven top officials in Zurich, has several judicial tracks.
One in the United States targets former North and South American officials.
Others in France and in Switzerland, where FIFA is based, have gone after former European officials of world football's governing body.
US prosecutors indicted 42 football and sports marketing executives for allegedly receiving millions of dollars in bribes and kickbacks.
Of those, 24 pleaded guilty in the United States. Fifteen others are still abroad, where some will be tried, while others fight extradition.
Three former heads of Latin American football federations go on trial Monday.
Here are the major figures in this global scandal:
– On trial –
– Jose Maria Marin –
Of the seven officials arrested in Zurich, the former Brazilian Football Confederation president is the only one to plead not guilty. He was extradited to the US in November 2015.
At 85, he is among the oldest of the accused and faces seven charges for allegedly taking millions of dollars in bribes from sports marketing companies linked to the sale of rights, primarily for the Copa America tournament.
– Juan Angel Napout –
The 59-year-old Paraguayan managed his country's football federation from 2007 to 2014 before becoming president of CONMEBOL, South American football's governing body, and a FIFA vice-president from 2014 to 2015.
He was arrested in Zurich on December 3, 2015 and extradited to the US.
Napout faces five charges including corruption and bank fraud for allegedly accepting millions of dollars in bribes in return for selling marketing rights for regional tournaments and World Cup qualifying matches.
Like the two others going on trial, he is free on bail, after putting up $20 million to secure his release. He has been awaiting trial at a luxury apartment in Miami.
– Manuel Burga –
President of the Peruvian football federation from 2002 to 2014 and a member of FIFA's development committee, Burga, 60, was arrested in Peru in December 2015 and extradited to the US a year later.
He is accused of corruption, fraud and money laundering in connection with bribes allegedly received from a sports marketing official in exchange for television rights to several editions of the Copa America.
– Other accused officials –
– Chuck Blazer –
Blazer, who died in July at age 72, provided the evidence which helped trigger the bribery scandal.
Former secretary general of CONCACAF, the football federation for North and Central America and the Caribbean, he was reportedly arrested quietly by US agents on a New York street in 2011.
The colorful figure lived an unapologetically luxurious lifestyle and even kept an apartment at New York's Trump Tower exclusively for his cats.
To avoid life in prison, Blazer cut a deal to become an FBI informant. He secretly took recording devices into meetings, including at the London 2012 Olympics, to help build a case against corrupt officials.
The recordings gave investigators the proof that Blazer and two other FIFA officials received $10 million in bribes to award South Africa the 2010 World Cup.
Blazer pleaded guilty in 2013 to 10 counts of racketeering, wire fraud, money laundering and tax evasion as part of a web of corruption that spanned decades.
He died before being sentenced but "accepted full responsibility" for his misconduct, according to his lawyers.
– Jack Warner –
FIFA's former vice-president, who lead CONCACAF for 11 years, was indicted in the US for charges including racketeering and conspiracy.
Warner, 74, turned himself in to authorities in his native Trinidad and Tobago but was quickly released.
A former security minister and member of parliament in his country, where he remained popular, Warner has dismissed the allegations against him and has succeeded in avoiding extradition.
However, his sons, Daryll and Daryan Warner, pleaded guilty in 2013 to corruption charges. A date has not yet been set for their sentencing.
– Jeffrey Webb –
Webb, 53, who succeeded Warner at the head of CONCACAF and as FIFA vice-president, pleaded guilty in November 2015 to six charges for having accepted millions of dollars in bribes in exchange for media rights.
He agreed to repay $6.7 million and is awaiting sentencing on January 24.
He is free on bail, living in an Atlanta suburb at a home with a swimming pool, six bedrooms and eight bathrooms.
The prosecutor in 2016 deplored that he can live "an extravagant life" at a property perhaps acquired with ill-gotten funds.
Before his arrest in 2015 in Zurich, Webb had made a lightning ascent in the football power structure. He was perceived as having ended the years of corruption under Warner, and was cited as a possible successor to Sepp Blatter.
– Sepp Blatter –
At the height of the corruption scandal, he was forced to quit the post he had held for 17 years as president of FIFA.
FIFA's ethics committee suspended the Swiss national from all football-related activities for six years after finding him guilty of making an improper payment of two million Swiss francs ($2 million) to his friend and ally Michel Platini.
Platini was also suspended from football but has not been charged.
Blatter, 81, is also the target of an investigation by Swiss prosecutors over alleged criminal mismanagement at FIFA and the Platini payment.
In April he was called as a witness in a French investigation into the controversial awarding of the World Cup tournament to Russia in 2018 and Qatar 2022.
Blatter has plans for a "spicy" behind-the-scenes book on FIFA, which should come out before the Russia World Cup which he says he will attend at the invitation of President Vladimir Putin.
– Jerome Valcke –
The Frenchman, 57, a former journalist who became Blatter's right-hand man, handled the lucrative TV retransmission rights at the heart of the scandal.
He was dismissed in September 2015 and banned for 10 years from all football activity over a ticket scam at the 2014 Brazil World Cup.
Switzerland began an investigation in March last year over alleged criminal mismanagement during his time as Blatter's deputy.
A separate Swiss criminal probe that began this month targets Nasser Al-Khelaifi, the president of Paris Saint-Germain, and Valcke, FIFA's former secretary general, over alleged corruption in the sale of World Cup media rights.
Swiss prosecutors said the alleged offenses pertain to Khelaifi's role as the head of sports media group BEIN, which operates on five continents.
Valcke allegedly accepted "undue advantages" in connection with media rights for future World Cups.
Both men deny the allegations.