Mararaba (Nasarawa) – Butchers Association, Mararaba chapter, Nasarawa State has called for support from relevant authorities to connect the abattoir in the area to electricity to reduce operational cost.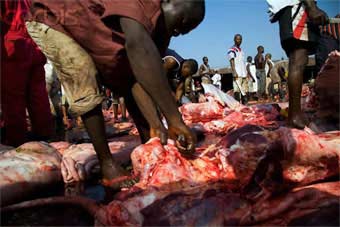 Alhaji Umar Bayawa, the Financial Secretary of the association, who spoke on Sunday in Mararaba, said it was expensive running the abattoir on generators.
Bayawa said the call for provision of electricity in the abattoir was to ensure regular pumping of water.
According to him, butchers are presently spending an average of N5,000 daily to fuel generators to pump water as this affects their profits.
On water, Bayawa said the problem had been addressed, adding that it presently had three boreholes.
He said the major borehole was donated by, Mr Gaza Gbefwi, the Member, Representing Karu/Kefi Federal Constituency in the House of Representatives.
"Before, we were not having enough water in this abattoir and a member of House of Reps assisted us to address the problem by sinking a borehole.
"There is enough water in the abattoir presently, but the only problem we have is that we do not have electricity to pump the water," he said.
The Chairman of the association, Mr Ndala Ibrahim also appealed to relevant authorities to establish cold-rooms to reduce wastages in the abattoir.
He said butchers were presently faced with challenges of preserving leftover meats, adding that meat worth thousands of naira had been lost to the problem. (NAN)