By Nwafor Sunday
The National Coordinator APGA Media Worriors Forum, Evang Chinedu Obigwe, Thursday said that President Muhammadu Buhari has again proved that 'he is for nobody and he is for everybody', a rhetoric he first opined in 2015, during his swearing in speech as the president of Nigeria.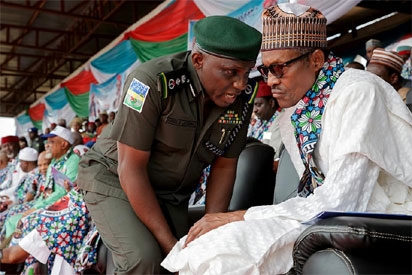 He made the call while commending president Buhari for ordering the Inspector General of Police, Mr. Ibrahim Idris to restore all the security aides linked to Governor Willie Obiano of Anambra state.
"Mr. President deserves to be commended for shunning partisan interest to prove that he belongs to everybody and doesn't belong to a particular individual", part of his release read.
However, Obigwe reiterated his earlier assertion that if the November 18th election is free and fair that he will vote for president Buhari's second term in 2019.
Read his full release bellow:
"Why are people talking about connecting Anambra to the centre? Ndi Anambra are comfortable where they are with Governor Obiano and APGA.
"My advice to Tony Nwoye is to heed to the words of former Senate President Ken Nnamani's wise counsel to use the ballot in pursuit of his misguided governorship ambition and not bullet.
"Emeka Ojukwu jnr's defection to APC is a good riddance to bad rubbish. His ill-advised and monetary induced actions pose no threat to Governor Obiano. The Governor will clinch a landslide victory at Nnewi, Ojukwu's home town.
"The order of President Muhammadu Buhari for the immediate restoration of Governor Obiano's ADC has shown that some cabals are manipulating sensitive government institutions for a devilish purpose without the knowledge of Mr. President.
"In this regard I advice INEC not to fall for the manipulation of this evil cabals that can be referred to as enemies of Nigeria democracy.
"Anambra people will not tolerate any form of rigging in this election; they are already prepared to resist rigging in all ramifications.
"The order of President Muhammadu Buhari to the police high command is a motivation to the people of the State to fight for the right thing to be done in the November 18th governorship election.
"I urge Ndi Anambra electorates to troop out en-mass to exercise their democratic franchise.
"Ndi Anambra should endeavor to vote for Governor Obiano's return to office to continue his good administrative management work for the future of Anambrarians."