BY ROTIMI AGBANA
When you are looking for   handsome and talented Nollywood hunks, you cannot but ignore Abiodun Adebanjo. The rising actor popular for playing 'Play boy' roles   has starred in movies like Sonate, Basira Badiya, Wale Danger, Omo Oshodi, Injustice,   amongst others. In this interview, he opens up on how he started out in Nollywood, the weirdest message he has ever gotten from a fan, among other issues.
Why must a Yoruba actor train under a boss to be accepted in the industry?
In the Yoruba sector, they do more of theatre than acting. We learn how to dance, drum and sing. We also learn how to do indigenous movies. You need a mentor and a coach to put you through. You need the guidance of a mentor. I have a lot of mentors too, Akin Lewis is one of them.
It is said that actors in the English sector of Nollywood are richer than Yoruba actors?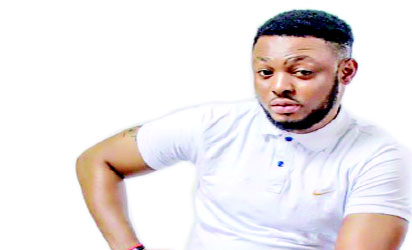 I disagree because it takes grace to be richer than anybody. They seem richer because they have a larger fan base and tend to be accepted globally. Yoruba actors are restricted to some parts of the country where Yoruba is being spoken.
What makes you different from every other actor out there?
My ingenuity, handsomeness and originality make me unique. If it's not Biodun, it can never be Biodun.
What is the craziest message you have ever gotten from a female fan?
The female fan said she wished I can have sex with her.
What are the qualities you look out for in a woman?
First things first, you need to be intelligent, prayerful, beautiful and have ample boobs and bum.
What is the most ridiculous thing you have ever heard about yourself?
The most ridiculous thing I have ever heard about myself is people telling me to quit acting. Some people also believe that I am 'Player'. You don't know me. Why would you call me a player or a gigolo?
What is your most challenging movie role?
Every role has been challenging but I think I have not been drilled the way I would love. I recently starred in a movie where I had to play the role of a woman .It was very challenging for me.   I had to wear makeup and do girly stuffs. I had to let go of my beard too. It was really challenging.
Is it true that actresses live above their means?
Truth is that most of these actresses have other things they do aside acting. They have businesses, boyfriends and husbands that take care of them. They are doing well for themselves.
How important is sex in a relationship?
Sex is very important in a relationship, but shouldn't be the major focus. In this generation sex is very important.