By Mohammed Adamn
JUST a couple of hours before President Buhari's last Monday bombshell on the suspended former Secretary to the Government of the Federation, Lawal Babachir and the D.G. National Intelligence Agency, NIA, Ayo Oke, I was at the Abuja residence of my erstwhile Concord Press boss and former Chairman of Progressive Peoples Alliance PPA, Lisa Olu Akerele. This has been homage that I pay to a deserving professional elder as regularly as I come into town. And often in company of his profoundly analytical neighbour friend, Engr. Elijah Adefemi Aribatise, we do occasionally drift into discussing the many ills of our dear country, -especially from the 'subjective' prism of some of the controversial issues that I raise weekly in my opinion Colunm.
But it had never occurred to me that the three of us had, somewhat monotonously -even if un-premeditatedly- always been lopsidedly on the same page, mostly agreeing on virtually everything -including my usually radical approach even to delicate national issues. But this last Monday encounter with them, I noticed for the first time that I was pulling a lonely furrow. They had both deserted me, especially on the Babachir issue. They thought that the President was dithering unnecessarily –if not suspiciously- concerning the Osinbajo Committee Report on Babachir. Plus they seemed also to have bought into the claim that the President had willfully capitulated to the self-serving designs of a 'cabal' that they also believe has hijacked his government, rendering him weak and ineffective.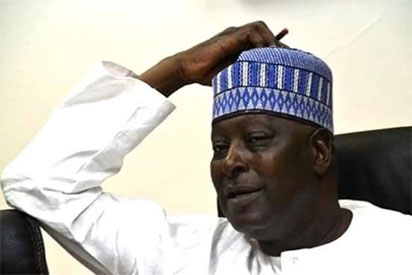 I had no reason whatsoever to doubt the sincerity especially of Akerele, a man under whose protection I had grown to cut the most part of my journalistic teeth, -in a relationship that would transcend journalism to a more enduring bond of brotherhood as we both journeyed through shared travails with the tragic fate of our mutual godfather, the late MKO, into an a troubled future. Nor was I to doubt the candour of his princely Engineer friend, one of few acquaintances I look forward always, to benefiting from his profound sense of history in his analysis of issues.
Babachir
The Austrian novelist and poet Marie von Ebner-Eschenbach said "Whenever two people argue over principles, they are both right". Even as I had no reason to doubt their sincerity, I thought that I had a duty to expose two anti-theories that are fast gaining ground and are claiming including men of principle like Akerele and Aribatise. First and foremost, to suggest that Buhari was shielding a 'corrupt Babachir' was to already have prejudged the content of a Report that had not been made public yet. Because in truth, all the time that we were accusing Buhari of shielding a 'corrupt Babachir, we did not know whether the Report in question had indicted or exonerated him.
So, assuming –without conceding- that the Report had exonerated Babachir, instead of indicting him, what then would Buhari's motive have been for allegedly sitting on the Report?' Would it still have been to shield a corrupt lieutenant, or to delay the acquittal of an innocent person? Mind you, the presumption of innocence is not reserved only for the presumably innocent. It is also for the presumably guilty.
Assuming  -again without conceding- that the President had ulterior motive for sitting on the Babachir Report, what would that motive have been? Would it be to shield a man, Babachir, from justice for the reason, as has been alleged, that he was 'the President's man', -in the euphemistic sense of a Man Friday that Buhari brought to office and for whose indiscretions he is prepared to go down? This could not have been the case because Babachir –by his own admission at a church service- had said that he was Tinubu's and not Buhari's candidate. And so to what end would Buhari have risked all the odium that he attracted both to himself and to his government only to shield a man that was at best a liability to him and to his government?
All the theories around Buhari's alleged cronyism and nepotism especially concerning appointments and the claim of 'excessive' indulgence of favored appointees, center around ethnicity, religion and geo-polity. They allege that the President favours only the Hausa-Fulanis, Muslims (Northern or Southern), and especially core Northerners –provided they are Muslims. And from this premise Babachir then becomes a perfect anti-theory for the reason that he is neither a Muslim, nor Hausa, nor Fulani, nor Hausa-Fulani. And yes, Babachir may pass for a 'core Northerner' –coming from the far North himself- but he does so with qualification: he is a core 'Northern Christian', one of a Northern minority group that anti-Buharists allege he hates the most, -and who are equally alleged to hate him the most.
Let's face it, Buhari cannot allegedly be an inveterate hater of ethno-Christian, non-Hausa-Fulani, Northern minorities and at the same time be accused of vicariously taking the cross for Babachir, a non-Hausa-Fulani, Northern Christian minority. And as with Babachir I guess, so too with Ayo Oke. What could have been Buhari's motive, shielding Oke -as he was alleged to have shielded Babachir?
If no motive is imputable in either case, it then leaves only one possibility open, which is that the President could only have been taking his time to painstakingly and meticulously digest the Report before taking action. This was the position I put across to the duo of Akerele and Engr. Aribatise, a few hours before Buhari's axe fell on that fateful Monday. And less than twelve hours later, Buhari's Media Adviser, Femi Adesina would be on Channels TV to say:
"Anybody who knows this President will know that he is a man that takes his time, but when he makes up his mind, he makes it real good". Buhari, he said "got that report on August 23. It came in six volumes. Yes, there was an executive summary; but apart from that executive summary, with a fine-tooth comb, he went through the main report and today (Monday) we have got his conclusions about the report and the recommendations. It shows that the mill of the gods, like they say, may grind slowly but they grind finely."
 The 'Cabal'
But then there is the allegation that a self-serving, corrupt 'cabal' and not the President himself, has been in charge of the affairs of this country. That too appears to beggar more questions than it has answered. At the time the President was mostly bedridden in London, this so called 'cabal' was cited as the cult behind all the secrecy shrouding Buhari's health myths; plus mischief makers had nibbled desperately around rumours to propagate the claim that the Vice President himself was being undermined by this so called 'cabal'.
It was largely because the Vice President did not lend his precious attention to such contrived fetishes, that we did not have a situation the like of which Vice President Jonathan had manipulably fallen for to snitch at his principal, the late Yar'Adua.
Unfortunately also even a naively-aggrieved President's wife, Aisha, had twice allowed her personal grievances against her husband and some of his senior aides (concerning some 'First-Lady' privileges she was denied), to push herself  unnecessarily into such wailing mood as would lend credence to the claim that a 'cabal' exists that has made her husband a eunuch on the throne.
Yet most of the proofs in advance of the theory that a 'cabal', and not Buhari himself, rules this country, are ridiculous –to say the least. The most commonly propagated being the 'clandestine' reinstatement of the 'pension fugitive' Maina into the Civil Service. Buhari is alleged to have lost control of his government to this 'cabal' only because he has not been prescient or omniscient enough to know the movement of every Tom, Dick and Maina within the Civil Service until it is brought to his attention.
Taking charge
Nor of the major levers for the control of presidential powers in a democracy, has any been cited which the 'cabal', controls, to support the 'theory' that it -and not Buhari- is in control of the government. No one for example has disproved the fact that Buhari is effectively in control of the armed forces; in the ways he directs and authorises their movements, often even against the wishes of the 'cabal', across the length and breadth of Nigeria to handle security situations no matter whose ox is gored. It had to take not just his return to Nigeria from London, but the prompt orders he issued also, to send IPOB and its enfant terrible leader Kanu out of town for good.
It has not been proved also that any of the levers for the control of the economic sector of the nation –in a democracy- is controlled by this 'cabal' and not by the President himself. Nor is it to be denied that the President's hard line position on several economic policies ranging from TSA, Exchange Rates, and such others painful pills that only a stubborn Buhari will insist on forcing down the throat of an ailing economy like ours, have remained the driving force of the economy -even to the chagrin of so called members of the 'cabal' who would prefer a much more laissez-faire approach.
It is patently mischievous to suggest that an inherently corrupt 'cabal' which is an antithesis to Buhari's anti-corruption crusade will be in control of his government and yet be unable to tone down his hard line position on the recovery of looted funds and on the arrest and prosecution of looters. If we have claimed time and again that it is the 'cabal' that does not want EFCC's Magu as Buhari's anti-corruption Caesar, it is preposterous to deny that it is Buhari's resolve –and not the 'cabal''s- that is the reason Magu is still in office.
The manner in which President Buhari has effectively controlled and deployed Nigeria's armed forces, his stubborn resolve to direct economic policies one way or another, and his apparent refusal to tone down his anti-corruption war, confirms only one thing: that he is both de facto and de jure –not only in power but in control.