Stream of arts activities that include art workshop and exhibitions, seminars and others has been slated as major projects to mark Queensland Academy's 30 years anniversary. The college, known for its creative excellence in art competitions both locally and internationally, decided to launch on bigger scale, creative workshop to showcase great talents the school has garnered over time. Several works were on display ranging from textile, ceramics, paintings, sculpture and installation art.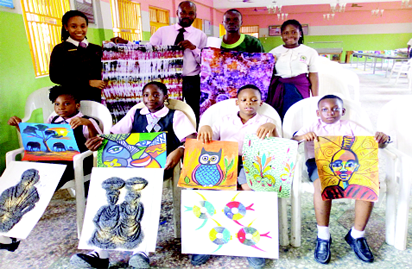 According to the Art workshop coordinator, Osasime Nosirime, "We are using art to project our 30th year anniversary. Since inception of the school, art has been projecting the image of the school. We have won a lot of laurels in art competitions both home and abroad, and with this workshop and art exhibition, we want to showcase the talents we have in the school."
Dr. Kunle Adeyemi, Dean, School of Art and Design, Yabatech, who was guest at the unveiling, said "One of things that the academy has always encouraged the children is to be what they want to be, to create expressively, to create freely. That's how to pick them at young age. It is not that they want to make them artist but it is just placing them on a pedestal and actually begin to see art in everything they want engineering or any career.
"There's art in virtually everything you can think of. With these, the children would have a good leverage, a good start-up. The school had made them work harder aside from making them play around here and there. They've been made to concentrate on weekends to produce these art pieces. Again, they are using these medium to celebrate their 30 years. Art is visual. You can see what they have produced because the products are there to tell the stories. With what the children have done here today, you know Nigeria has future with abundant talents still here irrespective of what the economy is doing. All that is needed is for us to harness some of these people so that the nation can be better for it.