By Obi Nwakanma
This week, I really, really wanted to closely examine the wherefores of what is now called "Mainagate" – that scandalous wind that has blown to once more reveal the true anal architecture or underbelly of the chicken.
The "chicken" in this case being the government led by the APC and President Buhari, who diddled Nigerians on the claims of being the party to fight the menace of corruption. I have long believed that Nigeria's real problem is, in fact, not corruption.
It is the failure of the imagination. The attempts to smuggle back into government, Mr. Abdulrasheed Maina, a discredited and sacked civil servant, who then literally escaped and was declared wanted by the same Federal government, on the charges of corruption and embezzlement, proves my point.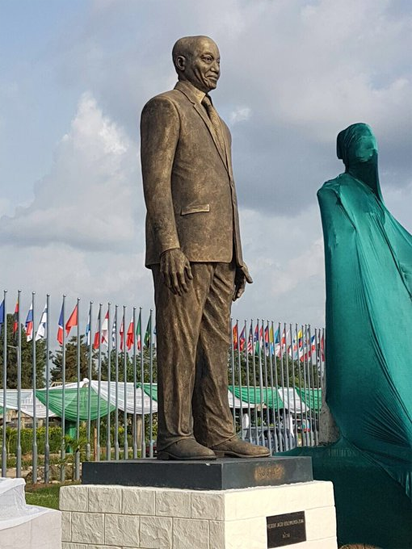 It is hamartia that lulled Buhari's administration to that act – and we must come to a full disclosure of what the president knew, when he knew it, and what quality of advise was given by whom; and particularly the roles played by Dambazzu and Malami, ministers for the interior and Justice respectively on this attempt at a national fraud. The president was sufficiently embarrassed, enough to order the immediate removal of Maina. But heads must roll, and one does not want to be Salome here, but it should be these ministerial heads, served on the platter.
I really wanted to dwell on this fact of the corruption of the presidency, and the fact that the APC is not the angel party, but the party of all the corrupt, disgruntled figures of the other parties that have come and gone in Nigeria, and who have finally gathered or re-assembled under its own umbrella, the APC.
This party now houses the most corrupt figures that once made PDP corruption-prone, and so, Nigerians must be sufficiently aware of the snake oil the APC is selling with President Buhari at its helm. "Mainagate" proves it. But there will be time yet for this analysis. I'm a little more drawn to events unfolding in Imo state. I must admit, that I find Anayo Okorocha, governor of Imo state very intriguing.
If Okorocha had, what in my view, is a more genuinely sophisticated education, he'd have been capable of seeing a clearer picture, and perhaps would have modulated some of his actions, the result of which we must examine and put in some very clear contest. Some are possibly well-intentioned, but are often poorly conceived and executed, because the man keeps wrong-footing himself, either as a result of poor counsel, or for lack of it, or worse still, an unwillingness to receive counsel. I should not presume to know which.
But let me also say this to the Imo electorate, just as warning for the coming 2019 elections: do not elect any man who again comes to you waving the left-handed gift of "philanthropy." It is often a scam, these gifts, and the very idea of philanthropy is built on dependency and inequality.
It is a form of contaminated charity, because it takes more than it gives. In any case, there will be no need for charity, where there is equality, and the goal of civilized government is equality. It is not the equalization of misery, which is what philanthropists often do, but the equalization of privilege, which removes the idea of the middleman, in the entire quest for egalitarianism.
So, Okorocha arrived the governorship of Imo state waving two flags: the flag of support – a backing from the late Ikemba Nnewi, whom the people trusted, and the flag that he was a "philanthropist", which is rather ambiguous, because it is neither a job nor a rational condition of being.
The Okorocha Foundation soon became the same as the Imo state government. This is a terrifying breach of law, procedure, and the moral basis of public government: to run a state government like a private, family interest, as if the government of Imo state and the private affairs of Anayo Okorocha are the same.
Okorocha's single most terrifying contribution to public life in Imo state is to reveal that "Ndi Imo" are indolent and frightened people, who can be totally mastered and suppressed by a single individual in power without effective response! Going to eight years they allowed Rochas Okorocha to do as he wished, and to tie the private interests of his foundation, which by the way should have been legally run on a blind trust, with the public interest.
But it did not begin with Okorocha. It is a terrible shame that Imo state with possibly the most educated population in the entire sub-Saharan Africa, has never elected, or has not fielded for election since the return of civil rule, truly, properly, educated candidates for governorship. Imo has a surfeit of talents but has been governed by mediocre people. Perhaps this relay of incompetence reveals the real values and state of consciousness of the Imo electorate.
It is therefore imperative that anybody who wishes to change the political fortunes and direction of Imo state, must embark on a serious political re-education and re-orientation of its electorate. Take a look at the Imo House of Assembly, and it is a shocking collection of rabble; people who have very little idea about the place of legislation in the governance of a civil polity. The Imo State House of Assembly has remained a "photo" assembly.
You see them, but they are not actually there. They are members who do not represent their people. I have searched through its legislative history since 1999, and I have not come across any bold, or even memorable legislative act; any attempts to actively function, particularly as the purser of government, or defender of peoples interest, or the machinery for the ideas of public governance with respect to taxation, expenditure, control of public finance, and appropriation.
So, I do not wish to blame Anayo Okorocha solely on this question, and I wish to ask the members of the Imo state house of Assembly: when was the appropriation made to use state funds to erect a statue of Jacob Zuma in Owerri? (and as an art critic myself, I should say the statue itself is poorly crafted to booth, and certainly did not utilize the services of the plethora of the wide range of master artists from Imo State who should have been invited to a bid for the commission!) Does the Imo State government have a Director of Culture who therefore ought to function as an Adviser to the government on Culture? Was his/her input sought as is required by the law of establishment in the commissioning and installation of public art?
What is Jacob Zuma's significance to Imo state to warrant the erection of his statue in Owerri? Let me make this point quite clearly: Nnamdi Azikiwe and Jaja Anucha Wachukwu were instrumental in making certain that Nelson Mandela and the members of the ANC who were tried by the apartheid regime were not executed, through pressure on the US and the UK government.
Through Azikiwe's influence, the apartheid issue became internationalized, with Nigeria crafting the first policy of support for the ANC. As a matter of fact, for six months, Mandela lived in Nigeria with Mbazulike Amechi in Yaba, under the NCNC Training program.
With Zik's influence, Nigeria opened the doors for South Africans and other Africans still under colonial rule, many of whom received scholarships in Federal schools, and in the Eastern Nigerian schools. Nigeria was the permanent chair of the antiapartheid Commission in the UN. When Mandela was released from prison, the first person he sought audience with was Dr. Nnamdi Azikiwe, and a visit was appropriately arranged through the Babangida government. It was Zik, using the framework of the "No victor, No Vanquished" model of Nigeria's war resolution and diplomacy, who urged Mandela in their meeting at Nsukka to apply the same principle of reconciliation, to give South Africa a chance to move on without recrimination.
Now, the South African government has neither erected a statue nor named a street anywhere honoring Azikiwe or Jaja Wachukwu, or Leslie Harriman or Blessing A. Clark or Joseph Garba, or even Olusegun Obasanjo, or thousands of Nigerian students who contributed with our membership of YUSA (Youths United for South Africa) on Nigerian campuses in those years. But perhaps Okorocha does not know these facts, given that he did not have much education in these matters.
But whereabouts in Owerri is there a statute honoring Zik, Okpara, Ibiam, Odumegwu-Ojukwu, Sam Mbakwe, or even the war dead in Owerri? Public art is good, perhaps Okorocha's intentions might in fact be quite well-thought, but all art is political, and in the case of Zuma's statue, it is far more egregious: it appears, in my view, to be the use of public resource to further the aims of Okorocha's foundation. Two things must therefore happen after Okorocha: that statue must come down replaced with something more appropriate, and Okorocha must be made to account for the misuse of Imo resources appropriated under his watch.
Subscribe for latest Videos