By Tonnie Iredia
Many years back, when this column had a piece on police check point, one Omotayo sent in a mail 'warning' me to first stop the brown envelope corruption in journalism before getting involved in police matters for which he considered me ill-equipped.
We exchanged views on the subject generally and I must confess that Omotayo thrilled me with his down to earth analysis. When I drew his attention to the fact that a journalist does not threaten any person with a gun for brown envelope, he replied that every profession uses what it has to get what it wants.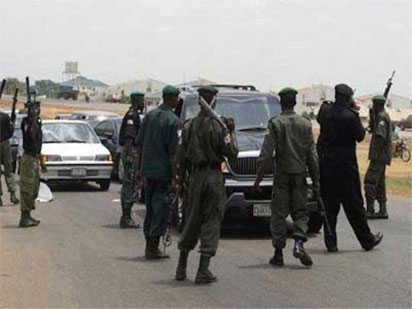 According to him, media people use blackmail, by making sure that those who give brown envelopes are the only ones whose stories are published or transmitted. On why the leadership of the police are always declaring check points illegal, he explained that a declaration is nothing, otherwise why do we still have check points till today he asked? He then ended with a stronger declaration that whether anyone likes it or not, "check points can never end."
Although Omotayo sounded like a clown, a hard look at the issue of police check points would clearly reveal that it is simplistic to discountenance him. A trip back some 7 years will make the point clearer.
In August 2010, the then Inspector General of Police, Ogbonna Onovo ordered all men under his command to dismantle all the checkpoints on the road because they are illegal. A task force was set up to enforce the directive and some culprits were reportedly caught. Then in February 2012, Mohammed Abubakar assumed office as the new police boss and one of his very first acts was to order all policemen to leave checkpoints which he also declared illegal.
A new task force was set up to patrol and arrest anyone who breaches the order.  In 2014, it was the turn of a new IGP. Suleiman Abba, to strongly remind all police operatives that the ban on police road-blocks across the nation was still in force.
Abba re-issued strong directives to all commands and formations to dismantle all road-blocks. In 2015, when Solomon Arase came in as IGP, he presented perhaps a most serious disposition on the subject describing road blocks as "public nuisance, points of corruption, and source of police-citizens' frictions."
Like Abba his predecessor, Arase reiterated the need to replace road blocks with extensive visibility patrolling and surveillance but added that Commissioners of Police, Area Commanders and Divisional Police Officers in whose jurisdiction illegal road blocks were detected would be personally liable and strict disciplinary actions will be initiated against them.
If Arase was reportedly stringent with his own ban on road blocks in 2015 and was later quoted by the press as stating that the removal of police check points had reduced corruption in the police, did the road blocks vanish? If not, then the arguments of my friend, Omotayo that the phenomenon can never end is instructive. Ibrahim Idris, the current Inspector General of Police who came into office after Arase has in fact clearly confirmed that police road blocks are still very much with us making the ban supposedly placed on them by successive IGPs a ritual.
He too, has been making some tough pronouncements while his immediate officers have been throwing ample light on the subject. For instance, Dan Bature, an Assistant Inspector General of Police while on tour of parts of the South west last October stated in Ibadan that any policeman checking vehicle particulars on the highways was on illegal duty. Idris has himself sought to add a few items to the old unheeded directives.  First, perhaps suspecting that those on patrol may indulge in road blocks, Idris directed that all officers involved in vehicular patrol on highways and major roads across the country are now to wear their uniforms, a bold name tag, and service number.
Second, he has also mandated the Police Special X- Squads to embark on the removal of all other forms of illegal blockage and obstructions on Highways and Roads erected by Revenue collectors inhibiting vehicular movement and smooth passage of people and goods across the country.
With what we have said so far, there are questions, questions and questions.  Why did Abubakar find road blocks in 2012, when Onovo banned them in 2010. Again, if Abubakar reinstated the ban in 2012 why did they come up in 2014 for his successor, Suleiman Abba to deal with?
If Abba made an order in 2014 why was it already flouted the very next year to warrant a fresh order by Arase? Why is Idris having issues again with the same subject Arase banned before he came in?  Put differently, if within a 7-year period, 5 different IGPs banned and reiterated the ban on road blocks, why is the business thriving? Is it not a clear understatement to argue that there must have been poor enforcement of the orders?
If police operatives can disobey the orders made at the top-most echelon of their organizational hierarchy, whose orders are they likely to obey? Is there evidence that the IGPs themselves really wanted the order enforced or have they been simply making political statements? We can recall that in 2012, the Kano state Police Command announced the arrested 17 police men involved in illegal road blocks; how did the case end and who else has been apprehended since then?
The point that road blocks have soiled the image of the police does not look dirtier than the ridicule of the inability of its leadership to place its house in order. Against this backdrop, Ibrahim Idris the current IGP is obliged to ensure that the ban on road blocks is enforced.
If he is unable to do so, then the police cannot blame people who have held on to a report by a US-based Human Rights watch since 2010, that there exists in the Nigeria police, a system of paying returns whereby officers pay bribes to secure lucrative' postings and thereafter pay up the chain of command, a share of extortion money. Indeed, many will accept as true, the report by the National Bureau of Statistics which the police has sought to controvert that the police leads Nigeria's most corrupt institutions.