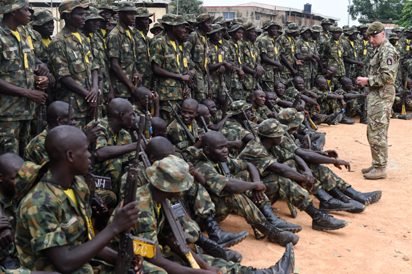 Recruits undergo training at the headquaters of the Depot of the Nigerian Army in Zaria, Kaduna State in northcentral Nigeria, on October 5, 2017.
By Johnbosco Agbakwuru
ABUJA – THE United Progressive Party (UPP), yesterday called on the National Assembly, NASS, to probe activities of the Nigerian Army Operation Python Dance II in the South East.

UPP alleged that dozens of people were killed and many wounded in "flagrant violation of military rule of engagement with civilians."
A statement signed by the Publicity Secretary of UPP, Chief Ogbuehi Dike read: "The news reports and sordid pictures of the military harassment and
torture of unarmed people in the South East during the infamous Operation Python Dance II were a sad commentary in army-civilians relations since Nigeria returned to democratic rule in 1999.
"It was the army's ill-conceived use of force and intimidation of the good people of the South East geopolitical zone that fueled the suspicion and rejection of its medical outreach in the area and beyond.
"We have no objection to the military discharging its constitutional
responsibilities. We however insist that strict adherence to military rule of engagement must be followed and those who violate it should be sanctioned to serve as a deterrent to others.
"UPP commends its Anambra State governorship candidate, Chief Osita
Chidoka for his earlier call on the National Assembly to investigate
the Operation Python Dance II. It is in tandem with the position of our great party that military force should not be applied in handling civilian matters. It is inappropriate and unacceptable in a democracy.
"The party also commends Chief Chidoka for demonstrating leadership in
his famous solidarity visit to the Federal High Court Abuja to witness the trial of Prince Nnamdi Kanu, the leader of Indigenous People of Biafra on Tuesday 17th October 2017, as the Court is the temple of Justice and the last hope of the common man.
"Chidoka has always shownbthat he is a man of the people and a dependable leader poised to transform Anambra State if elected governor on 18th November 2017. He is the candidate to beat in that election.
"We urge Anambra State electorate to vote for him and his running mate,
Chief Marcel Ogbonnaya Okeke. The Tiger Team is unstoppable indeed."