By Egufe Yafugborhi
WARRI—TRIBUTES have continued to pour in for renowned historian and respected Itsekiri opinion leader, Pa Johnson Ayomike, who passed on Wednesday, night, just as his Warri home in Delta State has received several mourners.
Governor Ifeanyi Okowa, in a condolence message by his Chief Press Secretary, Charles Aniagwui, described Pa Ayomike as "A great historian, excellent writer and community leader who promoted harmonious relations between the Itsekiri nation and neighbours in the oil city of Warri.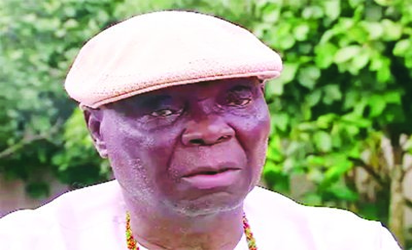 "On behalf of my family, the government and people of Delta State, I commiserate with the Ayomike family, the Itsekiri nation and the people of Warri on the demise of the nonagenarian historian. He will be remembered for his phenomenal contributions as advocate of contemporary Itsekiri causes."
Itsekiri Leaders of Thought, ILoT, where Pa Ayomike was immediate past chairman, said through Sir Alexander Mene, Secretary: "The best tribute to Papa is to paraphrase one of his favourite Bible quotes in 2 Timothy 4:7; He had fought a good fight. He has finished his earthly race and kept the faith.
"Papa, leader we know has only transited to the great beyond, to join our ancestors to continue to protect and defend his people, a cause he dedicated his entire life to."
In a separate statement,  Sir Mene, speaking for the Ijaw, Isoko and Itsekiri Elders and Leaders Forum (The 3 Is) where Ayomike was also a big mentor, said: "His death has left a big vacuum, difficult to fill. He was a man of integrity,  bridge builder and an intellectual colossus."
The family of the late Chief Hope Harriman also expressed sadness at the death of two esteemed Nigerians and uncles to the family, Chief Charles Sankey and Pa Ayonmike.
A statement by Temi Harriman, on behalf of the family, mourned the death of the two men who she noted impacted positively on Nigeria and members of the Harriman family.
She said: "Chief Sankey and Pa Ayonmike were two great Nigerians we in Hope Harriman family grew to know and adore as our uncles. They, in several ways, impacted positively on us and were great associates of our departed father.
"Nigeria will definitely miss the two gentlemen, and for us and their respective families, we would live to always cherish their good legacies."
Warri South Council Chairman, Mofe Edema said, "He was a wonderful father and I will greatly miss his advice. He was the inspiration that led build back King George Hall."
Alex Eyengho, speaking on behalf of Ugborodo Community Management Committee, UCMC, headed by Austin's Oborogbeyi, said, "Pa Ayonmike  was an icon to Ugborodo, Itsekiri and Nigeria at large. He is one of the few legends of our time. A hero, an iconoclast and exemplary leader. A mentor, patriot and dogged fighter."
Esimaje Awani, President, Itsekiri National Youth Council, INYC, said, "Pa Ayomike was a perfect gentleman, a consummate historian, orator and a great father. Itsekiri has lost a great mind. We all miss him."
Paul Bebenimibo, Spokesman to Gbaramatu Ex-militant leader, Tompolo, speaking in his personal capacity, said, "Irrespective of our difference with our Itsekiri neighbors, Pa Ayonmike, to me, lived a respectable life through his 90 year sojourn on earth."
Chiarmanship candidate of the Peoples Democratic Party,PDP, in Warri South Local Government Area, Mr. Michael Tidi described the demise of Pa Ayomike as a monumental loss to Itsekiri nation.
Tidi in a statement said: "I learnt with shock about the death of Pa. J.O. S Ayomike. Our hearts are with the Ayomike family and the entire Itsekiri nation at this difficult period."