By Oboh Agbonkhese, with agency reports
AWKA—Sunday Nwaeke is a familiar sight at Federal Polytechnic, Oko, Anambra State. But not as a student. The nine-year-old boy is known by the real students of the polytechnic as Nwa granut (Groundnut Boy).
Born in 2008, Nwa granut dropped out of school in Primary 2, at Community Primary School Iza, Ebonyi State, and moved to Anambra State in 2016, to live with his mother's sister who deals on cooked groundnuts.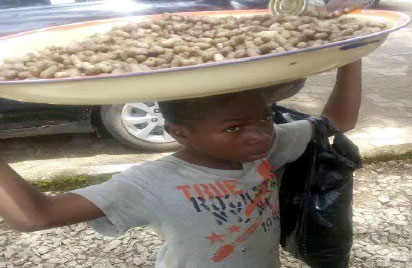 That is how Sunday came to be part of Federal Polytechnic, Oko.
He told street photographer, Benneth Nwankwo, he would want to go back to school, but expressed doubts as his parents are very poor. Sunday is the third of five children.
While his parents are still at Iza, Ebonyi State, Sunday will remain Nwa granut with his aunt at Nanka in Anambra.