By Funmi Komolafe
It's wonderful to be alive and it's by His special grace.  Today's edition of Joyful homes shifts focus from childbearing matters and related challenges.
I'll be taking a look at the youths.  Events of the last few weeks give one cause for concern.  I am urged by the Holy Spirit to discuss the youths that I describe as our present and our future.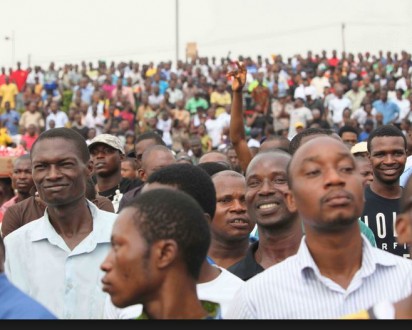 Why am I urged to discuss youths?  In the last two weeks or thereabout, the media was awash with deaths of youths.   Three of them connected with the entertainment industry, five others died while on an excursion from school in Kaduna.   As if that isn't enough, my attention was drawn to a young girl of 15 who committed suicide.
As I struggle to put this article together, I got the news of  the death of Ms. T. O.  who   was to be announced the best graduating student of the faculty of engineering, university of Ilorin during its 33rd convocation ceremony but alas she died after a brief illness a few days before the convocation.
Can you imagine how her parents who had looked up to the day they would celebrate her success as proud parents suddenly found themselves mourning.
It's very easy to blame some of these youths for events that led to their death or blame their parents but from the spiritual point of view, one sees something else.
Adolescence is a stage in life when that baby of yours who has become a teenager wants to free himself or herself from parental control. They want freedom. What type of freedom and at what cost?
Our reference is the story of the prodigal son recorded in the Gospel according to St. Luke 15 vs. 11-32. Our emphasis verses  12 and 13 " And he younger of them said to his father, Father, give me the portion of goods that falleth to me. And he divided unto them his living.  And not many days after the younger son gathered all together, and took his journey into a far country, and there wasted his substance with riotous living".
This young man wanted freedom and his father gave him. Was his father afraid of him?  Why didn't his father insist it wasn't time to give him his share? After he got his share, this boy like many of  our youths today went to night clubs and  parties thinking he was enjoying freedom.
Let's look at the consequence of his action. Verses 14 to 16  "  And when he had spent all there arose  a mighty famine  in that land; and he began to be in want.
And he went and joined himself to a citizen of that country; and he sent him into his fields to feed swine. And he would fain have filled his belly with the husks that the swine eat: and no man gave unto him".
As parents or guardians to youths, we have a duty to guide them and this means that we must muster the will to deny them freedom that will be injurious to them.
We cannot afford to let loose our youths to the society in the name of enjoying life when indeed, life is consuming them.
At the same time, we need not be too high-handed when dealing with youths for the simple reason that where parents   have become so fearful that their children cannot have discussions with them, they tend to turn to their peers who may expose them to bad habits and negative societal influence.
Had the father of the prodigal son denied him his request; he would not have wasted what could have been his material investment. Though he was lucky to have returned alive.  What about those who didn't return alive?
We must bear in mind that our joy when we have children, is to see them become responsible adults and   we become proud parents or grandparents.
Only recently, the Redeemed Christian Church of  God (RCCG)focused its  October Holy Ghost night on youths  with the theme " Agents of Transformation".
During these programme we saw youths that have been groomed in the way of the Lord preach sermons so much that the General Overseer called them his sons.
Parents, in what way are your teenage children engaged? Have you encouraged them to walk in the way of the Lord?  In what way are you building up their faith?
Truly, we have cause to be worried because of events in the society but we must encourage our youths to have faith in God.
Jeremiah 33 vs 3 " Call unto me, and I will answer thee, and shew thee great and mighty things, which thou knowest not".
When we move close to God, our Father   will to protect us from all evil.
We must teach them that work without the blessing of God cannot lead to prosperity. Therefore, there is no need to take illegal steps to acquire wealth.  They must be told that all men have one challenge or the other but that in Christ we are able to overcome.
Youths must be taught to cry unto God for help and have faith that he can do all things.
We also need to let them know that our God answers prayers but that we need to demonstrate our faith in him.
As parents, have you ever discussed with your children the essence of fasting?  Do you lead them to fast periodically?   Fasting is one of the surest ways to spiritual growth that we must teach our youths.
They must be told that it is not only those who  have challenges that need to fast.  We can also use fasting to ward off challenges.  It draws us closer to the Holy Spirit.
James 4 vs. 7-10. For this purpose, we'll emphasize verses 7& 8  " Submit yourself therefore to God.  Resist the devil, and he will flee from you Draw nigh to God, and he will draw nigh to you. Cleanse your hands, ye sinners; and purify your hearts, ye double minded".
Verse 10 "Humble yourselves in the sight of the Lord, and he shall lift you up".
Brethren, let us teach our youths to spend more time relating with God.
Anyone with God on his or her side will never fail.
I return to the issue of something else mentioned earlier.
It would appear that there is an evil spirit ravaging the land, which is cutting short the lives of our youths indeed the future of our nation.   Youths who could have become leaders of tomorrow who could make our nation great are being buried, thereby causing parents pain.
Let's create time to pray for them. Our God has the capacity to nullify all efforts of the devil and his demons.
If your children are not yet youths, they will soon become youths.   Therefore, when we pray for youths, it is an investment in the future of our own children too.
Our youths represent our today and our tomorrow.  They are our present and our future, let's support  them with prayers. In the name of Jesus, we shall not shed tears of sorrow over our children.
May the Lord comfort parents who have lost their youthful children to the cold hands of death.
As I round up this article, which I had been urged to write about with a focus on prayer for youths, the cold hands of death snatched my second cousin,  Ms. Aminat Mosopeoluwa Gbajabiamila, a graduate of the university of Lagos, an alumni of Queens College Lagos and an assistant business manager with a new generation bank in Port Harcourt, who died last Tuesday.   She was the only child of her mother. She was aged 28 years.
She took ill for a few hours after work and within hours, she had gone to be with the Lord.
Once again, I pray that the Lord comforts all parents in this condition and that the Lord Almighty in his mercy will put an end to sudden deaths of youths in our society.
Brethren, I will end this article with an assignment that wherever we are, let's find time to pray for our youths that the Lord will guide them and protect them from all evil.
We'll return next week by God's grace.
Do have a blessed week.