OKRO soup is one of  the most popular 'draw soups' enjoyed in almost every part of Nigeria. Okro is also globally known as lady fingers and it is very nutritious when combined with pumpkin, Yoruba style. Okro is typically served with stew.
On the nutrition scale, okro is rich in fibre, protein, vitamins K and C, folate and magnesium. Turn this soup into a "rich" soup by making use of a wide variety of proteins.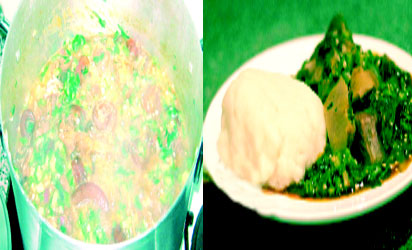 Ingredients
1kg Beef/ Chicken/Goatmeat
1 piece smoked fish / 400g Dried fish
3 cups Pumpkin Leaves (ugwu)/Spinach/ washed bitter leaf
400g Okro, chopped or pounded
300g Stockfish
300g Ponmo
11/2cups Crayfish(ground)
8 Habanero pepper (atarodo)
2 cups Periwinkle (optional)
2 Seasoning cubes
2 cups Palm oil
1 Onion
Salt to taste
RECIPE
Step1
Wash all the ingredients properly.
Season and boil the meat for at least 30 minutes
Step2
When the meat is almost soft, add the already boiled stockfish and ponmo.
Add washed smoked fish but make sure the bones are removed.
Step3
Boil your periwinkle in salt water and wash properly and add about six cups of water when the stockfish, meat and ponmo are soft.
Add ground dry pepper or fresh habanero (atarodo).
Add ground dry fish
Bring to a boil
Step 4
Add the grated okro and mix very well for the okro to spread.
Add palm oil and cook for about five minutes.
Step 5
Add the chopped pumpkin leaves or washed bitter leaf.
Add seasoning cubes.
Boil for another three minutes and add salt to taste
There you are! Eat and enjoy with any swallow of your choice