By Prince Okafor
The Organisation of Petroleum Exporting Countries, OPEC, crude oil output has risen from 32, 659 million barrel per day (bpd) to 32.748 million (bpd), showing an increase of 88,000 bpd or 0.3 percent in September 2017.
In its monthly oil market report released, yesterday, the organisation stated: ''The total OPEC basket of 14 crude oil production,according to secondary sources,averaged 32.75 million bpd in September,an increase of 88 tb/d over the previous month.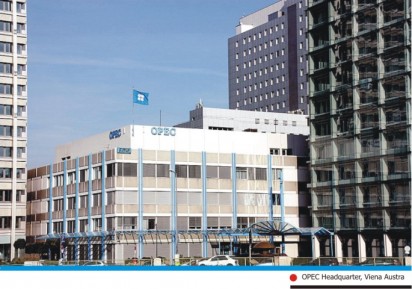 "Crude oil output increased in Libya, Nigeria, Iraq and Gabon,while production showed declines mainly in Venezuela.
"Based on the current global oil supply/demand balance, OPEC crude in 2017 is estimated at 32.8 mb/d,around 0.6 mb/d higher than in 2016. Similarly, OPEC crude in 2018 is projected at 33.1 mb/d, about0.3 mb/d higher than in 2017.
''The price of OPEC basket of fourteen crudes stood at $54.23 a barrel on Tuesday, compared with $53.70 the previous day, according to OPEC Secretariat calculations.
''The OPEC Reference Basket of Crudes (ORB) is made up of the following: Saharan Blend (Algeria), Girassol (Angola), Oriente (Ecuador), Zafiro (Equatorial Guinea), Rabi Light (Gabon), Iran Heavy (Islamic Republic of Iran), Basra Light (Iraq), Kuwait Export (Kuwait), Es Sider (Libya), Bonny Light (Nigeria), Qatar Marine (Qatar), Arab Light (Saudi Arabia), Murban (UAE) and Merey (Venezuela)."
The report also stated: "The economy of Nigeria came out of recession in second quarter of 2017 (Q2'17) following five quarters of downturn. The economy registered 0.6 percent year-on-year, Y-o-Y, growth in Q2'17, up slightly from a contraction of 0.5 percent year on year in the previous quarter.
"Inflation has been on an easing trend since the beginning of the year, posting 16.0 percent Y-o-Y in August versus 18.7 percent in January. The naira was largely stable since the depreciation of 50 per cent during June to August 2016. It appreciated slightly by 0.1 percent month on month in August.
"On another positive note, Nigeria's private sector showed strong growth in September as indicated by Stanbic IBTC Bank Nigeria PMI. The index registered 54.9 in September, fractionally lower than August's55.0. The survey showed strong growth in output and new orders alongside an increase in output price inflation.