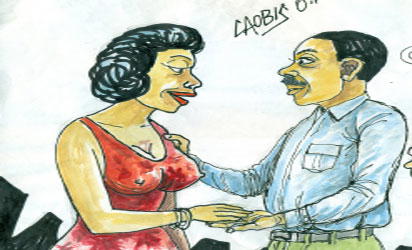 love
By Francis Ewherido
I have spent time trying to understand that four-letter word called "love," its usage, its many definitions and many actions emanating from or attributed to it. Love has become an endless and mighty ocean to me; it is a mystery. You would have heard the story of St. Augustine of Hippo. He was walking by the seashore one day pondering and trying to decode the mystery of the Holy Trinity when he was distracted by a small boy running back and forth from the sea to a spot on the seashore.
The boy was using a sea shell to take water from the ocean and empty into a small hole in the sand. St. Augustine inquired, "My boy, what are doing?" "I am trying to bring all the sea into this hole," the boy replied with a pleasant smile."But that is impossible, my dear child, the hole cannot contain all that water," Augustine said emphatically. The boy stopped, got up, looked into the eyes of Augustine and replied, "It is no more impossible than what you are trying to do." Thereafter, he disappeared.
I do not want to contemplate the meaning of love until I experience any disappearance act like Augustine did; my spiritual height is even too Lilliputian for that kind of experience. So for my understanding of love, I have simply decided to take refuge in John 4:8, "God is love." St. Paul amplifies it: "Love is patient, love is kind. It does not envy, it does not boast, it is not proud. It does not dishonour others, it is not self-seeking, it is not easily angered,it keeps no record of wrongs. Love does not delight in evil but rejoices with the truth. It always protects, always trusts, always hopes, it always perseveres.  Love never fails" (1 Cor. 13:4-8).
But we all know that the world understands love beyond the simplistic explanations above. For instance, sadomasochism; the first time I came across that word was in 1986. A former school mate at the University of Nigeria had called some lecturers sadists (seidists). Until then, I had always pronounced it sædist. I kept quiet and decided to check the dictionary later. Both were correct pronunciations, but the usage of his was more pervasive. I decided to forage further and came across sadomasochism, the practice of inflicting or receiving pain often for sexual gratification.
It ranges from extreme acts like using handcuffs to chain your partner to the bed thus rendering him/her totally helpless, putting a collar around the neck of your partner and using a leash to drag him/her around like an animal, flogging sexual arousal into your partner, pricking your partner with sharp objects to biting your partner, including pricking or biting the penis and nipples.
Even though I was largely inexperienced then, I could not help but wonder why anybody would bring in physical pain and extreme cruelty to an act that God created to bring inexplicable pleasure. But some sadomasochists claim that it is an act of "love."
A girl continuously gets pummeled by her boyfriend and you wonder why any normal human being will continue to stay in such an abusive and deadly relationship. Then you hear: "I still love him greatly."
A man wants to gratify his flesh and the lady is obstinate, the next thing is, "if you truly love me, you will…." If the lady allows him have his way and a pregnancy results from the encounter, a new kind of love comes in: "If you truly love me, you will terminate the pregnancy…." And out of love she does it! If a man is too stressed or distracted to muster an erection to sleep with his wife, then he does not "love" the wife any more.
Love is a mystery to some; for others, it is restricted to the confines of sexual activity between two people, including people of same sex. The various definitions and scenario of love are so many that the entire newspaper space is not enough to itemize them.
But love is in a mess right now because human beings have extended the boundaries of the definition and understanding beyond limits. Love is now amoebic; it takes any shape depending on who is using it and the purpose.
In the process, so many lies have been told and are still being told against love. But love need not be miserable; though love and the devil are inversely related, it has company in the devil; so many lies have also been told against both of them. A father, a prophet for that matter, was sleeping with his teenage daughter until he was caught.
A ritualist was caught with three human skulls. Your spouse catches you pants down with another person. A kidnapper meets his waterloo. A deadly armed robber gets caught. A pastor in Ikorodu was recently arrested for printing fake currency. They are all innocent; the devil is the guilty party. When we get away with "murder," we are smart; when we get caught in the act, we blame the devil. Devil don suffer o!
But I have no sympathy for the devil. After all he is the father of lies and humans are only beating him at his game. As for love, well, God is love, so I guess He will sort things out at his own time. But when He does, may He not deal with us according to our sins o, because if he does, the whole of humankind will be in big, big trouble. And the people of God chorused, "Amen." But we also need to turn a new leaf: revolutionary or evolutionary.