The Curtain may have been drawn on the Nigeria Women Professional League Super 4, but top officials of government and organizers have been making comments targeted at taking women football to new heights.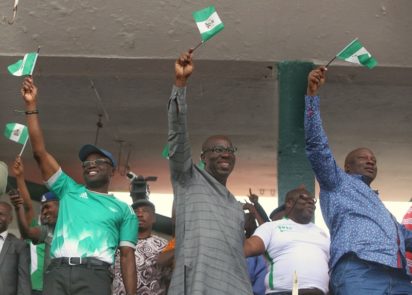 With Governor Godwin Obaseki, throwing his full weight behind the championship, his deputy, Comrade Philip Shaibu,  has also been making critical statements regarding the future of sports in Edo state and indeed Nigeria.
He told the media in Benin City that there are plans in the pipeline for Edo to build 20 mini-stadia across the 18 local governments of the state and such plans will soon be actualized. "Edo, Delta, if you like call it former Bendel State is the fulcrum of sports in Nigeria and we cannot let go, hence our plans to take sports to another level by going to the grassroots to make it count".
He said he has the assurance of his Principal and sooner than later those plans will soon start to materialize in Edo State.
An elated NWPL Chairman, Aisha Falode, said she was delighted that the tourney came to a fantastic close and she was looking forward to the next championship. She thanked the Edo State Government, the media, board members and all stake holders for ensuring the success of the Super 4 Championship sponsored by the Edo State Government.