Governor Henry Seriake Dickson made history when he drove to Aleibiri in Ekeremor local government area of Bayelsa State, the first time a vehicle would reach the community, thanks to the construction of Sagbama, Ekeremor, Agge Road.
The governor took time off after the historic drive to speak on a number of national issues, including the failure of the Federal Government to address the calls for the restructuring of the country, and the challenges confronting Bayelsa State and the Niger Delta. He also spoke on the need for the People's Democratic Party, PDP, to urgently put its house in order, ahead of the 2019 general elections.
What is the update on the civil service reforms, generally with particular reference to payroll fraud?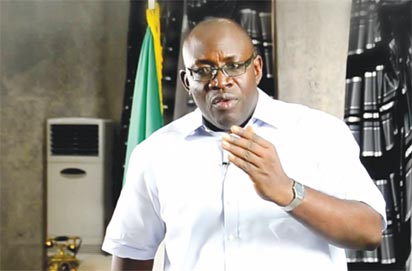 You made some remarks in your introduction, which touched on the core mandate of our administration. One of them is the Sagbama/Ekeremor/Agge road, but I just want to speak briefly about that critical infrastructure project.
The clearing of that road from Toru Orua, that is expected to terminate at Agge, was taken over by this government in 2013 and, in 2015, the clearing had reached Agge. Right now, they are sand filling and it is just a few kilometres to get to Ekeremor.
By January 2018, I am likely to embark on another tour by driving to Ekeremor because we expect that the sand filling to Ekeremor should be completed by December 2017. For those politicians in your introduction, who asked if roads and schools could be built on water, clearly Nigerians do not know about the challenges we are facing and enough efforts have not been made in that regard over the years to understand the peculiar developmental challenges of this area.
Bayelsa developmental challenge is different because the entire state is below sea level.   That is why our leaders wrote to the colonial masters before Nigeria became independent that the emerging Nigeria nation will not understand our problems and how to solve them.
As soon as the dredging is completed, I have directed that even if we have to borrow, they will move to Oporoma to sand fill from where we have stopped to Angiama, where the bridge will be launched to Oporoma. That is what I want to accomplish before the end of my tenure.
We are also talking to major players like the NDDC, the SPDC and so on, on how we can collaborate. The Nembe-Brass road is also critical and that one is commercially viable because of the businesses in that area. The second concern you raised was the monkey pox containment in our state. I congratulate the commissioner for health and his team for containing the scourge.
Wagebill
Now, the question on the civil service reforms; this is one key area that we have been doing a lot of work, since 2012. We have worked so hard to reduce the wage bill, blocked the leakages and wastages because we need every kobo to be put into development.
After paying salaries, we barely have N5m left and we have a very low IGR base, which we have raised from N60-70m to about N500-600m. But, that is nothing compared to what other states are getting. States around us are raking in N10b monthly; our IGR is nothing to write home about because the companies are not here and our people do not pay tax except those in the public service.
We are asking for support in terms of further solving the challenges of leakages and wastages in our salary system. We have been able to bring down our wage bill to about N3.8bn every month, but we think that is still too high, that is why I want to commend genuine civil servants, who are going to work and are doing very well, teachers, especially the secondary school teachers, who have done so well. That is why our rating now in all national examinations is improving.
Last week, I launched 'Countrimandirects' and gave out telephone numbers to enable our people reach us because these fraudsters who are drawing salaries from more than one pay point, people know them, they are their friends, relations, and colleagues. I launched 'Countrimandirects' with the following numbers: 07068405809, 07011938880, 09083485732 and 08056085520.
Result of verification
People are asking; so much verification what is the result? You are going to see the results now. We are going to collate all the reports, comparing one report with the other. In this state there was actually no record keeping. Now we have been keeping records. From 2012 till now we have a data. We have even the photographs of all in the civil service.
That is the painstaking work we have been doing and every month we check it. So, now it is based on this data that we are going to act. We have worked out the names of those certificate forgers, those who have not explained their certificates properly, their salaries would be stopped. They will have to go and explain to the commission of enquiry put in place. Since I became governor, I have authorized the employment of 300 teachers and I have the list.
I authorized the employment of forest guards to protect our forest reserves, because I know what that means. I authorized the employment of state protocol officers and then very few other appointments. Those who are pensioners collecting N500m every month in this state, I want to know them from community to community.
Since your administration came on board, the state has been very peaceful and safe, but, in recent times, we heard of 'Operation Crocodile Smile' launched by the Nigerian Army and Bayelsans are getting worried over that. What is the Restoration Government doing to enlighten Bayelsans on the military operation?
I would not speak for the military authorities who are organizing that exercise. The state government is not involved in it, but, as the governor of the state, the commanders have come to explain a few things to me. In my view, the military have their job to do and if, in their judgment, they think that an operation helps them train, so be it. Meanwhile an exercise like this, which involves going round the creeks in a show of force, has the advantage of scaring away bad guys and limiting their movement. 'Operation Crocodile Smile' enables the military to patrol our waterways and has to be supported.
What is your reaction to the rising profile of the state in the education sector and what does it mean for Bayelsa in the future?
Dickson: It means a more stable and educated and more prosperous Bayelsa. It means a Bayelsa where we have less criminality, volatility. You talked about the relationship between lack of education and poverty index. You are correct and that is why, on my inauguration day, you can imagine the significance of that. I wasn't governor, when I was speaking. It was on my inauguration day that I declared a state of emergency in the education sector and it is gratifying to hear that, almost six years down the road, the Senate of the federal republic is recommending that for Nigeria. Now, we are seeing our state rising from over 20th position in WAEC to number five this year and in NECO to number three.
These are visible signs, but what this state will see in the next five to 40 years to come is going to be real result. That is when the real results will be seen by all. We pray that, all of us should be around to see the fruits of this investment. This state is programmed to be number one in education. Our plan, before I hand over, God willing in 2020, Bayelsa has to be number one in WAEC, NECO. We have spent close to N56b on education, and, if you check what we have been receiving, education, healthcare infrastructure, road building is where we spend a lot of our money.
With the investment we have made, Bayelsa has the best public schools. You cannot see any school like the Ijaw National Academy in any other state. The model schools are opening and they are boarding and they are free. If there is any state that is investing on peace, stability and order, and prosperity and development, it is Bayelsa.
There has been heightened clamour for the restructuring of Nigeria. Times without number you have reiterated your stand. We just want to know, if you still stand by that or whether there has been a change?
My politics is informed by the fundamental interest of my people. I am not a politician of convenience whose positions change according to weather. I am a politician of conviction. I have been part of the struggles of my people. Whereas I believe that this struggle should be pursued, through non-violent and political means, I believe these issues should be raised from time to time. And, therefore, my views on restructuring are very well known. I believe that, if we want a balanced and stable and united Nigeria that will stand the test of time, we have no option than to review the structure of the country.
We have to build consensus, put our cards on the table, our fears as well as the complaints and then find a way around them. The attitude of the Federal Government and the President to the issue of restructuring is something I disagree with. I stand with my people. And, I am in politics not for myself, but for my people. This country has to have a meeting and discuss how we can make Nigeria more stable, prosperous, and, therefore, a Nigeria that can last. Those of us talking about restructuring are the true lovers of this country.
There are those who feel they have advantages, they want to protect, so they want the status quo maintained.   In that case, you are either talking of an individual that has interest or you are talking of regional interest or ethnic interest. You are not talking of the Nigerian interest.
Agitations are normal; so all this heck about agitations from the South-south, South-east, I do not understand. Every country is an artificial creation.
Up till now, our colonial masters are still dealing with the issues of restructuring, devolution of powers to Scotland to Wales, to Northern Ireland. Only last year, the Scottish had a referendum on whether they should be an independent nation or not. Heavens did not fall. Nigeria's unity is desirable, but do not tell me it is not negotiable. We want to be in a big prosperous strong country. But, we have to stop this issue of people agitating and dying and running away and creating unnecessary tension in the country.
That is inimical to the growth of the Nigeria we love. So, when we say restructuring in Bayelsa, in the Ijaw nation, in the Niger Delta, we mean that we sit with our brothers and sisters to discuss issues of how we control our resources, what kind of federation do we run? This is a unitary state and that is why you have all these conflicts. We want to be in a truly federal Nigeria and so the Federal Government should discuss the modalities of organizing, not a talk shop, but I have said there should be a multi-party or a bi-partisan committee, made up of officials of the Federal Government, the National Assembly because, in the end, you are going to talk about constitutional review.
All these talk about true federalism will end in the National Assembly. So, the leadership of the National Assembly, state governors, speakers representing the various state parliaments, the leadership of the major political parties and other selected interest groups will meet behind closed doors and agree on the issues we need to address now. You do not need to address everything. Nation – building is work in progress. Americans have had how many constitutional amendments? And, they are proposing more, that is the kind of thing we need.
Therefore, the buck stops at the table of Mr. President. He has to rise to the occasion and unify this country the more. The country is too divided. It has been left to drift for too long. The divisions are rather getting deeper and deeper by the day and that is not good for Nigeria. Whether you look at the issues of resource control or not, crude oil is running out. It will get to a point in the life of this country when we will sit down and ask ourselves, how do we form this federation and the component units? This is why my position will always be to support a call for a restructured and fair Nigeria.
What is the import of the direct labour agency bill you signed into law recently and how soon are Bayelsans going to see its implementation and feel its impact? Is there any way you can draw the attention of the Federal Government to the issue of flooding, because I was in Biseni recently and the people over there are really suffering.
The flood is terrible this year. If you recall what happened in 2012, all our communities were almost evacuated.
Unfortunately, we have not seen much from the Federal Government. Bayelsa is actually one of the states that should routinely get support from the Federal Ministry of Environment, through the ecological fund in particular. Last week, I received the team from the Ecological Office, but unfortunately we haven't received anything from the Federal authorities in this government. I hope the situation changes.
I will be meeting SEMA next week to get the report of the flooding situation. Biseni is always a flash point. The Okordia-Zarama area is a very swampy area. It is one of the first places we get the heat from with communities along the river nun and Forcados. Right now you have the Direct Labour Agency Law in our state. In a recession you spend your way out, inject more funds, apart from paying salaries and so on.
The contractors employ a lot of our people, but we want to be free to directly create a mechanism where our agencies and ministries directly undertake jobs. There has been no such mechanism. The focus of this agency is that the ministries can contract, but the direct labour agency will do the work. If we want to do any small work or repairs; pot holes and so on, why should we contract it? When we give them the jobs to do, they will go and hire carpenters and bricklayers, who know how to work and supervise them.
As a strong party man, will you say the PDP is well primed to re-launch itself to reckoning at the national level?
Dickson: After our governorship election, because of what we went through in the hands of the party at the centre, I was very serious about re-building the party to take over power at the centre and everyone knows what I did. I did everything to build consensus. But, there are forces within the PDP that are against a cohesive and strong PDP that can take power at the centre but these forces are surmountable if party leaders eschew selfishness and bitterness and work for the interest of PDP.
I pray that the party overcomes or realizes the need to overcome this forces, within the PDP that are placing selfish ambition and ego above the need to build a strong party that, can take power at the centre. I am very prayerful and hopeful that, these forces that are trying to tear the party to pieces that have the capacity to take the party from one crisis to another and to generate another crisis and be the ones to solve it and move forward and so on.
I pray that, the party survives internal forces. I have always believed that this country needs two strong parties, a strong cohesive party in government, which incidentally the APC is not, but we should also pray for the APC to get their acts together. But the tragedy of our democracy today is that we neither have a strong party in government nor a strong party in opposition.
Clearly Nigeria needs a strong party in opposition and I agree with what the former head of state, Gen. Abdulsalami Abubakar, said when he said that, the PDP has disappointed, because it has not proven to be a strong party in opposition. That is very sad, because I am essentially an opposition man and I am very comfortable being in opposition. There are not many governors, who can survive the type of election I survived in this state. I believe my party has a lot of work to do, so that the country can have a real taste of two strong parties.
We are proposing to have a convention. Let's see how it goes. I think that, basically the PDP is suffering from having a preponderance of people, who have never tasted opposition politics. All their politics has always been with a party at the centre, using everything for their elections. They should learn from what we did here.
Now, before you forget, note that I am the only governor who has won governorship re-election in this state on the platform of a party that is different from the party at the centre. I am the only one in the core Niger Delta states too. Of all the governors now in the PDP, I am the only one that has won re-election, when the centre is of a different party. In November, we shall see what happens in Anambra State.