By Udeme Akpan & Prince Okafor
As Aiteo completes maintenance of Nembe creek trunk line
The export of crude oil from Nigeria has been increased by 150,000 barrels per day (bpd) following the completion of Nembe Creek Trunk Line maintenance.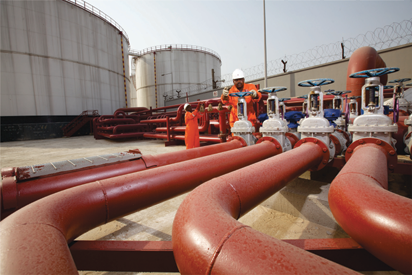 Aiteo, an indigenous oil and gas company that handled the rehabilitation of the pipeline, disclosed, yesterday, that work had been completed to pave way for resumption of export.
The resumption of export, it was gathered, has increased the nation's total export to about 2.3 million bpd, thus enhancing the implementation of the nation's N7.4 trillion 2017 budget.
Vanguard gathered that the force majeure earlier placed to protect the oil company from any liability may be lifted this week.
The completion of work on the pipeline did not impact on the market, yesterday, as oil price still stood at over $57 per barrel.
The price of Brent stood at $57.47, while that of WTI stood at $51.51 in the global market yesterday.
OPEC stated: "The price of OPEC basket of 14 crudes stood at $55.74 per barrel on Monday, compared with $55.12 the previous Friday, according to OPEC Secretariat calculations."
However, the Organisation of Petroleum Exporting Countries, OPEC, has started diplomatic relations targeted at achieving stability as well as retaining India as a major market for member states.
The need to retain India as a major destination is fuelled by its performance in the past few years and in the future.
Speaking at the India Energy Forum, New Delhi, Dr. Mohammad Sanusi Barkindo, OPEC Secretary General stated: "India's economy has been experiencing some of the greatest structural changes in a generation."
In its presentation obtained by Vanguard, Barkindo continued: "A slate of bold new reforms, embarked upon under the visionary leadership of Prime Minister Modi, has put the country firmly on a sustainable dynamic growth path – particularly when it comes to energy. These reforms have included demonetization policy, the goods and services tax (GST), and efforts to diversify the energy mix.  They have all been designed to move the country toward sustainable growth and stability.
''Additionally, the country's expanding middle class represents a growing source of demand – and not just for energy but for goods and services from around the world. Comprised of a young and increasingly educated population, India's middle class is vigorous, fast moving and upwardly mobile – all key elements for long-term sustainable growth."
''In addition, during this period, India is expected to see major growth in the transportation sector, as well as an expansion in exports of numerous goods and services.  It has a world-renowned IT sector, which today is one of the leading global start-up hubs for technology companies, as well as a strong services sector and solid manufacturing base. India's role in the global marketplace and its growing involvement in international trading networks are admirable signposts for a country undergoing a great economic transformation.
''At OPEC, we have been paying close attention to these macroeconomic and business trends in India.  Some of them shall directly benefit the growing populations of OPEC's own Member Countries. In particular, we have been working to better understand the potential impacts that such beneficial economic changes may have on future oil demand.
''OPEC even sees world oil demand growth increasingly shifting to India. We anticipate, in fact, that by 2040, India's oil demand will increase by more than 150% to 10.1 mb/d from around 4 mb/d currently. The country's total share of global oil demand is also seen rising to over 9% by 2040 from 4% now. The data clearly points to expanded energy use, as Minister Pradhan himself has stated recently, which shall include roles for other energy resources as well."